Acer Swift 5 review: Late-2019 refresh makes this ultralight laptop better than ever
Larger battery, new hinge, and 10th Gen Intel hardware make this refresh an attractive, slim Ultrabook option.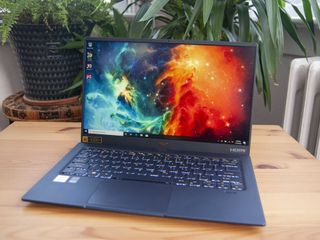 (Image credit: Windows Central)
Acer's Swift lineup of Ultrabooks has always been about delivering an ultraportable device for those on the go, but the sacrifices needed to achieve the thin design turned many away. Heavy thermal throttling, poor battery life, odd port layout, and overall quality concerns were some of the major downsides of previous Swift 5 models. For the late-2019 model, however, Acer has made some notable changes that significantly affect the Ultrabook in a good way. Let's take a close look at the refreshed Swift 5 to determine whether or not it's worth a buy.
Bottom line: Acer's 14-inch Swift 5 has never been better, though the undeniably thin and light design still comes with some tradeoffs.
For
Comfortable backlit keyboard and Precision touchpad
Wi-Fi 6, Bluetooth 5, Thunderbolt 3 connectivity
Slim bezel and anti-glare touch display
Solid performance for everyday tasks
Incredibly thin and light
Against
Comes with bloatware
Still some thermal throttling
Fingerprint reader could be better
Acer Swift 5 at a glance
Acer supplied Windows Central with a review unit of the Acer Swift 5. It is specifically the SF514-54T-76PY model, complete with 10th Gen Intel Core i7-1065G7 processor (CPU), 8GB of LPDDR4 RAM, 512GB M.2 PCIe NVMe solid-state drive (SSD), and 14-inch FHD touch display. This exact model retails for about $1,025, though you can get your hands on an Intel Core i5 model with otherwise similar specs starting at about $900.
Acer has made it relatively easy to remove the back cover and get at the SSD for future upgrades. This is a welcome feature, as models seem to ship with a static SSD with no option to configure from the factory. Unfortunately, RAM is soldered to the board with no way to upgrade after purchase.
A model with a dedicated NVIDIA MX250 graphics card (GPU) and 16GB of RAM is also floating around somewhere in pre-release land. Acer's website currently only lists models with 8GB RAM and integrated graphics.
Here's a breakdown of the exact hardware found in our SF514-54T-76PY review model.
Swipe to scroll horizontally
Category
Spec
OS
Windows 10 Home
Processor
10th Gen
Intel Core i7-1065G7
Four cores
Up to 3.90GHz
RAM
8GB LPDDR4
Soldered
Graphics
Integrated
Intel Iris Plus Graphics
Storage
512GB M.2 PCIe NVMe SSD
Kingston
Display
14 inches
1920x1080 (FHD)
Touch, IPS
Anti-glare
Ports
Thunderbolt 3
USB-A 3.1
USB-A 2.0
HDMI
3.5mm audio
Audio
Dual Stereo speakers
Acer TrueHarmony
Wireless
Intel Wireless AX201
802.11ax
MU-MIMO (2x2)
Bluetooth 5.0
Camera
Front-facing HD
Security
Fingerprint reader
Kensington lock slot
Keyboard
Backlit
Touchpad
Precision
Battery
54Wh
Dimensions
12.55 x 8.29 x 0.59 inches
(318.7mm x 210.5mm x 14.95mm)
Weight
2.18 pounds (990g)
What I loved about the Acer Swift 5
Image 1 of 3
The first thing you'll notice about the refreshed Swift 5 is how thin and light it is, especially for a 14-inch device. It weighs just 2.18 pounds (0.99kg), making it 0.01 pounds (5g) lighter than even the LG gram 14Z990. If you're looking to buy the most portable 14-inch Ultrabook right now, this is it. It's even more impressive considering the Swift 5 includes a touch display. Coming off of using the Lenovo ThinkPad X1 Extreme for a few weeks, it's often hard to tell whether or not the Swift 5 made it into my bag.
That overall weight is achieved by using a magnesium alloy for the chassis, as well as plastic bezel around the display. It doesn't feel as durable as a laptop using a standard chunk of aluminum — there is some flex in the lid and the main body — but other laptops with the same construction have stood up to years of abuse. If you're not using this laptop outside of an office or home setting, durability shouldn't really be an issue.
The Swift 5's hinges have been tweaked to better flow with the rest of the laptop. You can no longer tilt the display back to sit flat with the rest of the chassis, but there's no longer the wide, visible chunk running across the middle of the device. The dual hinges, made to look like a single hinge thanks to a rounded cover, sit behind the display and act as a bit of a stand to deliver a better typing angle when on a flat surface. The new design looks better and serves a secondary purpose.
Image 1 of 2
Laptops this thin usually have to sacrifice some keyboard travel and overall comfort to fit the chassis. While the Swift 5 keys certainly don't have the deepest travel, I really didn't mind using it for all-day typing sessions. It's maybe a bit loud, but the click is satisfying, and it has a soft feel when bottoming out. The three-stage backlight (off, bright, brighter) helps with working in the dark, and the usual Fn shortcuts are present.
Acer made good use of space below the keyboard to include a rather sizeable Precision touchpad. It lends itself to easy productivity, with sturdy presses and no dead spots. You can physically left- or right-click at the very top of the touchpad and still have them register, which isn't as common as you might think. Down-firing stereo speakers are positioned on the left and right sides of the laptop. Like many laptops this size, audio isn't exactly impressive. If you're in a busy spot, they likely won't get loud enough to hear clearly, but at least sound remains clear and free of distortion.
Previous Swift 5 models had some funky port orientation that made connecting peripherals a bit of an issue, but the late-2019 refresh has mostly fixed the issue. On the right side is a USB-A 2.0 port and 3.5mm audio jack, as well as a Kensington lock slot to keep the laptop secure in a high-traffic office. The left side includes Thunderbolt 3, USB-A 3.1, HDMI, and a small barrel charging port. A microSD card reader like the LG gram includes would be nice, but for a laptop this thin, it's hard to complain about the selection. Especially considering you get Thunderbolt 3 for advanced docking solutions.
The Swift 5's 14-inch FHD touch display is better than ever, hitting 99% coverage of the sRGB color gamut and 77% of the AdobeRGB gamut. It's rather punchy, and contrast seems spot on. Bezel along the sides measures just 3.97mm with a bit more thickness along the top for the front-facing HD webcam, but overall you're getting an 86.4% screen-to-body ratio. It's a slick look. I'm not really one to go in for touch function on a clamshell notebook, but it's there for anyone who wants it. The display has a matte finish that helps eliminate glare, which is a good thing due to the limited brightness.
With power set to "better battery" and display brightness cranked up to just past the halfway point, you can expect the 54Wh battery to last an eight-hour workday without needing a charge. This is without a dedicated NVIDIA MX250 GPU sucking up extra power. If you are pushing performance with full display brightness and need to plug in, you can expect to get almost five hours of battery life from a 30-minute charge.
Part of improving battery life comes from a larger battery, but the 10th Gen Intel "Ice Lake" CPUs also help. The Core i7-1065G7 inside performed admirably alongside 8GB of RAM (soldered) and a 512GB M.2 PCIe SSD (user-upgradeable). The Swift 5 had no problems keeping up with general office productivity work, and the Intel Iris Plus integrated graphics — about the equivalent of an NVIDIA MX150 dedicated GPU — handled some editing. 10th Gen hardware also comes with the added bonus of Wi-Fi 6 and Bluetooth 5 connectivity, setting you up well for the future. The Swift 5 also wakes from sleep incredibly quickly. You open the lid, and it's ready to go.
I ran some synthetic benchmarks to see how well Acer's Swift 5 measures up to other laptops we've recently reviewed.
CPU
Geekbench 5.0 Benchmarks (Higher is better)
Swipe to scroll horizontally
| Device | CPU | Single core | Multi core |
| --- | --- | --- | --- |
| Acer Swift 5 (SF514-54T) | i7-1065G7 | 1,202 | 3,600 |
| Surface Pro 7 | Core i7-1065G7 | 1,205 | 4,852 |
| Surface Laptop 3 13.5 | Core i5-1035G7 | 1,177 | 4,413 |
| Surface Laptop 3 15 | Ryzen 5 | 769 | 2,720 |
| Dell XPS 13 2-in-1 7390 | Core i7-1065G7 | 1,209 | 3,571 |
| Dell XPS 15 7590 | Core i9-9980HK | 1,176 | 7,624 |
| Dynabook Portégé X30-F | i7-8665U | 1,236 | 3,473 |
| Dynabook Tecra X50-F | i7-8665U | 1,241 | 3,043 |
| Dell Inspiron 13 7390 2-in-1 | i7-8565U | 1,111 | 2,965 |
I also ran an OpenCL GPU test with Geekbench 5 to see how well the integrated Intel Iris Plus Graphics performs. I got back a score of 9,954, which is right around where it should sit. To compare, Dell's XPS 13 2-in-1 (7390) with the same integrated graphics scored 10,406. You shouldn't consider the Swift 5 a gaming laptop, but you're going to get performance somewhere around what an NVIDIA MX150 has to offer.
PCMark
PCMark 10 Express
Swipe to scroll horizontally
| Device | Score |
| --- | --- |
| Acer Swift 5 (SF514-54T) | 4,415 |
| Surface Pro 7 (i5) | 3,992 |
| Surface Laptop 3 15 (AMD) | 4,006 |
| Dell XPS 13 2-in-1 (7390) | 4,427 |
| Dynabook Portégé X30-F | 3,881 |
| Dynabook Tecra X50-F | 4,128 |
| Dell Inspiron 13 7390 2-in-1 | 3,764 |
| Dell XPS 15 7590 | 5,521 |
| Dell Precision 3541 | 3,906 |
The PCMark 10 Express test measures how well a laptop handles a number of common tasks. As you can see, the Swift 5 holds its own among far more expensive options.
Cinebench
Cinebench (R20) (Higher is better)
Swipe to scroll horizontally
| Device | CPU | Range |
| --- | --- | --- |
| Acer Swift 5 (SF514-54T) | Core i7-1065G7 | 1,361 to 1,400 |
| Dynabook Portégé X30-F | Core i7-8665U | 1,242 to 1,313 |
| Lenovo ThinkPad P53 | Xeon E-2276M | 2,686 to 2,701 |
| Surface Laptop 3 13.5 | Core i5-1035G4 | 1,584 to 1,606 |
| Surface Laptop 3 15 | Core i7-1065G7 | 1,703 to 1,745 |
Running Cinebench R20 repeatedly can determine how well a laptop stands up to sustained load.
SSD
CrystalDiskMark (Higher is better)
Swipe to scroll horizontally
| Device | Read | Write |
| --- | --- | --- |
| Acer Swift 5 (SF514-54T) | 1,641 MB/s | 1,025 MB/s |
| Lenovo ThinkPad X1 Extreme (Gen 2) | 3,416 MB/s | 3,016 MB/s |
| Dynabook Portégé X30-F | 529 MB/s | 348 MB/s |
| Dynabook Tecra X50-F | 3,400 MB/s | 1,952 MB/s |
| Lenovo ThinkPad P53 | 3,567.23 MB/s | 2,813.25 MB/s |
| Lenovo ThinkPad P52 | 3,120 MB/s | 1,551.5 MB/s |
| Dell XPS 15 7590 | 3,000 MB/s | 2,796 MB/s |
| MSI PS63 Modern | 3,300 MB/s | 1,875 MB/s |
Acer includes a mid-range Kingston M.2 PCIe SSD in the Swift 5. It puts up respectable numbers, but it could be way faster. Luckily, you can upgrade easily after purchase. I also ran the PCMark 10 data drive benchmark and got back a score of 888. To compare, a Samsung PM981 scores somewhere around the 2,000 mark.
The ultra-thin chassis of the Swift 5 and the quiet internal fan means it's best cut out for bursts of performance rather than a sustained load from, say, gaming. A stress test revealed some minor thermal throttling with full CPU usage, but only after about four minutes of a 100% load. This is an extreme example, and the Swift 5 did perform admirably during everyday usage. It's a laptop meant for productivity work on the go, and using it that way should not cause any frustration.
What I disliked about Acer's Swift 5
The Swift 5 has really never looked better than in this late-2019 version, but there are still some downsides to note other than the light throttling mentioned above. The fingerprint reader — the narrow type that looks more like it should require a swipe — is finicky. If you don't get your finger jammed right down into the space it will likely not read properly. It's an annoyance that you'll have to live with every time you open the laptop, at least if you want to take advantage of Windows Hello.
One other annoyance is the presence of bloatware. Booting up a brand new PC only to see Norton Antivirus popups letting you know you need to take action now is not fun, and neither are the myriad apps that you'll want to uninstall immediately. The Swift 5 is no doubt made more cost-effective due to the extra software, but it's a pain.
Should you buy Acer's Swift 5?
The refreshed Acer Swift 5 stands out as a lightweight, quiet Ultrabook with a respectable performance for most people. 10th Gen Intel Core i5 or Core i7 CPU options deliver considerable power, and the option to add an NVIDIA MX250 dedicated GPU can help with some specialized work. There is some thermal throttling under extreme cases, but for everyday work, the laptop remains cool and ready for whatever you throw its way.
The focus on productivity work doesn't pan without a functional keyboard and touchpad. The Swift 5 delivers on both accounts, and those who type all day should quickly get used to what Acer has here. Ports also contribute to productivity, and the selection offers relatively easy docking, display, and accessory connectivity. Wi-Fi 6 sets it up well for the future, and an upgradeable SSD helps with storage concerns.
The addition of bloatware is an annoyance, but at least it's something you can take care of yourself. The fingerprint reader, on the other hand, is finicky no matter how you handle it. Battery life should last through a workday on a charge, and the touch display offers good color and contrast. It could be brighter, but the matte finish helps cut down on glare.
The Swift 5 is a laptop that I'd recommend to anyone who wants to travel light. The pros far outweigh the cons, and while it's not a perfect device, it's certainly a laptop that's moving in the right direction.
Late-2019 refresh
As light as they come

Acer's Swift 5 refresh boosts performance and battery life while remaining incredibly thin and light. If you're searching for an ultraportable 14-inch Ultrabook, this should make a great choice.
Get the Windows Central Newsletter
All the latest news, reviews, and guides for Windows and Xbox diehards.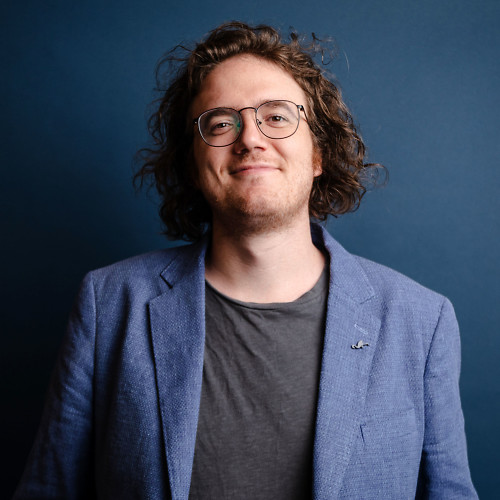 Senior Editor, Laptop Reviews
Cale Hunt is formerly a Senior Editor at Windows Central. He focuses mainly on laptop reviews, news, and accessory coverage. He's been reviewing laptops and accessories full-time since 2016, with hundreds of reviews published for Windows Central. He is an avid PC gamer and multi-platform user, and spends most of his time either tinkering with or writing about tech.