Lenovo ThinkPad X1 Extreme (Gen 2) review: Numerous small changes add up to make this refresh a success
By Cale Hunt , Daniel Rubino last updated
The ThinkPad X1 Extreme is back with some fine improvements that make Lenovo's 15-inch Ultrabook better than ever.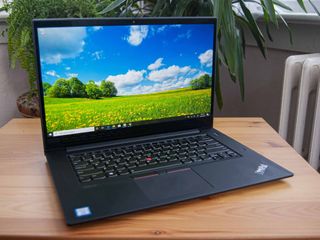 (Image credit: Windows Central)
Dell's formidable XPS 15 9500, one of our favorite 15-inch powerhouses for years running, received some competition in 2018 when Lenovo released the first-gen ThinkPad X1 Extreme. It received rather high praise, especially in terms of the overall design and included features, and now the second generation is here. It's been updated in a number of small ways, equalling up on paper to an X1 Extreme that's never looked so good. We've been using it for a couple of weeks to see how well the changes work in the real world and, ultimately, whether or not the second-gen X1 Extreme is right for you.
Black Friday is coming our way soon, and it's a great time to find savings on expensive laptops like the X1 Extreme. This second-gen version has been superseded by the third-gen X1 Extreme, but that doesn't mean it's not still a great laptop. And since it's the older model, it's more likely to go on sale. Lenovo's website often has deep discounts of its own, so before checking out be sure to have a look there (opens in new tab). We've seen models with Intel Core i7-9850H CPU, FHD display, 32GB of RAM, 512GB SSD, and NVIDIA GTX 1650 Max-Q GPU go for as low as about $1,632 (opens in new tab).
(opens in new tab)
Lenovo ThinkPad X1 Extreme (Gen 2)
Bottom line: Lenovo's second-gen ThinkPad X1 Extreme now has OLED touch display option, 9th Gen Intel Core CPUs, and NVIDIA GTX 1650 dedicated GPU. It's not a perfect device, but it comes very close.
For
4K OLED display is gorgeous
Internal hardware is easily upgraded
Perfect keyboard and excellent pointing
Thin, durable build
IR camera and ThinkShutter privacy
Against
Battery life around five hours with OLED display
Quite expensive
Lenovo ThinkPad X1 Extreme (Gen 2) at a glance
Lenovo supplied Windows Central with two review units of the ThinkPad X1 Extreme (Gen 2), one with 4K OLED display and one with a standard 4K IPS display. We primarily tested the OLED model, so that's what I'll focus on in this review. It has inside a 9th Gen Intel Core i7-9850H vPro processor (CPU), 32GB of RAM, a 1TB M.2 PCIe solid-state drive (SSD), and an NVIDIA GTX 1650 Max-Q graphics card (GPU) with 4GB of GDDR5 VRAM.
Along with the 15.6-inch 4K OLED touch display, you're looking at a price of nearly $4,500 before any discounts. However, Lenovo rarely leaves prices as configured, and this exact model can be had for closer to $2,685 with a holiday special. That puts it more in line with the XPS 15 7590 price.
This is a rather high-end model we're testing, and Lenovo has configurations for sale starting closer to about $1,499. You still get a 9th Gen Intel Core i7-9750H CPU, 16GB of RAM, 512GB M.2 PCIe SSD, and NVIDIA GTX 1650 GPU, but the display is a more standard FHD IPS without touch.
All models are easily upgradeable after removing the back panel. You have access to dual SODIMM RAM slots, dual M.2 SSD slots, and even the Wi-Fi adapter can be replaced with relative ease. If you're looking to buy on a budget to start, you can always add hardware yourself for a more reasonable price.
Here's a breakdown of the exact hardware found in our review model.
Category
Spec
OS
Windows 10 Pro
Processor
9th Gen
Intel Core i7-9850H vPro
Six cores
Up to 4.6GHz
RAM
32GB DDR4-2666MHz
Dual channel
Graphics
NVIDIA GTX 1650 Max-Q
4GB GDDR5 VRAM
Storage
1TB M.2 PCIe SSD
RAID 0/1 support for dual M.2 SSDs
Display
15.6 inches
3840x2160 (UHD)
OLED, Touch
Dolby Vision HDR
Glossy
16:9 aspect ratio
Ports
Two USB-A 3.1
Two Thunderbolt 3
HDMI 2.0
Ethernet extension connector
3.5mm audio
UHS-II SD card reader
Audio
Dual 2W speakers
Dolby Atmos
Wireless
Intel Wireless-AX200 (2x2)
802.11ax (Wi-Fi 6)
Bluetooth 5.0
Camera
Front-facing 720p
Security
Smart Card reader (optional)
ThinkShutter webcam cover
IR camera
dTPM 2.0
Fingerprint reader
Keyboard
Backlit
Touchpad
Precision
TrackPoint system
Battery
80Wh
135W AC adapter
Dimensions
14.24 x 9.67 x 0.74 inches
(361.8mm x 245.7mm x 18.7mm)
Weight
Non-touch: 3.75 pounds (1.7kg)
Touch: 4.0 pounds (1.81kg)
What I loved about the Lenovo ThinkPad X1 Extreme
Not a lot has changed physically for the second-gen X1 Extreme, and you're still getting a laptop that is undeniably ThinkPad. The black finish is a bit of a fingerprint magnet, but the lid on the UHD models now has a light carbon fiber finish to add some distinction. The base of the chassis is built from an aluminum alloy. It has undergone the usual MIL-STD-810G testing to ensure it can put up with some abuse outside of what you'd generally experience in an office setting. Despite the size, non-touch models weigh in at about 3.75 pounds (1.7kg) with another quarter-pound added for the UHD touch display. It also measures just 0.74 inches (18.7mm) thin to overall give a sleek look. It might not be as thin as the XPS 15, but it is lighter.
There's, unfortunately, no full-size Ethernet port, but there is a dedicated extension connector for use with a proprietary dongle. A Wi-Fi 6 adapter does come standard, so you can take advantage of unreal wireless speeds if you have a router that supports the new standard. Thanks to dual Thunderbolt 3 ports, each with 40Gbps bandwidth, you can also connect a powerful docking station for external displays, full Ethernet, and just about any accessories.
If you're not one for dongles and docks, you should find the X1 Extreme has most of what you need for daily work. The UHS-II SD card reader allowed me to quickly move and edit photos, two USB-A ports were enough to connect a mouse and external storage, and HDMI was ready to connect to a monitor.
However, I never did find the need to plug in an extra display in the face of 4K OLED. The touch panel, made by Samsung, is not only gorgeous but also configured to suit professionals in design and creative fields. It comes from the factory with X-Rite Pantone color calibration, and I tested 100% sRGB, 100% AdobeRGB, and 97% NTSC gamut coverage. I wasn't able to directly test DCI-P3 gamut, but Lenovo claims 100%. Testing brightness, the display hit 5.2 nits at its lowest and 442.3 nits at its brightest. That's more than the 400 nits that Lenovo claims, and it's still enough to mostly counter glare from the glossy finish.
Testing the 4K IPS model delivers the same maximum brightness along with 100% sRGB, 98% AdobeRGB, and 86% DCI-P3 color reproduction, altogether quite impressive. It's not as cut out for specialized work as the OLED display, but it will save you nearly $100 and cut down on weight thanks to the lack of touch. It also has an anti-glare finish that's much less reflective than the glossy touch model.
The 4K OLED model includes Dolby Vision HDR 500, while the 4K IPS includes Dolby Vision HDR 400. If you're looking to save a considerable amount of money, Lenovo also offers a couple of FHD displays. One is rather basic with IPS panel, while the other includes Dolby Vision HDR.
IR cameras for facial recognition through Windows Hello come with all models except the basic FHD IPS configuration, and a ThinkShutter is included even with the IR camera to provide you extra privacy. Along with an optional Smart Card reader, dTPM 2.0 chip, and vPro CPU options, you should feel secure using the X1 Extreme. A fingerprint reader is also built into the deck next to the keyboard.
Despite the 15.6-inch size, there is no number pad included with the keyboard. That's about my only complaint and really only applies to those who deal heavy in spreadsheets, as typing over the last couple weeks has been nothing but satisfying. The cupped ThinkPad keys have deep travel and a soft click, and the three-stage backlight (off, bright, and brighter) makes it easy to work after hours. Diehard ThinkPad fans still get the TrackPoint system with red pointing nub and physical keys, and the sizeable Precision touchpad with a glass surface is there for those who prefer it. If you're a typist trying to choose between the XPS 15 and X1 Extreme, certainly go with the latter.
Audio has received a bit of a boost thanks to Dolby Atmos, and for the most part, I didn't mind listening. Voice audio is clear and full, and music is not far behind. There's a bit of humming when you get to higher volumes, but not bad at all in terms of what we expect from an Ultrabook. Each speaker is positioned on the edge taper to avoid muffled audio when the device is on your lap.
Another change to the second-gen model is a jump to 9th Gen Intel H-series CPUs. The review unit's Core i7-9850H vPro chip has six cores for stellar performance, and it's helped along by 32GB of dual-channel DDR4 RAM. Dual M.2 slots give you plenty of storage options, and they can be configured for RAID. The X1 Extreme has also jumped from an NVIDIA GTX 1050 Ti GPU to a GTX 1650 Max-Q GPU, which delivers about a 15% performance boost. This still isn't a gaming juggernaut and shouldn't be treated so. It's ideal for creative work and office tasks, and it will definitely handle less-intensive games at a lower resolution.
I ran some synthetic benchmarks to see how the X1 Extreme measures up against other laptops we've recently reviewed.
CPU
Geekbench 5.0 Benchmarks (Higher is better)
| Device | CPU | Single core | Multi core |
| --- | --- | --- | --- |
| Lenovo ThinkPad X1 Extreme (Gen 2) | i7-9850H | 1,160 | 4,168 |
| Dynabook Portégé X30-F | i7-8665U | 1,236 | 3,473 |
| Dynabook Tecra X50-F | i7-8665U | 1,241 | 3,043 |
| Dell Inspiron 13 7390 2-in-1 | i7-8565U | 1,111 | 2,965 |
| Lenovo ThinkPad P53 | Xeon E-2276M | 1,237 | 6,152 |
| Surface Laptop 3 13.5 | Core i5-1035G7 | 1,177 | 4,413 |
| Dell XPS 13 2-in-1 7390 | Core i7-1065G7 | 1,209 | 3,571 |
| Surface Laptop 3 15 | Ryzen 5 | 769 | 2,720 |
| Dell XPS 15 7590 | Core i9-9980HK | 1,176 | 7,624 |
The Core i9 CPU in the XPS 15 trounces the Core i7 option in the X1 Extreme in multi-core performance, but it also runs considerably hotter.
PCMark
PCMark 10 Express
| Device | Score |
| --- | --- |
| Lenovo ThinkPad X1 Extreme (Gen 2) | 4,915 |
| Dynabook Portégé X30-F | 3,881 |
| Dynabook Tecra X50-F | 4,128 |
| Dell Inspiron 13 7390 2-in-1 | 3,764 |
| Lenovo ThinkPad P53 | 5,668 |
| Surface Laptop 3 15 (AMD) | 4,006 |
| Dell XPS 15 7590 | 5,521 |
| Dell Precision 3541 | 3,906 |
The XPS 15 again comes out on top in terms of how well all the hardware works together to accomplish general tasks. I also ran a PCMark 10 Extended test, which measures additional content creation and gaming performance. I got back a score of 4,850.
3DMark
Time Spy
| Device | GPU | Score |
| --- | --- | --- |
| Lenovo ThinkPad X1 Extreme (Gen 2) | GTX 1650 Max-Q | 3,190 |
| Lenovo ThinkPad P53 | Quadro RTX 5000 | 6,760 |
| Lenovo Legion Y740 15 | RTX 2070 Max-Q | 6,406 |
| Lenovo Legion Y740 17 | RTX 2080 Max-Q | 7,128 |
3DMark
Fire Strike
| Device | GPU | Score |
| --- | --- | --- |
| Lenovo ThinkPad X1 Extreme (Gen 2) | GTX 1650 Max-Q | 7,198 |
| Dell XPS 15 (7590) | GTX 1650 Max-Q | 7,763 |
| Lenovo ThinkPad P53 | Quadro RTX 5000 | 16,367 |
| Lenovo Legion Y740 15 | RTX 2070 Max-Q | 14,669 |
| Lenovo Legion Y740 17 | RTX 2080 Max-Q | 16,303 |
| Razer Blade 15 | GTX 1070 | 13,560 |
Cinebench
Cinebench (R20) (Higher is better)
| Device | CPU | Range |
| --- | --- | --- |
| Lenovo ThinkPad X1 Extreme (Gen 2) | Core i7-9850H | 1,730 to 2,495 |
| Dynabook Portégé X30-F | Core i7-8665U | 1,242 to 1,313 |
| Lenovo ThinkPad P53 | Xeon E-2276M | 2,686 to 2,701 |
| Surface Laptop 3 13.5 | Core i5-1035G4 | 1,584 to 1,606 |
| Surface Laptop 3 15 | Core i7-1065G7 | 1,703 to 1,745 |
Running Cinebench four times in a row, the scores show the following ranges. Typically, the results drop on successive runs due to thermal constraints on the processor. The thin chassis clearly has some effect on performance, and Lenovo's custom power plan is designed to keep the laptop from getting too hot.
SSD
CrystalDiskMark (Higher is better)
| Device | Read | Write |
| --- | --- | --- |
| Lenovo ThinkPad X1 Extreme (Gen 2) | 3,416 MB/s | 3,016 MB/s |
| Dynabook Portégé X30-F | 529 MB/s | 348 MB/s |
| Dynabook Tecra X50-F | 3,400 MB/s | 1,952 MB/s |
| Lenovo ThinkPad P53 | 3,567.23 MB/s | 2,813.25 MB/s |
| Lenovo ThinkPad P52 | 3,120 MB/s | 1,551.5 MB/s |
| Dell XPS 15 7590 | 3,000 MB/s | 2,796 MB/s |
| MSI PS63 Modern | 3,300 MB/s | 1,875 MB/s |
We also tested with PCMark 10's new data drive benchmark. The Samsung PM981 scored 2,006. We will continue running this benchmark in future reviews to have some reference.
Heat is managed well thanks to dual fans, and I never heard any egregious noise even with the laptop under load. It's evident from some of the above benchmarks that the X1 Extreme sees some thermal throttling during sustained performance, but the tradeoff is a laptop that runs cooler overall. While the X1 Extreme will deliver performance above what's usually seen in an Ultrabook, something like Lenovo's ThinkPad P53 or ThinkPad P1 will offer truly spectacular power meant for design and development work.
What I disliked about the Lenovo ThinkPad X1 Extreme
The X1 Extreme has a smaller 80Wh battery compared to the XPS 15 (97WH), and it shows in everyday use. With the 4K OLED touch display, I saw about five hours of life from a charge while handling standard productivity work like word processing, photo editing, and heavy web browsing. If you skip OLED and go with 4K IPS, you should be able to tack on an hour or two, and the FHD displays will extend life even further. The good news is that the compact 135W charger can deliver about 80% life back in an hour using the proprietary Lenovo charging port. However, don't expect a full workday of life with either 4K model.
The ThinkPad brand hasn't traditionally been known for slim bezel around the display, and while it's actually quite thin here, it's still not as thin as on the XPS 15. That's mostly due to the XPS 15's lack of an IR camera and a built-in shutter. If you value your privacy, the extra thickness along the top of the display likely won't be a big issue.
Finally, it would be nice to see LTE connectivity as an option here, but at least it's sporting Wi-Fi 6. If you absolutely need to stay connected everywhere and love the X1 Extreme's design, consider checking out the ThinkPad X1 Carbon.
Should you buy the ThinkPad X1 Extreme (Gen 2)?
Lenovo's ThinkPad X1 Extreme is a laptop I don't want to give up using. It has the performance I need for heavier tasks like editing, and it laughs in the face of other general office work. Raw performance might not be on par with what Dell has achieved in the XPS 15, but overall the X1 Extreme is more user-friendly. There's really no better keyboard and pointing setup available, and the extra security features — like an IR camera with shutter, fingerprint reader, dTPM 2.0 chip, and Smart Card reader — give users concerned with privacy a lot of options.
The 4K OLED touch display, while the most expensive option of the bunch, is dazzling and has the right color calibration to be used for design and creative work. It does, however, drag the 80Wh battery down to about five hours from a charge, requiring the AC adapter to accompany the laptop just about anywhere it goes. That issue can be remedied with an FHD configuration, and at least the adapter isn't very big.
If you're searching for a 15-inch Ultrabook that's durable, relatively thin and light considering the overall size, and ultimately powerful and satisfying to use, the second-gen ThinkPad X1 Extreme is one of the best you'll find. It's expensive, but it's totally worth it if your budget allows. Be sure to have a look at our collection of the best Windows laptop options to see where it ranks.
Second-gen improvements
(opens in new tab)
Lenovo ThinkPad X1 Extreme (Gen 2)
A generous powerhouse Ultrabook

With 9th Gen Intel Core CPU options, NVIDIA GTX 1650 dedicated GPU, 4K OLED touch display, and some added features that only up user satisfaction, the ThinkPad X1 Extreme (Gen 2) is a top pick for anyone in search of a potent 15-inch Ultrabook.
Daniel Rubino is the Executive Editor of Windows Central, head reviewer, podcast co-host, and analyst. He has been covering Microsoft here since 2007, back when this site was called WMExperts (and later Windows Phone Central). His interests include Windows, Microsoft Surface, laptops, next-gen computing, and arguing with people on the internet.
Hi! I brought this notebook 6 weeks ago (4K IPS Display, Core i7, 32 GB RAM).
There is a widespread problem detected with the keyboard, who is missing stokes and letters when you are writing. There are cases of different notebooks affected from many places in the world (Europe, US, Latin America).
The problem was reported on the Lenovo support forums, with 21 pages of complaints, but zero answer at this point.
There are many other problems (awful battery life for the 4K version -only 2 hours-, the OLED version has a poor image display, and problems with stability on certain scenarios like using a 4K external dock or lag while using a secondary display).
Don't buy this Notebook until there is a fix for this problem.
The Workstation version (P1 Gen 2) is also affected.
See the official Lenovo ThinkPad support forums for more information.

Sorry you had that experience...I've been using this laptop going on 2.5 months and haven't had a single issue. Keyboard is dreamy, battery last more than two hours (and charges fast).
Windows Central Newsletter
Get the best of Windows Central in in your inbox, every day!
Thank you for signing up to Windows Central. You will receive a verification email shortly.
There was a problem. Please refresh the page and try again.