Lenovo ThinkPad P53 review: Chunky workstation that doesn't skimp on performance
The late-2019 refresh of Lenovo's P50-series mobile workstation improves performance for designers and developers.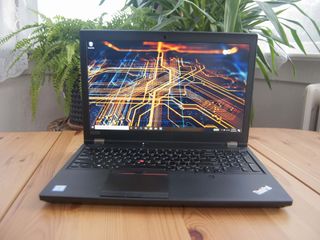 (Image credit: Windows Central)
The ThinkPad P50 series brings impressive performance and plenty of configuration options in a thick, durable chassis. The P53 is a continuation of the line — we previously reviewed the P52 — now with more powerful hardware than ever before as well as few other changes. I used the P53 for about a week to see what it's all about and whether or not it's worth the rather steep (but understandable) price.
Bottom line: The ThinkPad P53 is a mobile workstation brimming with powerful hardware. It's not considered slim or sexy by any means, but if you're a designer or developer, it's going to deliver what you need.
For
Specialized performance hardware
Plenty of ISV certifications
Lots of upgradeable hardware
Loaded with ports
Comfortable keyboard and Precision touchpad
Multiple display options, including 4K OLED touch
Against
Incredibly expensive high-end models
No removable battery and short life under load
Some coil whine
Wireless connection dropped frequently
Lenovo ThinkPad P53 at a glance
Lenovo supplied Windows Central with a review unit of the ThinkPad P53 complete with Intel Xeon E-2276M vPro processor (CPU), 64GB of DDR4 RAM, a 1TB M.2 PCIe solid-state drive (SSD), and an NVIDIA RTX 5000 Max-Q dedicated graphics card (GPU) with 16GB of GDDR6 VRAM. Although it's not equipped with a comparatively high-end 4K OLED display — it's instead using an FHD panel with Dolby Vision HDR 400 and brightness up to about 500 nits — you're still looking at a price of more than $7,000 before any special discounts often offered by Lenovo.
This is a configuration that rivals desktop PCs in terms of performance, and there are far more affordable options available. Entry-level models start at about $1,489 before any coupons and include a 9th Gen Intel Core i5-9400H vPro CPU, 8GB of DDR4 RAM, 256GB PCIe SSD, and NVIDIA Quadro T1000 GPU with 4GB of VRAM.
Also available are 9th Gen Intel Core i7-9850H and Core i9-9980H CPUs, as well as NVIDIA T2000, RTX 3000, and RTX 4000 GPUs. Due to space constraints, the two lower-end GPUs can be had with two M.2 PCIe SSD slots and a 2.5-inch HDD slot, while the higher-end GPUs come with three M.2 PCIe SSD slots.
Here's a breakdown of the hardware found in the review unit I tested.
Swipe to scroll horizontally
Category
Spec
Processor
Intel Xeon E-2276M vPro
Up to 4.70GHz
RAM
64GB DDR4-2666MHz ECC
Graphics
NVIDIA Quadro RTX 5000 Max-Q
16GB GDDR6 VRAM
Storage
1TB M.2 PCIe SSD
Samsung PM981a
Display
1920x1080 (FHD) non-touch
IPS, anti-glare
Dolby Vision HDR 400
Up to 500 nits
Ports
Two USB-A 3.1 (Gen 1)
Two Thunderbolt 3
USB-C 3.1 (Gen 2)
HDMI 2.0
RJ45 Ethernet
SD card reader
3.5mm audio
SIM slot (optional)
Audio
Stereo speakers with Dolby Atmos
Wireless
Intel AX200 802.11ax (2 x 2)
Wi-Fi 6
Bluetooth 5.0
Fibocom L850-GL LTE (optional)
Camera
Front-facing 720p
Security
IR camera (optional)
Fingerprint reader
dTPM 2.0
FIDO authentication
Webcam shutter
Kensington lock slot
Smart card reader (optional)
Keyboard
Three-stage backlight
Number pad
Touchpad
Precision
TrackPoint system
Battery
87.5Wh
Dimensions
14.86 inches x 9.93 inches x 0.96 inches
(377.4mm x 252.3mm x 24.5mm)
Weight
From 5.51 pounds (2.5kg)
What I loved about the ThinkPad P53
Image 1 of 3
The ThinkPad P53 hasn't changed much physically since the P52, and you can still expect a rather chunky laptop with enough space for the formidable hardware inside. It's about an inch thick and has a starting weight of 5.5 pounds, so you'll want a sturdy laptop bag if you plan on often carrying it around with you. Ports have been updated and moved around a bit, but you can still expect generous connectivity. On the left are HDMI, two USB-A, an SD card reader, and space for an optional Smart Card reader, while the right side includes a 3.5mm audio jack, USB-C, and space for a SIM slot if you check out with an LTE modem inside. The back edge is reserved for the ports you'll likely use the most in order to keep them out of the way. The proprietary Lenovo charging port is joined by two Thunderbolt 3 — ideal for connecting a powerful docking station — and RJ45 Ethernet.
The bottom portion of the chassis is made of a magnesium-aluminum alloy, while the lid and palm rest are glass-fiber reinforced plastic. The usual black ThinkPad soft-touch finish is here, and as usual, it's a total fingerprint and smudge magnet; keep a cleaning cloth close if this sort of thing irks you. Even after scrubbing the lid with a cloth and cleaning solution, fingerprints are still evident. The P53 has undergone MIL-STD 810G durability testing to ensure it can put up with use and abuse above what you'd find in an office, so don't be scared to take it with you into the field. It's rigid and heavy enough that I'd be more afraid of it damaging whatever it fell on rather than taking damage itself.
You get a full keyboard with a number pad and three-stage backlight (off, bright, and brighter), as well as a TrackPoint system with red pointing nub in the middle. I don't still have a P52 to test key travel side-by-side, but it does seem like the P53's travel distance has been shaved down slightly. It's still plenty comfortable, and anyone who types a lot should be satisfied. The Precision touchpad tracks well and includes slim physical buttons below. Dual 2W speakers are positioned above the keyboard, and Dolby Atmos helps give them a rather full sound. They get loud without distorting, and I had no issues watching videos and listening to music. Below the keyboard is a fingerprint reader for added security.
The lid sits on two small hinges that allow it to be opened with one hand (weight plays a huge part here). The bezel is rather thick around the 15.6-inch display due to the overall size of the bottom portion of the laptop, but the P53 really isn't trying to win any style awards. Opting for the FHD display with Dolby Vision HDR 400 (which is what the review model uses) opens up the option to add an IR camera for facial recognition, and the standard 720p webcam includes a shutter for extra privacy. The non-touch display has a matte finish to help with working in well-lit areas and combined with about 500 nits brightness. It's more than enough to mostly eliminate glare. Testing color accuracy, I got back 99% sRGB, 76% AdobeRGB, and 70% NTSC. For those who need a more accurate color, there are also two 4K display options available. The LCD option manages 100% of the AdobeRGB color gamut and also includes Dolby Vision HDR, while the OLED 4K option hits 100% DCI-P3 color reproduction and includes touch function. 4K OLED is no doubt the best option, but it also raises the price by a few hundred dollars.
On the bottom of the P53 is a seven-screw panel that can be removed for quick access to internal hardware. There are, in total, four SODIMM RAM slots, with two easily accessible and two harder to reach between the keyboard and motherboard. The review unit, due to the beefy GPU, doesn't have room for a 2.5-inch HDD, so instead has three M.2 slots for SSDs. You should have no issue adding enough hardware to tackle most intensive tasks. The Intel Xeon CPU and NVIDIA Quadro RTX 5000 Max-Q GPU with a whopping 16GB of VRAM in the review unit are extremely powerful, but keep in mind the Max-Q designation means it's about 10-15% less powerful than a full desktop option. The P53 comes with a ton of Independent Software Vendor (ISV) certifications to ensure it will work with most programs in specialized fields.
CPU
Geekbench 5.0 Benchmarks (Higher is better)
Swipe to scroll horizontally
| Device | CPU | Single core | Multi core |
| --- | --- | --- | --- |
| Lenovo ThinkPad P53 | Xeon E-2276M | 1,237 | 6,152 |
| Surface Laptop 3 13.5 | Core i5-1035G7 | 1,177 | 4,413 |
| Dell XPS 13 2-in-1 7390 | Core i7-1065G7 | 1,209 | 3,571 |
| Surface Laptop 3 15 | Ryzen 5 | 769 | 2,720 |
| Dell XPS 15 7590 | Core i9-9980HK | 1,176 | 7,624 |
PCMark
PCMark 10 Express
Swipe to scroll horizontally
| Device | Score |
| --- | --- |
| Lenovo ThinkPad P53 | 5,668 |
| Surface Laptop 3 15 (AMD) | 4,006 |
| Dell XPS 15 7590 | 5,521 |
| Dell Precision 3541 | 3,906 |
I also ran the PCMark 10 Extended benchmark that's more focused on work above general office productivity. The P53 managed a score of 7,895.
3DMark
Time Spy
Swipe to scroll horizontally
| Device | GPU | Score |
| --- | --- | --- |
| Lenovo ThinkPad P53 | Quadro RTX 5000 | 6,760 |
| Lenovo Legion Y740 15 | RTX 2070 Max-Q | 6,406 |
| Lenovo Legion Y740 17 | RTX 2080 Max-Q | 7,128 |
3DMark
Fire Strike
Swipe to scroll horizontally
| Device | GPU | Score |
| --- | --- | --- |
| Lenovo ThinkPad P53 | Quadro RTX 5000 | 16,367 |
| Lenovo Legion Y740 15 | RTX 2070 Max-Q | 14,669 |
| Lenovo Legion Y740 17 | RTX 2080 Max-Q | 16,303 |
| Razer Blade 15 | GTX 1070 | 13,560 |
You can see here how the Quadrio RTX 5000 Max-Q is closely matched to the RTX 2080 Max-Q, though it has 16GB of VRAM for more intensive tasks.
Cinebench
Cinebench (R20) (Higher is better)
Swipe to scroll horizontally
| Device | CPU | Range |
| --- | --- | --- |
| Lenovo ThinkPad P53 | Xeon E-2276M | 2,686 to 2,701 |
| Surface Laptop 3 13.5 | Core i5-1035G4 | 1,584 to 1,606 |
| Surface Laptop 3 15 | Core i7-1065G7 | 1,703 to 1,745 |
Running Cinebench four times in a row, the scores show the following ranges. Typically, the results drop on successive runs due to thermal constraints on the processor.
SSD
CrystalDiskMark (Higher is better)
Swipe to scroll horizontally
| Device | Read | Write |
| --- | --- | --- |
| Lenovo ThinkPad P53 | 3,567.23 MB/s | 2,813.25 MB/s |
| Lenovo ThinkPad P52 | 3,120 MB/s | 1,551.5 MB/s |
| Dell XPS 15 7590 | 3,000 MB/s | 2,796 MB/s |
| MSI PS63 Modern | 3,300 MB/s | 1,875 MB/s |
The Samsung SSD in the P53 is extremely fast, and there are two easily-accessible M.2 slots sitting empty if you'd like to add storage.
Battery life depends on what you're using the laptop for, as well as what hardware is in use. For general productivity work, I saw between four and five hours with performance set to high. Tempering performance and lowering display brightness adds a couple of hours, and you might be able to push eight hours total without needing a charge. This is without a 4K display, which would sap battery life further. Like a gaming laptop, if the GPU is in full use, you won't want to be caught without the AC adapter; expect battery life to fall to less than two hours from a charge. The P53 does feature quick charge so that you can get about 80% battery life back in just less than an hour.
What I disliked about the ThinkPad P53
Other than the price and weight — both tradeoffs necessary for the level of performance available within — I noticed a couple of things about the P53 that might irk some people. First is the lack of modular battery, something the P52 offered. There was no built-in battery to make hot swaps possible on the older model, but you could still charge up a couple of batteries if you knew you were going to be away from a wall plug for an extended period of time. Third-party portable batteries have sort of killed the need for modular batteries on laptops, but it was still a nice feature.
Heat does accumulate despite ample venting on the bottom and sides of the laptop, and if you're working long hours with intensive programs, you're likely going to see some thermal throttling. Lenovo's Vantage app offers a custom performance tuning to prevent throttling, though you're not going to be able to hit the same performance with it enabled. I ran two sets of benchmarks — one with Lenovo handling performance and one with a custom high-performance setting — and found a noticeable difference between the results. You'll see improved performance without Lenovo's tuning, but only up to the point where things get too hot. The fans are quiet, though, so that's a plus.
I also noticed some coil whine when the laptop was under load, which I found is apparently a relatively common issue after poking around online. It's not a dealbreaker, but keep it in mind if it's something you can't live with. There was also the issue of having Wi-Fi drop about every 30 minutes with about a minute break until it reconnected. I was located almost directly next to my router, and my other devices didn't have the same problem. This no doubt won't be an issue for all models, and in any case, the wireless adapter is easy to swap out.
Should you buy the ThinkPad P53?
The ThinkPad P53 is undoubtedly a powerful mobile workstation, designed to fulfill the role of a full desktop PC for designers and developers. It's available with impressive performance hardware and a bunch of different display options, up to a 4K OLED touch option that I wish I was able to test. Battery life isn't all that great, especially when you're pushing power, but that's an understandable tradeoff.
The P53 is durable, it can be upgraded easily thanks to a removable panel and lots of space for hardware, and it makes typing extremely comfortable. This isn't a laptop for everyone due to the size and hardware inside, but those who need it for specialized work will no doubt swallow the price and find that it's more than up to the task at hand.
Mobile workstation
Thick laptop for specialized work

The ThinkPad P53 isn't perfect, but if you're a designer or developer who needs a desktop-class performance in a "portable" device, it should serve you well.
Get the Windows Central Newsletter
All the latest news, reviews, and guides for Windows and Xbox diehards.
Senior Editor, Laptop Reviews
Cale Hunt is formerly a Senior Editor at Windows Central. He focuses mainly on laptop reviews, news, and accessory coverage. He's been reviewing laptops and accessories full-time since 2016, with hundreds of reviews published for Windows Central. He is an avid PC gamer and multi-platform user, and spends most of his time either tinkering with or writing about tech.