Acer's Liquid Extend is a Windows 10 Mobile Continuum accessory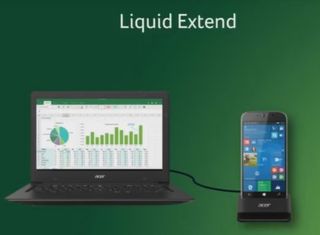 During Acer's media event today in New York City, the company briefly showed off the Liquid Extend, which appears to be an accessory for Windows 10 Mobile smartphones that have Continuum support.
The Liquid Extend was showed in a slide during the Acer press event, and the company refered to it as a "laptop kit" to convert the Windows 10 Mobile phone into a laptop. Unfortunately, Acer didn't reveal anything else about this accessory during the event, nor is there any word on a price or release date. We will post more information on the Liquid Extend when it is revealed.
In a related note, Acer announced that its previously revealed Liquid Jade Primo smartphone with Windows 10 Mobile is now shipping, and it can be bought bundled with a Continuum-based dock, wireless mouse, wireless keyboard and a PC monitor. While pre-orders for the smartphone have popped up in other countries, the Liquid Jade Primo has yet to go on sale in the US
Hands-on with the Liquid Jade Primo
This could be nice. Acer make some good looking hardware at times and this could be a great alternative to the cheaper ones if it's made of better materials (would expect it to cost more too in that case, but...options!)

Acer really investing on W10M, hope they success. Lumia 640 XL Dual SIM
Build 10.0.10586.218

The device is feeling old now

$100 more expensive than a 950 XL in the Philippines so no for me. No dock included.


So what we learned today is that the Acer Jade Primo will go on sale ___ 2016 for $____ on ____ networks. Seriously what are they thinking? One picture at a time -- LG V10

Do you really think these manufacturers care about Windows phones? They are just pandering to Microsoft to get some deals on Windows for their PCs. Don't you think it is telling that Acer and HP are making Windows phones and not LG or Samsung? These companies don't care about Windows phone, they are just pandering to Microsoft for the sake of their PC business. Posted via the Windows Central App for Android

What PC business? In case you haven't noticed, it's in decline.

Err no, 2 in 1s is up, that PCs business!

I can kind of see that. I think HP will get it right with the Elite X3 though but I will reserve the last little bit of hope I have for new hardware until the actual results show up. And apps. Both have to happen for me but it doesn't look like I need to be worried about coming back to W10M anytime soon. The saga continues. One picture at a time -- LG V10

My guess is that it works with the lumia 950xl as it plugs into the USB-C port. If that's so I'd be willing to sell my laptop just to get the dumb terminal laptop and use with my phone. Hope they offer a wireless solution too. HP elite X3 will likely be using the new wifi tech MS patented for more reliable, low latency transmission.

Continuum accessories work for all Continuum enabled devices as the hardware needs to be compatible with the OS feature, Acer and HP are not providing their own implementations of the OS feature, just their own implementations of the hardware. Posted from my Lumia 950

I get that. I think it's more around the design decisions oem's make for phones. Like say some company puts the usb-c port at the top, then you are docking it upside down. My guess is that putting it at the bottom has become the standard.

Low latency WiFi? What? Where?

Read it on one of the windows sites. It can be used for tethering and has intelligence to use extremely low power.

It was mentioned at the Build conference too, I believe.

What would the point be? Your laptop would now be useless without your phone. It is mow slower and software is non-existant. Your devices go from 2 in 2, to 1 in 2. If you destroy or lose your phone, now you don't have a laptop either. One of the dumbest ideas ever. Posted via the Windows Central App for Android

I barely touch my laptop. It runs hot the fans are loud and battery doesn't last long. If it was just all battery and screen then it would last long. A phone is probably one of the most important things people carry. When they lose, destroy it, they quickly replace it. The same isn't true for laptops. So I will always make sure I have a phone. And while you may think it's dumb. Keep in mind that this is subjective and people are individuals. No need to pull a Donald Trump on people.

This dock would allow me to get a laptop like experience on the bus without WiFi (no tethering allowed on my contract, internet gets cut off automatically if I try to use it, unbranded unlocked device too, no I refuse to change networks because I use a ton of 4G so unlimited 4G for £25/mth is nice). I won't be selling any of my other devices but this makes for a very compelling use case for me (and I'd use it a LOT more than you think, most buses don't have WiFi here so I'd probably be using it multiple times daily)

Good grief! Why do you put up with a carrier who punishes you for tethering? Don't give them your hard-earned money. Sounds to me like Adolph Hitler survived the War and is alive and well as an ISO.

It's either unlimited data or no SIM at all for me. That's how important unlimited data is to me. The other big networks (I don't trust VMNOs as they simply piggyback off the big networks) all charge like £50 for 20GB data, and don't even offer unlimited. So as a result my only choice is Three.

Wow nice. I want one for my 950xl if the specs are decent. Had a look at the nexdock but poor resolution and no Usb type-c put me off.

Needs a new name. At first I thought it was a male enhancement drug. Posted from Windows Central for Windows 10

Lmao, tsk tsk... ;p Ugh, I'm at work...so boring lol =p
Windows 10 RULZZ yer FACE!!!

This is a step towards what will be commonplace in a year or two - a very powerful phone with a Surface-like wireless attachment. The Surface device will have no processor - although mayge a GPU and additional RAM/storage on higher-end models. It will have touch, stylus and a detachable keyboard. Of course, the phone processor will have to be Intel X64. Maybe it will be called Surface Phone?

I'm imagining a market (once phone hardwear can run legacy programs) where most light PC users don't buy a laptop or PC, they just an accessory for their phone. As a light pc user myself, continuum is a game changer in the coming year(s). I can't wait!
Windows Central Newsletter
Get the best of Windows Central in in your inbox, every day!
Thank you for signing up to Windows Central. You will receive a verification email shortly.
There was a problem. Please refresh the page and try again.