Act quick to get $5 in your Microsoft account for free (It's over!)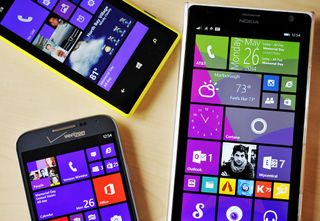 Want an extra five bucks to spend on some new Windows Phone apps or games? Today's your lucky day if you're a resident of the United States. Video game retailer GameStop has a little promo on their website that will net you $5 towards your Microsoft account.
How do you grab it? Easy, be keep in mind you'll need your Facebook account handy and you'll need to be a resident of the U.S. according to the GameStop website.
Head to the Xbox One section on GameStop's website (opens in new tab) and scroll all the way down. You'll find a little box where you can enter in your email to claim those $5 on your Microsoft account. The cash is coming to your account from the #XBLGoldMineATGS Treausure Hunt Thursday promotion. All you need to do is drop your email and like some page on Facebook to get that cash applied to your Microsoft account. You'll then get a code that you can redeem for $5 in your Microsoft account.
Once the $5 is in your Microsoft account, you can use it in the Windows Phone Store, Windows Store or to buy some Xbox games. Not a bad thing to do for 30 seconds of work.
Nab the promo and let us know what app or game you're going to buy. Feeling left out that it's U.S. only? Don't forget to check out Hidden Gems page for your chance to win a prize every day!
P.S. A lot of you outside the U.S. are apparently able to get the $5. Does this work for you outside the U.S.? Let us know your region below in the comments. Enjoy!
P.P.S. And just like... it's apparently over. Hope you were able to snag a few dollars for apps and games.
All I do is win! An extra $5 in my account.

Weeen weeeeennnn weeeeeennnn all I do is weeeeeennnnn

Edit: I am not from the us and I have got them

Windows 8/8.1: Go into 'My Account', and input your promo code

Open "Wallet" on your windows phone, hit the plus sign (+), scroll down and then select "add Microsoft gift card. Sign in with your Microsoft Accound and enter your $5 code. You will then see the balance of your Microsoft Account upgrade instantly.

Someone report this guy! Jk awesome... I wasn't as lucky since I've been working all day (on my birthday).

Today is my birthday too. Happy cobirthday to you

@WPUserRevolt - Follow us on TWITTER, we need to show we want better apps.

Why do you guys keep doing that? :-/

Sam,this might sound really strange but I don't live in USA and I'm not 18 years of age but still I got a gift code!Even my fb's profile is set to Pakistan.Is this a glitch?Ah,who cares?Got $5 in my account,better buy some games :D Thanks a lot for the tip WPC and Sam,and thanks a lot for the glitch,Gamestop! :D So happy. :D Now my next target is a 1320 from Hidden Gems,I hope I win one.You guys rock (y) :D

Usama, that just makes you a baller!

Baller:a successful person. Typically used to refer to men, and often implies an abundance of money, women, nice clothes, expensive cars, etc.
He's a baller. Then yes,I guess I am :D :p

Wow, it's the glitch day i just got 15$ from it, (used my family's account)
but bought readit and still got 15$

Then you're an ultra baller xD

Strange but it worked for me as well (India). I tried after i saw your comment, Thanks!
@Sam you should remove the "U.S. only" from the title, it keeps people away from the article :P

Edit: It's working, even if you are not from US.

I easily got it from outside the US.

Lol, yeah me too
shh don't tell them :P

Got money on my mind, I can never get enough... Everytime I step up in the building everbody's hands go up! And they stay therrrrrrrrrrrrrrrrrrrre!

Check on http://commerce.microsoft.com

I missed it! It's already gone!

Ahhh i am missed, i am very sad.

Oh man I missed this :( I just woke up this morning and saw the article. Can't they do such promos in the day time lol

got anyone a extra code ? i miss it :(

I want it ... I am in India

@WPUserRevolt - Follow us on TWITTER, we need to show we want better apps.

How about we all follow you on Twitter and just spam the hell out of you.

Exactly -_-
WPC team,please ban this spammer -.-

Hi Sir. Why would you do that?

Because you are spamming WPCentral in every article -.-

Sorry about that. It wasn't my intention annoying you.

You did a good job at it anyways

Yeah! Got one. Thanks for the heads up!

Too bad they now have your info.

Got it! Makin' it rain in the Windows store yo!


What is Hidden Gems page??

Damn, if only I had Facebook. :/

Check this page out bae http://www.wpcentral.com/introducing-hidden-gems-our-new-app-series-windows-phone
Edit: No clue why this is replying to you. I am replying to that guy above. I'll let our tech team know something is funky up.

There's one more thing Sam, sometimes my replies are posted as comments in the WPCentral app for WP...

That happens all the time... Happened to me like 4-5 times now... And that reply to the next post has also happened once or twice...

You know what else is messed up? We haven't had email notifications for more than a week...

I thought it was just me not getting email notifications.

Yeah that's right!
Jay Bennette told he's working on it and suggested to reinstall the app. I did and it's still not working :/

Why does everything need a damn Facebook account??? Grrrrrr! >:-[

Because it has spread like a virus...

Works fine in Canada! Got my $5.

England loses twice in one night
:-(

I feel pity for England... As soon as they see and international game they lose it... I dunno why it happens to them always... And I am an Italia supporter but feel bad for them... Henderson, welbeck, jagielka, glen Johnson of all the ppl... Seriously? I think Gerrard brings all the bad luck...

At least you're not Spain

I will not be bribed to join Facebook!

We've got one with a brain here. Kill it with fire before it teaches the others.

What's new, all Microsoft and Windows Phone perks are U.S. only.

Need a bit of cheese and some violin music to go with that whine.

It's a Gamestop promo, which I think is really only in the US, that's why...

Got it! Free money... I live outside the US...

got $10 with my fbook and my wifes fbook :D Over the course of the last 2 years ive gotten at least $200 free from things like this :D

Every time I click a link in a wpcentral post and get redirected NOT to what it says but the posts-tagged-list ... I kill a kitten. I have killed many kittens because of your misleading links. Please, think of the kittens.

Nice, thanks guys. Got it!

Well that's hardly free. It's $5 in exchange for my personal information. Ummm no thanks.

Well since the gov and everyone else already has your personal info, might as take 5 bucks for your troubles.

You don't have a dummy Facebook profile for contests and promos? N00b

You owned the internet for the day... Specially for that "N00b"...

Thanks for the post guys! And Thanks to Gameloft!

Open Wallet, click +, select Microsoft Gift Card

https://commerce.microsoft.com/PaymentHub Click on Billing->Payment Options. Then click on Microsoft Account. Then click on Redeem Code.

Go to wallet in your app list and tap on + and then tap on add Microsoft gift card. Login, enter the promo code and you're done.

YES +5$ , You guys at WPCentral really need to do more of this kind of posts ;) , and yes I know you have the hidden gems series , but I really think you need to review more stream line apps , e.g. booking hotels isn't really strem line compared to a note taking / gaming app for example . A music app would be great considering how catastrophic Xbox music is on all platforms , I'm really starting to doubt some idiot deleted all the Zune source code or some other idiot kicked all of the zune team instead of the dumb marketing team .

Follow @wpscoops for news on indie apps

how to redeem it to microsoft account please ?

Everything is us only with ms

I got it easily outside the US.

Guess what, this one isn't Microsoft, its Gameloft. Get over it

Get the code, change your WP region to US to spend it. Profit :)

Haha... Exactly. I don't live in the US, but I have my region already set to US to get Cortana. All went well for me. :)

Coincidentally I've got a few email accounts :)

Worked in germany too (with hotmail.com account) :)

I made it! Thanks you and im from Dominican Republic

YAAAAAAAAAAAAAAAAAS. This website is great

Ughh I got the code and then it disappeared :( please help me :(

Yay, thanks. I got mines! :)

Will they do this every week?

Think ill use it for bf4 naval strike.

Solved changing the region. Hahaha no one can defeat the inhabitants from the world. ;)

Thanks, Sam! That was an easy $5.

OUTSIDE OF THE U.S.!!!!!!!!
First come first serve for free redemption code..
Q96NX-98Q44-YHPD7-VT887-BDT4J.. Take it have it love it

We can't use it since it asks personal mail and password

Got it. Thanks Justin!! :-)

If your in America your dirty for that.. If not, no prob

Im from Colombia and I got it! Thank you Windows Phone Central!

Awesome and easy tip. Thanks!

Get it, Got it, Good. Thanks Sam. $5 richer. I plan am going to buy the $3.99 IAP in GT Racing 2 to support the Devs. Not because I have to but because I want to. Coding a game, especially one with such graphical fidelity isn't free or easy. $3.99 plus tax coming their way. It's actually quite funny, I was going to buy the IAP during my lunch break but I decided to wait until after work, now I didn't have to spend any of my own money and the developer still gets money for their hard work. A win-win in my book. Thanks goes to Sam for posting, GameStop for giving and Gameloft for making.

wheres the box to put the email? Theres nothing.

Sorry, the offer you tried to access has ended.

bummer.

Looks like the offer is over already! Got it before it ended. Thanks WPCentral!

Facebook oauth redirects never work on Windows phone

It does. Just change your browser to show desktop sites instead of mobile ya nooblet

hmmm...not a nooblet, set to desktop, and still never works, soooooo......

Thank's. Regards from Spain.

So, I scannedthat thingy where I confirmed my voucher. But how do I use the code? Where is the 5 dollars exactly saved? I currently don't have a credit card linked to my account because Microsoft blocked my card for whatever reason, so how can I use the 5$?

Log into your microsoft account (ex. hotmail/outlook) Click on your picture at the top right Click on the account settings option Click on 'Overview' under the billing section in the left side bar Click on 'redeem code' under 'Payment options' Hope that helps :)

DAMGGGGG!!!! I missed it :/

It didnt work for me it told me the offer has ended...

Sorry, the offer you tried to access has ended. Lucky me :D

"Sorry, the offer you tried to access has ended."

Damn it just ended. I was trying to get a few more codes. I got at least 5$

So, the offer has ended now. Glad I got it in time :D Thanks WPCentral!!

Got it! Thanks for the tip! Looks like it ended now though. I referred it to my friend and it was gone before he got there...

Same thing lol
I got it just in time

Literally looked a minute after it had expired!

Thank you wam1q!!!!!!!!!!!!!!!

I got... Nevermind lol thanks

I'm feeling left out because I refuse to create a Facebook account.

And Facebook only, stupid.

Oh come on :( the code disappeared how do I get it back please help meeee

Got the code, but used phone to get that QR code, then closed my browser tab. Sooo actually didin't get the money, damn!...

Same here :( shouldn't they send the code by email??

i'm pretty sure if you go there (to the same page) you will see the same code
but if you cleared your browser's cookies, it won't work..

Got a code, Didn't need facebook though?

Just got it to work and im in the UK :)

How? I've got it but when I tried to redeem voucher/code on my 925 or PC it says 'the gift card code does not match the contry or region of your Microsoft account'

Change your region to the US

got one for me and my 2 boys!!

It's done already. That was quick.

Pissed of with this US only shit.

HXC7N-JR4FM-Q8336-Q2K4Y-XBRBW

Someone use it. I got it but can't use it

damn I got $10 before it finally closed

I was JUST about to do it when it shut down. Oh well.

They are no longer doing it!!! Garbage!

Where people were getting it out side the US it was through a VPN... at least thats what i did

I didn't know how to redeem it so I used Bing Vision to scan the barcode. It said my code was successfully redeemed and the code disappeared. However I got nothing. How can it be redeemed when it didn't ask for my account. This was disgusting.

im going to need my wpc notifications to be a little faster - i was scrambing to get it - and it was posted 47 mins ago.

AWESOME I got enough people to help me. And now I am going to enjoy a free Xbox one game($60) XD. It said act quick...

yeahh im gonna buy RAYman jungle run and another game because on asphalt 7 say insuficient founds dafuq it cost 4.99

Just bought INTO THE DEAD and paid for instagram video service with 6TAG, Thanks again wpCentral for this post!

¿Eras colombiano? ¿como has hecho? yo soy de españa. Para canjearlo.

Bought into the dead too now i have only 0.66 LOL

Is it worth still trying?

Never mind - it stopped fo sho. }:(

I'm in P.R and worked just fine.

Puerto Rico is part of the US so that makes sense...

Well, it did work outside the US. I've got nothing to do with the US, (I'm in the Middle East, I only have my phone region and language set to English US to have Cortana) yet I was able to get that money without any proxy or VPN, etc. Just did exactly what's said here.

Not always cause I can't use Bing rewards.

Resident in united states..... Sound like the provider are discriminating people other than united states?

Got it. Can't buy shit because I'm not from US. Useless...

Switch your region to the US and use your free money :)

Send it to me, or change the region to USA
your choice :P

I got it. Then tried again with my son's account and it was over. Oh well better than nothing. :)

Sweet, I saw the $5 sitting in my account yesterday and wondered what it was for.