Lumia 620 supplants Lumia 920 as the second-most popular Windows Phone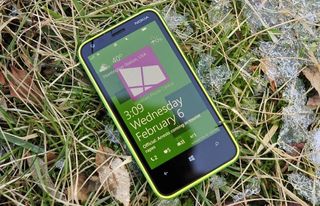 Every month we look forward to the latest data from AdDuplex. As you probably know, AdDuplex is the cross-promotion network for Windows Phone and Windows 8. It allows developers to promote their apps for free among other developers. Alan Mendevelevich (@ailon) is the man behind AdDuplex and gathers data every month into very informative reports. These reports help give us a look at the Windows Phone ecosystem. Let's check out the data from March to see which Windows Phone reigns supreme.
Lumia 520 still #1
The Nokia Lumia 520 is the most popular Windows Phone device of all time. Did you expect anything different this month? Nope. Last month the Lumia 520 had 33.0% of the marketshare for Windows Phone devices worldwide. This month it's slightly higher! The Lumia 520 now controls 34.5% of the marketshare for worldwide devices.
That's good news for Lumia 520 fans. One surprising little twist, or not surprising if you really think about the economics at play here, is that the Lumia 620 is now more popular than the Lumia 920. Last month the Lumia 920 was in second place with 7.4% of the marketshare, now it's in third place at 6.5%. The Lumia 620 moved up to 6.7% to take second place as the most popular Windows Phone device.
Flagship phones like the Lumia Icon, Lumia 1520 and Lumia 1020 don't really register since they're more or less niche devices with a smaller potential at grabbing big chunks of the marketshare. The Lumia 1020 comes in as the 15th most popular Windows Phone, the Lumia 1520 as the 20th most popular and the recently released Icon is at 38th.
Windows Phone 8 vs. Windows Phone 7.x
Keep in mind, this is looking at both Windows Phone 7.x and Windows Phone 8 handsets. The Lumia 710 is still actually fairly popular and comes in at sixth place with 5.2% of the marketshare. Windows Phone 7.x just won't die. Windows Phone 8 makes up 80.9% of all Windows Phone devices, while Windows Phone 7.x controls 19.1%.
OEMs
Surprise. Nokia is still king of all OEMs making Windows Phone devices and dominates the hill. They've moved up to cover 93.5% of all Windows Phone devices. HTC comes in with 4.3%, Samsung is at 1.3% and Huawei is at 0.8%. It'll be very interesting to see the OEM marketshare a year from now after Microsoft takes control of Nokia and over nine new OEMs join the Windows Phone ecosystem.
Carrier breakdown in the United States
T-Mobile, Verizon or Sprint customer? The next charge might give you a minor conniption. Here's the breakdown for Windows Phone users and their carriers in the United States. AT&T accounts for 33.2%, T-Mobile is second with 25.2%, MetroPCS is third with 14.6% and Verizon is fourth at 13.4%. Most of the coveted phones end up on AT&T as exclusives here. Like the Lumia 920, the Lumia 1020 and the Lumia 1520. So you'd think majority of customers in the U.S. on Windows Phone would be on AT&T? Nope. It's a fairly good spread and shows that AT&T isn't as dominate as you'd think. Makes us wonder how useful these exclusive partnerships for devices really are.
Windows Phone around the world
Now we'll check out the most popular devices for a select number of countries. You'll want to hit up the AdDuplex blog for the full break down.
India – Lumia 520 at 42.1% and Lumia 720 at 12.7%
Poland – Lumia 520 24.5% and Lumia 625 at 10.8%
France – Lumia 520 at 44.4% and Lumia 625 at 12.0%
Be sure to hit up AdDuplex for the full breakdown for March 2014.
Source: AdDuplex
Get the Windows Central Newsletter
All the latest news, reviews, and guides for Windows and Xbox diehards.