Adobe Reader for Win Phone 7 updated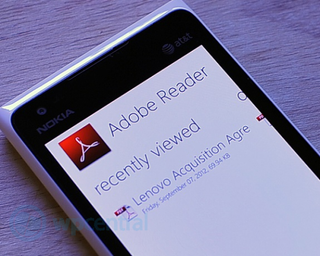 Adobe has updated its PDF reader for Windows Phone 7 handsets. The latest release arrives without a changelog, so we assume that a number of fixes and optimisations are included. The company has continued to display support for Microsoft's mobile platform with a steady supply of updates for its popular app.
The Adobe Reader app was previously bumped to 10.1, but was subsequently reverted back to an earlier version. In October, the illusive 10.1 release hit the store for the second time and consumers were once again able to upgrade. Notice anything new in the latest version? Let us know in the comments.
You can download Adobe Reader from the Windows Phone Store for free. Thanks to everyone who tipped us!
Rich Edmonds is Senior Editor of PC hardware at Windows Central, covering everything related to PC components and NAS. He's been involved in technology for more than a decade and knows a thing or two about the magic inside a PC chassis. You can follow him over on Twitter at @RichEdmonds.
Given the sorry state of Microsoft's WP8 PDF Reader, I wish they'd get this working on WP8.

You can't delete things. Really? REALLY?!

I love the "This app uses features your phone doesn't have."-message on my HTC 8X ;-)

I sincerely hope they release one for WP8 as in keeping with the trend of poor Microsoft apps the MS PDF app is just atrocious. This is the first time in years I want Adobe Reader on any device I use. Hear our cries, Adobe!

+1 Adobe finally updated the reader and it is gorgous on windows phone 7. Then I bought a 920 with WP8 and am stuck with MS pdf crap app!


Adobe Reader on WP8 or GTFO.
Seriously since WPCentral loves making posts about who is NOT supporting WP why don't they go knock on Adobe's door so we can get their excuse on record.

Only app I'm missing on wp8.
MS's pdf-reader isn't very good...

No reason to sugarcoat it, in its current state it is just crap.

No more fragmentation comments about android I see? Microsoft has done the same shit

Fragmentation is inevitable but you're right, they used this fact in the beginning because only one or two generations of the OS were released at that time, now with 3 or 4 different versions, the history is different

...or more like Adobe being slow, as usual.
Also, since we're on Adobe, I think MS should integrate Flash into IE10 on WP8 - just as they did for IE10 on Windows RT. Even if limited to the CV list of websites (which is pretty good, it seems), that is still good enough - and a differentiating factor of WP compared to other platforms, albeit limited.

Wish they'd allow multiple select so I can mass delete things.
As for fragmentation, WP7 users are such a minority I believe that there is barely any fragmentation. :(

I've experienced repeated crashes if the previous version for files > 1 MB in size. Also can only delete one file at a time. Hopefully mulitples files simultaneously can be deleted. Thirdly would likr to see option for sqving file to phone and email pdfs from the app to email.

Not compatibale with htc 8x, because of screen resolution

I wonder if this update will make it so I can actually open PDF files. That's not expecting too much is it?

I got it last night, along with 3 other app updates.

I thought most WP7 apps run on WP8. The Adobe Reader is one of those exceptions? I am still waiting on my Cyan Lumia 920 so I don't know.
The Adobe Reader also can't send files thru email.
I have seen nothing changed in this version. Still can't set bookmarks. Still double tap and enlarged too much. Still render a tag slow. But it's the ONLY reader in the market place that's worth using.
Being a developer, I have a hard time understanding the slow pace of improvement. Looks like Adobe have at least a few full time people working on the WP version. Are they all coding by typing ONE character a day?

If you want to send a PDF files by email you need to access your file in the office hub and tap and hold, choose share. If this is what you wanted.

How do you get a pdf off the web into the office hub in the 1st place?
I've yet to be able to get a pdf off of a webpage on to my 920. If I click on the link the MS pdf viewer tries to open it but fails because its not in the office hub! It shouldn't be this hard!

MS PDF reader is terrible and I won't let you save it to your phone. The only thing I can tell you is either wait for Adobe to make one for Windows Phone 8 like they did for Windows Phone 7 or use your regular web email not in your phone and just save it to your skydrive and you can download it from there save it in your phone. Adobe PDF for Windows Phone 7 is nice I downloaded it for my wife.

Is this a new feature in WP8? Because this does not work in WP7.5 (at least not on my Focus S).

Edit: ok, I see where you are finding this option now. You can only "share" a PDF if you go through your Skydrive app. It does not work through the office hub, as you claim. There are two big problems with this method of "sharing."

1. It assumes that the PDF you want to share is in your Skydrive. If not, you would have to download it to your phone and then send it to the Skydrive. I'm not sure this is even possible, but even if so, you should not have to go through so many steps. WP is all about simplicity and elegance. This is far from it.

2. "Sharing" only sends a link to your file in Skydrive. What if I don't want to send a link, but want to send the file itself in an email? You may scoff, and say that there is no difference, but there is.

Until there is a PDF reader that allows emailing of files, it is essentially useless to me.

I don't understand why MS doesn't just update their own damn app..and add the extra features that a basic PDF reader should have to be functional. You would think in-house apps would be faster and easier to update.

Yepp! Fully agree on that one!

Dang. back before adobe released the usuable version, I was so hopeful for WP8's built-in reader 'cause the adobe one was such a POS. If there is no good PDF reader on WP8, why do I want the Lumia 920 then....I hated the long wait for the usable Adobe Reader on WP7 and I have to do the same again on WP8? Can't you just run the WP7 version on WP8?

Wow, the comments for the app in the marketplace are quite colorful and entertaining. I never knew people relied so much on PDFs or felt so passionately about them.

I just think are a little annoyed that WP8 has a a great Office mobile experience and a crappy PDF reader ....which in most peoples minds PDF support and Office go hand-in-hand. ...Lets be honest....it is a little annoying not having a functional PDF reader

Where's Foxit reader when you need it? They have a Windows Mobile app, but not a Windows Phone one!

There is a changelog for Version 10.4.2: fixed bugs and added privacy policy. Thw version in the marketplace itself has the vrrsion# 10.1.2.0. Kinda strange version numbering at adobe?

Won't work on my US AT&T Lumia 920. Won't even install as I get an error that it won't support my resolution and must be WVGA (480x800). WTF? Anyone else run into this?

Just opened up a 1MB 40 page pdf on my Lumia 800. Adobe Reader is now fast, no lag in opening or viewing. Very happy.

I am pretty sure I could view bookmarks in a PDF file before this update. Now it's gone. Brilliant! I was hoping there will be support for hyperlinked bookmarks and 'voila' even basic bookmarks is gone. C'mon... my old N97mini handled pdfs MUCH better.

Instantly crashes when trying to open ANY PDF. So, at least on the HTC 7 Pro, the new Adobe Reader is pretty useless.
Windows Central Newsletter
Thank you for signing up to Windows Central. You will receive a verification email shortly.
There was a problem. Please refresh the page and try again.