Adorables, a collection of sports games full of cute and cuddliness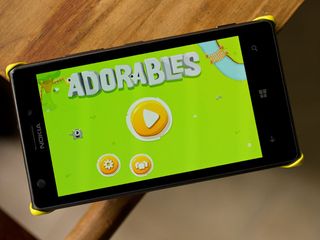 If you detest cute and cuddle characters, Adorables is not a Windows Phone game you should be trying. Adorables is a collection of sporting games that features tiny little creatures come across as part Minion and part gummy bear. Or at least that's how they come across to me.
These one-eyed creatures are customizable and currently delivers four games to your Windows Phones. Add features such as three single player modes, turn based multi-player modes, online multi-player modes and MOGA controller support and Adorables has the potential of being a decent Windows Phone game.
Available for low-memory devices, your biggest hurdle with Adorables may be simply getting used to the cuteness factor.
Plenty of gaming but it's hard to ignore the 'children's game' feel
The main menu for Adorables is fairly simple with options to jump into game play, access the main settings for the game and an option to customize your adorables. The main settings cover language support, favorite nation choices, a few display options and the customary sound/music on or off controls.
Customization options include body type, color, eyes, hats and mouths. Some customization options are free while others will cost you gaming coins.
Adorables has five gaming modes that include:
.World Tour: A multi-level game where you compete against computerized national teams.
.Tournament: Pick a game and play against the computer in a tournament bracket.
.Practice: This is a "just for the fun of it" mode where you can play any of the six games without the pressure of the World Tour or Tournament brackets.
.Online: Host or join online games and play over Wi-Fi (not the interweb) with other Adorable players.
.Hot Seat: Pass and Play multi-player games
The four games currently available to play with Adorables include soccer, beach ball, last man standing, and ice hockey. Last man standing is a king of the hill styled game where you have to push your opponents off a floating platform.
Additional games are in the works that are listed as "Coming Soon" which includes mummy and capture the flag. The game choices aren't shabby and the five gaming modes give Adorables a little depth but it may be hard to get past the children's game appearance.
Pick your game mode, your sport, tap the play button and your set. You do have the option to play a speed game that increases the pace of the game considerably (more on this in a second).
In the upper corner of these menus you will see your coin count. Coins are earned during game play and can be used to buy customizations for your players. In-app purchases are also available for the coins for those who want to get a jump on things.
Game Play
Game play with Adorables follows the game choice closely. For example, the soccer game calls for you to kick the soccer ball into the opponent's net. While you would expect beach ball to be a game of volleyball, it plays more like a game of soccer but on sand.
You have two options for game mechanics. The standard game has you setting the direction of your players, tapping the check mark and all the players go into action. Just tap and drag on your players to set their direction of movement. You can use players to kick the ball/puck or use them as blockers to knock your opponent's players around.
The speed option picks up the pace of game play a bit. Instead of lining up all your players then tapping the check button, once you have the direction lined up the player moves into action. There is about a two-second pause between moves for each player (they can move again when their eye opens).
Overall Impression
I have to admit, the game does grow on you the more you play. I think Adorables has two hurdles to overcome. First, it looks too much like a children's game and may turn some gamers away. These little guys are animated but they need to get a little more competitive. If they'd stick their tongues out and taunt their opponents, dive to the ground during soccer games, toss off their helmets and gloves during a hockey game or something that would give these little guys a little more character it would help.
Next hurdle is the time it takes to play a game. If you strike the ball or puck in the wrong direction, it is difficult to recover in a timely manner. Sure, you have the speed option but it's hard to get a coordinated gaming strategy when everyone is moving about at different intervals. It adds to the challenge but can extend game time a bit.
I do like the online gaming mode and with Adorables being also available on the Android platform, your field of opponents isn't as restrictive. I could see Adorables being a fun family game and if it ever gets a little edgier, it might appeal more to the older crowd.
As is, I see Adorables as a fun Windows Phone game that is well suited for the Kid's Corner. It's also a Windows Phone game that has potential of appealing to a larger audience.
Again, Adorables does have MOGA controller support and is available for low-memory devices.
Windows Central Newsletter
Get the best of Windows Central in your inbox, every day!
George is the Reviews Editor at Windows Central, concentrating on Windows 10 PC and Mobile apps. He's been a supporter of the platform since the days of Windows CE and uses his current Windows 10 Mobile phone daily to keep up with life and enjoy a game during down time.
What happened to Cyan 8.1 update?

If you are a user of a MS products, than add one word to your dictionary, "WAITING". You ll heard it many times.

Off to the forms with ye!

It was cancelled by Microsoft.

Microsoft decided to kill the Cyan update project!!!

I wouldn't be surprised if that was true... -.-

Guys, I was joking. But these days Microsoft are killing many projects they had started so I wouldn't be surprised if they decide to kill the Cyan update also.

Nice, will help to keep my baby cousin entertained! :) Make it for Windows 8.1/RT too as a universal app.

This game remind me Pudding Monsters by Zeptolab. Bring it to WP too.

Awwdorable indeed. *insert cute emoticons here*

Hungarian language? Maybe a Hungarian project? ;) proud to be Hungarian :)

Yap, it's a hungarian project

Not available here in Brazil. Please devs make your games available here. I can help.

Why the game only has 1 star?!?!?

Cuz u can't play the game

I think western people have a wrong perception of cute. This just looks retarded.

I love cute and I love this game

I'm sory for crashes, we try to fix it asap