Affinity Designer for Windows exits beta with official launch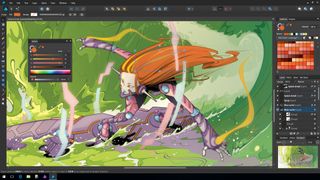 Affinity Designer, a graphic design program that has enjoyed quite a bit of success on Mac, is now officially available for Windows. The full release of the app follows a period of beta testing that initially kicked off in late June. And with the transition out of beta, Affinity Design now matches its Mac counterpart feature-for-feature, Affinity say.
Here's just a glimpse at what designers can expect from Affinity Designer for Windows:
A complete vector and pixel editing toolset
10 million+ percent zoom
Non-destructive effects and adjustment layers
RGB, CMYK, LAB, Pantone and ICC colour management
Advanced typography, including text styles and text-on-a-path
Effortless PSD, SVG, EPS, PNG and PDF/X handling
Unlimited artboards with device pre-sets
Super smooth gradients and colour control
Standard and retina resolution pixel preview
Unlimited and saveable undo history
Incredibly powerful export capabilities
Symbols, including multiple versions and nested symbols
Constraints for pseudo-responsive design
Grids, guides and advanced snapping including pixel alignment
Fully customisable shortcuts.
If you're interested in checking out Affinity Designer, Affinity is currently offering the Windows version at a 20% discount to celebrate the launch, knocking the app down to $40. Affinity is also throwing in a free Grade UI kit, which contains icons, buttons and other elements needed for UI and web design.
As a reminder, the Windows version of Affinity Photo, the company's photo-editing app, is currently available to beta test for free as well.
Dan Thorp-Lancaster is the former Editor-in-Chief of Windows Central. He began working with Windows Central, Android Central, and iMore as a news writer in 2014 and is obsessed with tech of all sorts. You can follow Dan on Twitter @DthorpL and Instagram @heyitsdtl.
Wow, vector and pixel editing? Competes with PhotoShop and Illustrator. How is Affinity Photo different from pixel editing?
I wonder how it stacks up against CorelDRAW?

Almost the whole feature list reads like a "what Adobe should've done" :)

Adobe has coasted on their name and the 'investment' users have made into learning the product's complexity. ** However, this isn't the first illustration/drawing program that has hit at these specific features and a clever combination of vector and pixel based editing. The main title off the top of my head goes back to the 80s and is still around, look up Xara. Corel even licensed it for several years and sold it as CorelXara to offer a more technical solution. It featured/features combined vector and pixel editing with high fidelity zoom and editing and rendering features. (The real-time anti-aliasing and precision editing rendering was ahead of its time and why many designers tried it out.) Corel dropped Xara and instead bolstered their products with other acquisitions for technical drawing and photo editing. Adobe also always hasn't had the 'best' products. Going back to v1.0, CorelDraw was a first rate illustration product that stood out from Adobe Illustrator in ease of use and automation of effects. Corel today still competes well with Adobe Illustrator, but like Adobe, the pixel and vector editing is defined by two software products. Sadly, CorelDraw has seen few truly major updates. If you pickup CorelDraw 10 from 1999 and compare it to CorelDraw X8 today, there are few actual new features, and bugs that persisted in CorelDraw 10 still exists in X8. I say that with love, as I prefer CorelDraw over Illustrator for a lot of quick work, and Illustrator also carries a lot of bug baggage and lack of truly innovative features, with Photoshop and Premeire/Affer Effects getting a lot more love from Adobe over the years. I hope this product gains traction, if for nothing else than to push entry level designers to move their work to vector when it would benefit them. I find so many beginning designers and illustrators that use Photoshop and other pixel based editing software when they are creating graphic content that would be 100x easier to produce in a vector illustration product. PS Xara has a lot of maturity now as well, and is worth a serious look for designers. The biggest problem they have is the cost is prohibitive and being an 'off brand' a lot of designers/artists can't take a risk on the product. There are things Xara has that stand above both Corel and Adobe, but unless they can get users in with cheaper buying options, they will stay in their technical niche. ** Adobe's hold reminds me a 'bit' of Oracle in the early 90s, where they fought removing an integrated interface from the database server technology, and tried to kill off ODBC and other similar solutions. Oracle made tons of money by companies sending all their office workers to special training, just to learn how to look up names and records using the 'Oracle' way. Which is why Oracle hated Microsoft with heat of 1000 stars.

Not to be a fanboy, but, I have used CorelDRAW for a while (about a few days to a week), but how can it considered as easy to use? I think I still don't find it easy to use than Illustrator. Plus, Adobe (nowadays) integrates nearly every of their apps (Illustrator, Photoshop, and even Premiere Pro and After Effects) to one each other, which is great without getting hassled of exporting files first and then importing to another one, not to mention that its editability gets reduced, too, when exporting to another file format. So far, I think Adobe has sort of power (or plus) in their apps' integration. On the other side, Affinity Designer gets my attention of being able to edit 2 types of graphics in an app at once (vector and raster).

This is a serious Pro software.
Glad that It's finally arrived at Windows. Hope it enables pen, touch, and dial support.

I think Serious Pros are going to struggle to replace Corel software with Affinity, nevermind Adobe's or any of the other bigger players. I have the Mac Versions. These looks the same. The UIs of the apps are fabulously dark and clean, but I don't think they measure up to PaintShop Pro and CorelDraw, nevermind Photoshop and Illustrator. I pretty much only use Photo as a Plug-In for Apple Photos (for iPhone Photos). I've moved everything else to Windows and use PaintShop Pro, now.

I'm sad this isn't a Windows 10 app :(

Well it could still show on the Win 10 store via the UWP bridge. But as to being a UWP app, MS has had little luck in getting anyone to move away from Win32, there must be reasons why and until MS makes some effort here it's unlikely to change.

Projects are shifting to UWP... Two key concepts here: 1) When it makes sense to use UWP.
2) Developers need time to move to UWP. A product like this takes months if not years of development, as most 'complex' software titles. (Which is also important to note, since UWP does more than just light 'Apps', unlike the iOS and Android frameworks.) As I write this, UWP is not even 1 year old. (Don't confuse WinRT, or even the pre-release UWP that shipped in Win10 RTM.) The actual, real UWP feature and code base was released in the November 1511 update in 2015. The software that will benefit from UWP is going there, it just takes time. UWP also is still maturing and growing with more features and Win32 APIs being secured and rolled into the framework with each Windows 10 release.

My guess is that this project was already planned way before UWP even became stable enough. Now the APIs are also not complete and is missing many features. Even simple things like integrating into file explorer can't be done until MS replaces file explorer. Windows 10 just isn't finished nor is the API.

This looks fab, for £29 I'm considering it. Does anyone have a link for Affinity Photo beta testing, I'm on the app and the links listed aren't working.

Head to the website there's a signup on the home page (if you're there buying Designer anyway!)

$40?, damn, I will get this fo sho, does it works well with nvidia graphic cards?

I tried my best to like the beta, but the user interface is such a gloomy black it phsyically hurt my eyes and there's no way to properly change it . Several testers and myself asked if this issue was going to be addresed and a lighter alternative offered , the responce was that its way down on their priority list ...
Windows Central Newsletter
Thank you for signing up to Windows Central. You will receive a verification email shortly.
There was a problem. Please refresh the page and try again.