Affinity Photo can replace Photoshop for Windows 10 — and for a lot less cash
Affinity Photo brings some serious photo editing power to the Microsoft Store for a fair price.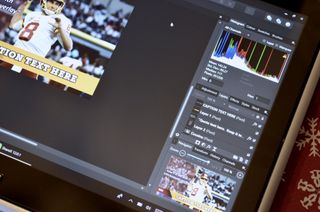 (Image credit: Windows Central)
The Microsoft Store has gained some powerful apps for creators this year. Affinity Photo is a powerful photo editing software that could easily be an alternative to Photoshop for many users.
The app is available for Windows 10 for $49.99 from the Microsoft Store — there's also a 10-day free trial available through the Affinity website (opens in new tab).
See in Microsoft Store (opens in new tab)
Features
Affinity Photo has a wide set of photo editing features including raw editing, color correction, HDR merging, panoramic stitching, and a full set of retouching tools. It is very much a professional photo editing software that will become increasingly useful as you learn the app's ins and outs.
A major boost to Affinity Photo is that it allows you to import and export Photoshop PSD files — with full support for multiple layers! The app also works across Windows, iOS, and macOS so you can bring your files across devices. You can also use the app to format entire folders for batch editing.
Using the app takes some time to get used to — it has a learning curve that's not dissimilar to Photoshop's. Affinity Photo has different areas for editing, such as developing for color and brightness corrections, and if you don't know what you're looking for you can get lost in the menus and options. With as many features as it offers, it's easy to get lost, so I definitely recommend taking some time to poke around and see what does what.
I've used Photoshop and Lightroom for editing both work and personal photos, but I'll admit that my skills are fairly raw. I could tell that I was only scratching the surface of Affinity Photo and that it's designed more for professionals. But with a price cheaper than even the bare-bones Photoshop Elements, which is currently on sale for $69.99 (opens in new tab), and significantly cheaper than full Photoshop, it's very tempting to switch over.
How it compares to Photoshop
Affinity Photo is a great app within its own right, but comparisons to Photoshop are unavoidable. It stands up against Adobe's photo editor very well, both in terms of features and price.
Affinity Photo costs $49.99, but that is a one time fee. The full version of Photoshop requires a subscription, the cheapest option being Adobe's Photography plan which is $9.99 per month. The value of these depends on what other software you're using. If you're already using multiple apps in the Adobe Suite, then it's probably not worth paying for a separate photo editor. But if you are looking for a powerful photo editor and that's it, then Affinity Photo is available at very fair price.
The layout and features of Affinity Photo are going to feel very familiar to Photoshop users and for a vast number of photo editing cases both Affinity Photo and Photoshop will be able to do the job. There may be some very specific Photoshop features that some users can't live without but Affinity Photo covers many of the same areas.
Summary
Affinity Photo coming to the Microsoft Store continues the trend of powerful apps coming to the store in 2017. It's a powerful photo editing app that comes at a very fair price considering how much it can do.
The app does have a steep learning curve, especially for people new to photo editing but it provides a wide set of options and features for professional photo editors. After testing out the app I'm actually cancelling my subscription that gets me Photoshop. Some professionals may need specific Photoshop features but for me Affinity Photo covers all the bases I need it to.
Pros:
One time purchase.
Works with photoshop files.
Very powerful photo editor.
Cons:
Has a learning curve for users new to photo editing.
See in Microsoft Store (opens in new tab)
Windows Central Newsletter
Get the best of Windows Central in your inbox, every day!
News Writer and apps editor
Sean Endicott brings nearly a decade of experience covering Microsoft and Windows news to Windows Central. He joined our team in 2017 as an app reviewer and now heads up our day-to-day news coverage. If you have a news tip or an app to review, hit him up at sean.endicott@futurenet.com (opens in new tab).
I wish it was a Light Room replacement.

Check out Luminar 2018 for Light Room replacement :)

Luminar looks fantastic. Price isn't bad either.

I picked up Luminar 2018 a few weeks ago - it's OK... though not nearly as fast as Lightroom Classic and it's missing lens correction profiles. Also hard crashes on .NEF files (Nikon RAW). Support emails were very slow (~3 weeks for a response), but a recent patch seems to have fixed the patches. However, until it has a built in photo organizer - and one that handles RAW+JPG properly (instead of just seeing it as two different pictures) - it will be very hard to wean off of Lightroom. Organizer is supposed to be coming early 2018 so it'll be interesting to see. Software as a service sucks, but Adobe knows they're still the only real game in town when it comes to photos...

I need a video editor, any suggestions?

I've been using Corel VideoStudio. Works for me. Is a decent replacement to Pinnacle Studio - more of a consumer focused editor.

MAGIX's Movie editor Pro Plus
https://www.windowscentral.com/e?link=https2F%2Fclick.linksynergy.co...

Try the free version of DaVinci Resolve from BlackMagic Design

editor means editing video parts off or a full Video Master Suit Arranger ? Many ppl. waste money and time to buy a full Master Suit but really they need just and only a Video Cutter

"...is a powerful photo editing software..." Sean, this is (still) not correct usage, at least for native English speakers. 'Software' is a non-countable noun that refers to a group of things, similar to 'furniture'. If you are speaking about a specific piece of software, you generally must use it as an adjective: "...is a powerful photo editing software application..." I realize that many non-native English speakers do not realize that '-ware' is an invariant suffix that designates something as a commodity, and so you may see them incorrectly use the term 'softwares', with a meaning similar to 'programs'. Eventually this usage may enter the mainstream lexicon, but a primarily English-language site like Windows Central should ideally not accelerate this process.

Does it matter, it gets the message across. More to the point this doesn't really have anything to do with the article, instead it just makes you look like a grammar ****!!!!

Thanks for that. Words do matter. More specifically, how you use language can (in a given context) make the difference between your ideas being taken seriously, or being dismissed.

Yes it does matter really and I don't think there's any need to abuse people for pointing out an error. Grammar and spelling are important, especially in a professional publication, where writers are no doubt being paid for their contributuions. Failure to get the basics right just makes articles look amateurish.

Learnt a new thing. Thanks.👍

I agree, grammar does (and should) matter. BTW, also could have phrased it as "...is powerful photo editing software..." \

If you are a native English speaker, then you would realise that realise is spelt realise and not realize. That's American-English. What a colourful world we live in. :)

Paintshop Pro has been my go-to photo editor at home and work for a decade. Less than $100, feature rich and easy to use. It does have a learning curve for users that want to get the most from the tool, but if you currently use Photoshop you should be able to jump right in.

That's what I found too. I'm not a heavy user, but everything I used to do on PS, I'm able to do on PSP too. Sometimes I need to Google something, but I've always found a similar tool or feature.

Does it have a (spot) healing tool? Or just a stamp tool alternative? How about Content-Aware fill? Artboards? Photoshop is currently moving forward to increasing efficiency (time & workflow). Things like face detection in liquefy filter does really help when working under short time constraint. Really interested to know the feedback from the users (here).

It has a healing brush tool, patch tool, blemish removal tool, inpainting brush tool (which is awesome!) and yes it has content aware fill, and art boards. Do yourself a favor and download the demo. Affinity Photo & Designer are both awesome programs. Don't let the price fool you there is a lot power. I'm a 3D animator so my demands go beyond photography. Its 32bit openEXR support for multipass rendering, tone mapping, and compositing is awesome. I made the switch last December and haven't looked back plus no subscriptions!

Great! Thanks for the insights.😊

Shouldn't you be comparing this to Paint.Net? It'd be interesting to see what this offers over a free solution, $0 is closer to $50 than whatever Photoshop costs these days.

No, Afinity is in the professional class of photo editing and a long ways from Paint.NET. To compare the two would be like comparing a 1977 Ford Pinto to a 2017 Corvette. Sure they are both cars, but not even close to doing the same things or having the same features. Paint.NET is more of MS Paint 'upgrade' rather than a professional class of photo editor.

It's not on Store but I've tested both Affinity and PaintShop Pro 2018 to replace Photoshop CC earlier this semester, and I liked the PSP 2018 better. Affinity is a great newcomer, but I found PSP more feature-rich and easier to adapt coming from PS, and helped the fact I've got the PSP 2018 Ultimate Bundle for less than 40 USD with a coupon. I'm really enjoying using it again after more than 10 years since I've last used the PaintShop Pro, but both PSP and Affinity are great value for the money.

i got it and it didn't feel as straightforward or as powerful as photoshop. it seems like a lot is behind it but reaching in and grabbing them, for me feels too hard. maybe it'll be different for others

Looks good but I already use Paint Shop Pro which is also very inexpensive and comparable to Photoshop.

And Adobe might finally learn what 'competition' means after raping their loyal customers for years with outrageous pricing.