Age of Empires: Castle Siege celebrates Windows 10's first birthday with sales and contests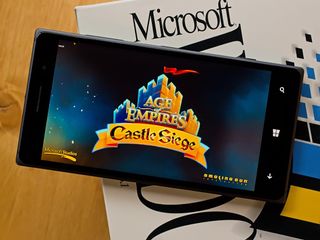 Microsoft's free-to-play strategy game Age of Empires: Castle Siege is celebrating the first anniversary of the launch of Windows 10 with a series of special contests, sales and more from now until July 29.
The game's official forums revealed the 10 special events, deals and contests:
Age of Empires: Castle Siege: 1,000,000 GOLD Giveaway - We will be giving away 1,000,000 in-game Gold during the Windows 10 Anniversary sale! Each day we will be giving away 50,000 in-game Gold to two players who are logged into the game during a randomly selected time. The winners of the Gold will be contacted through their Gamehub inbox. In order to be eligible players must have an Xbox Live account.
Age of Empires: Castle Siege T-Shirt Giveaway - We are giving out 150 official Age of Empires: Castle Siege T-shirts! Talk about a wardrobe upgrade. Each day on the Age of Empires: Castle Siege Twitter and Facebook 15 players who answer the give away question will win a T-shirt. Winners are selected by a random draw as chosen by those who answered the sweepstakes question of the day correctly and include the hashtag #CastleSiegeSweepstakes in their answer (yes, even on Facebook).
Castle Siege Design Contest - Do you have the best defensive layout? Are your enemies constantly failing to win attacks? Show us your castle! Our development team will be judging entries in our Castle Design contest for your chance to win a signed poster by the Age of Empires: Castle Siege team! To enter send us a screenshot of your castle in build mode on twitter or post it on our Facebook page. You need to use the hashtag #castlesiegecontest to be eligible for entry (even on Facebook). There will be one Grand Prize awarded for each of the Empire Ages 3, 4, 6, and 8. There will be two Grand Prizes awarded for each of Ages 5, 7, and 9! The winners will be contacted through their twitter or Facebook accounts.
Leaderboard Contest - Calling the best of Castle Siege! We will be awarding a prize to the Top 10 Players on the Castle Siege Leaderboard at 5:00 PM PST July 29th. The Grand Prize for our best players is an Age of Empires: Castle Siege promotional poster signed by the team and an Age of Empires: Castle Siege Pinny Arcade Pin! You must have an Xbox Live account to be eligible to win. The winners will be contacted through their Gamehub inbox.
Festival - Our player favorite festival is back for the Windows Anniversary! This time there is 20% boost to all resources. Time to Age up! You will find this festival in your castle once the Anniversary Party starts on July 20th.
Troop Training - The 20% Free Troop Training is back! Get ready for battle faster with a troop training boost!
Double Daily Combat Rewards - We are doubling the Daily Gold Rewards. Instead of a 30% bonus reward on your first battle of the day, it will now be a 60% bonus reward. Time to siege!
Double Gold Rewards - On July 22, 23, and 24th we are doubling daily Gold rewards for all those who have roads connected to the Keep.
Gold Sale - We are having a GOLD SALE!
Celebrate Windows 10! - We are part of a store wide celebration for Windows 10 Anniversary. You can read more about this on the Windows Blog.
Download Age of Empires: Castle Siege from the Windows Store (opens in new tab)
I wish that someone like Relic or Creative Assembly could do AoE4

Does this game work in Continuum now?

Yes, i've used it in Continuum. Almost indistinguishable from the desktop version aside from graphics seeming a little lower version (more pixely in places... noticeably the loading screen in the beginning when you open it).

I wish it expanded to the android platform

What? A Game on Windows Mobile that is not on Android or iPhone! It's the End of The World as I know it!.....

Actually it is on iOS, but that's a recent development.
Windows Central Newsletter
Get the best of Windows Central in in your inbox, every day!
Thank you for signing up to Windows Central. You will receive a verification email shortly.
There was a problem. Please refresh the page and try again.