Age of Empires: Castle Siege update lets Alliances construct Wonders and more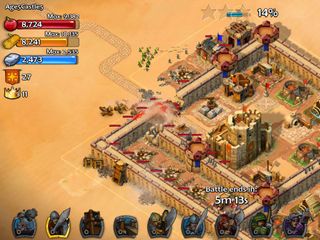 Microsoft's free-to-play mobile strategy game Age of Empires: Castle Siege has been updated again for its Windows platforms to version 1.13. The biggest new feature is the ability for Alliances to construct Wonders for the first time.
Here's how Microsoft describes the new Wonders addition, which becomes active when each member of an Alliance builds an embassy in their castle:
There are also a number of other new smaller additions and bug fixes in this new version. What do you think of the new Wonders addition? Let us know in the comments.
Download Age of Empires: Castle Siege for Windows (opens in new tab) (Free)
Thanks to Henock for the tip!
Hey guys, I am EMP of USA2. We have some openings. Come on over and join. We are an extension of USA(#6 on leader board)

Yeah man seriously tired of waiting. Now i play on my dad's tablet. Posted via the Windows Central App for Android

Upgrading now. I'm curious to see what this is all about.

And I want to be Batman :P

Lmao...thats one cool dream....goku fr me plz :p

Really good new alliance features. You can see a lot of details on how many battles you've fought and won, how many donations alliance members have made, last login for alliance members, and other improvements. This looks really good so far.

Join the "Knighthood" all players are welcome

"Full screen functionality for w10" guessing x86-64 only?

No, this works on the phone and RT devices as well. Is that what you mean?

Really dont notice anything different on wp other then it running better on 1gb devices so I assumed this must be for desktop

No full screen here on 10240 X64 after update of AOE

No joke, seems faster on Lumia 1520

Lol noticed it runs better on 1gb devices

worst update: Battleling other players is horrible, can't use hero ablities

Quit playing a couple of months ago. Can't stop playing #GameOfWar. But it's not available on WP or Windows. Had to buy an Android tablet just for that. And Yes! The game is absolutely worth it.

Play clash of clans and forget alternatives

Join the Brown Coats, we are mighty!

Does this game only work over wifi? I always get a server error when I try to play via LTE ​

Works fine over lte probably a problem on their end. Like normal

Animations are now smoother! New embassy from military items. Can't wait to have more fun with my Alliance. And btw, I find this game more awesome than overrated clash of clans! :/

ga bisa milih troops... ada yg nyangkut...

Yes...Bangladeshi...we also play this game
Windows Central Newsletter
Thank you for signing up to Windows Central. You will receive a verification email shortly.
There was a problem. Please refresh the page and try again.