Age of Empires: Castle Siege will add lots of upgrades with Age X update on Oct. 4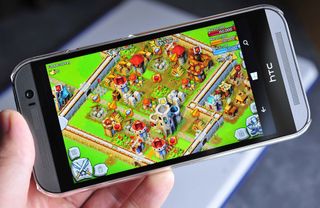 Microsoft and developer Smoking Gun Interactive will release patch 1.21 for its free-to-play strategy game Age of Empires: Castle Siege on Tuesday, October 4 for Windows Phone and Windows 10 on PC and Mobile. It introduces Age X to the game with lots of updates for its units and structures.
The update will begin rolling out around 1 p.m. Eastern time (10 a.m. Pacific time) on October 4. The 1.21 version will launch Age X, which Microsoft says "will bring a new golden look to your Empire". Age X also brings upgrades to many units and structures:
The Keep, upgrade cost 14 days- 3,500,000 wood
Walls; 5 additional walls
Guard House, upgrade cost 12 days- 1,500,000 stone
Archer Tower; 1 additional Archer tower, upgrade cost 8 days – 700,000 stone
Ballista Tower; 1 additional Ballista tower, upgrade cost 12 days – 1,600,000 stone
Musket Tower; 1 additional Musket tower, upgrade cost 12 days – 1,600,000 stone
Emplacement, upgrade cost 10 days – 3,200,000 wood
Barracks, upgrade cost 10 days – 2,400,000 food
Archery Range, upgrade cost 10 days – 2,400,000 food
Stable, upgrade cost 10 days – 3,200,000 wood
Siege Workshop, upgrade cost 10 days -3,200,000 wood
Caltrops, upgrade cost 10 days – 2,400,000 food
Fire Traps, upgrade cost 2 days – 500,000 wood
Engineer Traps, upgrade cost 2 days – 200,000 food
The following units: Infantry, Spear Infantry, Raider, Ladder Invader, Archer, Short Bow Archer, Cavalry, Battering Ram, Siege Tower, Catapult, Trebuchet, Grenadier
In addition, the game adds the Festival Market boost time with the 1.21 update, which will allow players who buy it "to increase their resources any time they wish". Gold will also be rewarded to players who complete training scenarios, even if they have previously completed them.
League improvements are a part of the update as well
Leagues will now reward gold to everyone who participates in the league. 1st through 3rd place will still earn a higher prize. The higher league you are in, the more gold you will earn so keep climbing the ranks.
Adjusted the amount of crowns required for each league. Leagues will now be more competitive.
As requested from the community, we changed alliance settings so that Emperors and Lords can delete Wonder announcements. Emperors will now also be able to remove the "alliance settings changed" messaging.
Finally, the update fixes a few issues:
Fixed the bug where a handful of players would get a "purchase failed message" after completing battle or watching a replay. Players will no longer receive this message.
Fixed the bug where some players were able to revenge each other continuously to gain an advantage in the game. Players will now only be able to revenge an opponent once.
Fixed the bug where Charles Martel's taunt ability was not working consistently for some players. His ability will now work as intended for all players.
Fixed the bug where a few players were getting the incorrect language setting after updating the game. The language setting will now be set to the language on the phone.
Download Age of Empires: Castle Siege from the Windows Store (opens in new tab)
Best game ever. What makes it Great is that its not available on Android.

It's a nice game, and I'm a Microsoft Fan, but the cost of the upgraded are ridiculous. Millions of resources.

But I do think it will come to Android. Besides Android it is available everywhere.

what we need is a real age of empires. not more cash milking

The game is good but after some months it turns boring. I was waiting for a new feature like war between alliances.

What about matchmaking? I stopped playing because I'm level 100 and constantly get attacked by lvl1000 players. Same when I try to attack someone.

What about new achievements?

Yeah, I've completed the existing ones, new achievements would keep me playing. But I don't think they plan on adding more. Posted via the Windows Central App for Android

You completed the 1000 defensive wins achievement?

I just wish the troops couldn't walk through diagonal walls

Like its frustrating to have a decent set up only to watch opposing troops just walk right through an imaginary gap

i gave up on this and abandoned my crew.

Same here, was just plain boring. Also for a casual gamer like myself it was impossible to play anyone and get a fair game.

i was a founder of one of the biggest clans that were part of top 50, but it was impossible to catch up to top 5 becuase they were all cheating. pay to win also doesnt help those who didnt pay.

If you're sitting in one of the old WPcentral alliances, full of inactive players. Check out the WindowsCentral alliance. We have a good foundation of active players.

Any chance "fun" is one of the new features being added by the update? This game currently feels like someone started with a good game, but then everything fun got replaced with ridiculous waiting times and/or microtransactions.

I don't play it anymore. The reason It's i can't reset the game, I want to start over because i didn't know what i was doing in the start

You can improve with what you have got :)

When's the htc m8 gonna get the anniversary update??

I agree, the windows central clan is very supportive, good to be in.

The biggest flaw in the game is that you don't get to direct your defenses. I have cannon towers firing at ground troops when there are siege weapons within range that are a far greater threat which should be destroyed first. The designers should allow you to set priorities for your defense units.

Totally agree. It's so frustrating to see that happen, that I stopped watching my defensive replays.

That's the week point of the tower every thing in this game have a week point otherwise how to win battle
Windows Central Newsletter
Thank you for signing up to Windows Central. You will receive a verification email shortly.
There was a problem. Please refresh the page and try again.