Official Air France app looks fly on Windows Phone 8.1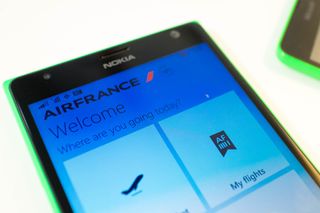 While it's not an app that you will be using every day or even every month, the new Air France application for Windows Phone is pretty slick. The latest update available for their official app has been optimized for Windows Phone 8.1. The Air France app lets you purchase tickets, check-in, change your reservations, view your flight status, and log in to your Flying Blue account. Want to see it in action? Check out our hands-on video with the Lumia 1520.
After installing the Air France app, it asks for your country and language preference. You can then continue to the main menu. You see the background image? You can change that. Tap the three dots on the lower right corner and then tap the Background option. Air France provides eight photos from around the world.
The Air France app is pretty, but it's also very functional. Purchasing a ticket is straightforward with menus that are easy to understand. Select airports, dates and number of tickets to initiate a search. Your previous searches are available when selecting airports.
The results page displays all the available flights from your options. You can sort by time or price. You can also filter flights by showing only those that are direct or by the time of day. If you are flexible, you can swipe left or right on top of the screen to change the dates. We like that prices are shown below the dates to make it easier to find cheaper flights. You can see all the fare details including taxes and additional fees before confirming the tickets.
The Air France app also lets you see your booked flights, check-in, and even display your mobile boarding pass with barcode. If you're a Flying Blue frequent flyer member, your personal information is stored to save you even more time. If you're planning to fly with Air France soon, this free app is definitely worth checking out. Give it a try and let us know what you think,
Will there be KLM schedules as well?

There must be.. They want KLM monney to keep themself alive.

There already is KLM app, but it frankly... sucks. I haven't checked AF version, but hopefully it's better. They're both Flying Blue Airlines, so it shouldn't make a difference which one you use to keep your ticket. At least I expect it so and I'm going to test that soon :)

Well fudge the official American apps.

This
All the developers jumping ship. Learn to support your customers like these guys... Good job men although I don't fly ;)

Hope it's better than the KLM app

Wow great app. I am impressed. Thank You AF

FINALLY ! Thank you Air France !

Hope it won't get discontinued too.

'While it's not an app you won't be using every month'? and 'the app pretty, but still very functional'

I'm actually at the airport right now, getting ready for my Air France flight which leaves in an hour, and I just used this app. When I saw this headline, it felt as if Mark (Guim) was telepathic and had read my mind remotely!

Haven't you seen Mark's smartphone headset in his avatar? Thats him beaming his thoughts to WP users all over the world. It's like you have a direct line to Jesus. Bless you my son, go forth and use your app.
May the Giumforce be with you.

Nice looking app, I wish developers would design their apps as well as this.

Agree, hope Spotify will come once with an proper app designed for Windows. Also I heard some rulers going an official Soundcloud app. I don't want to say its treu because these rumors are just going and disappear by the sun for us most of the time. But I hope its treu.

Android and iOS shares the same interface, why Windows Phone would have a different UI?

I don't know that. If so I don't complain. But should like an official soundcloud app, dho!

Air France had already another app but it was crappy...

This one looks much much better than the older AirFrance (no space in the name there) app! It's like night and day...
Windows Central Newsletter
Thank you for signing up to Windows Central. You will receive a verification email shortly.
There was a problem. Please refresh the page and try again.