Official Alaska Airlines app now available for Windows Phone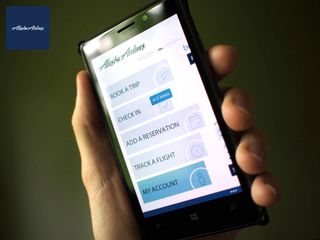 It's been a long time coming, but Alaska Airlines officially has an app out for Windows Phone. It was this past December that the company took to Twitter to tease a Windows Phone app for some time in early 2014. While we wouldn't consider May 'early', we're very happy to see Alaska Airlines join the fray.
Alaska Airlines (alaskaair.com) is basically the unofficial airlines of Microsoft and therefore Windows Phone. Like Microsoft, Alaska Airlines is based out of Seattle and a lot of Microsofties fly Alaska Airlines. The app is brand new in the Windows Phone Store and brings the following features for you all to enjoy:
Book a flight and select your seat
Change your seat prior to departure
Check in as early as 24 hours before your flight
Pull up a mobile boarding pass - no more paper
See your flight schedule and boarding time
Share your travel itinerary by email with friends and family
Track your Mileage Plan (TM) balance
Keep an eye on First Class and Standby wait lists
Add flight details to your smartphone's calendar
Shop one-way, round trip, and multi-leg travel
Find your Alaska Airlines reservations
Track flights taken by friends and family
Wow. Talk about a fully featured app right out of the gate (kind of a flight pun, right?). Version 1.0 packs a punch and we can't wait to use it the next time we fly with Alaska Airlines. We don't have any upcoming flights, but we did play around with the app. It looks to be a really nice app and has a really clean design.
Anyone out there who uses Alaska Airlines frequently? Download and let us know if it lives up to your expectations!
Download Alaska Airlines from the Windows Phone Store.
Thanks for the tip Joel Jackson!
Windows Central Newsletter
Get the best of Windows Central in your inbox, every day!
This is great, nice to have official APP for our platform.

It works pretty sleek. I pinned my coming trip reservation on the Start screen for easy access. When the time comes, I just tap the trip tile, check in and pull up the Boarding Pass. I happen to be Alaska's frequent flyer. This really helps.

I think the Airline companies care about our platform. Day by day, more official airline application submit to the store. And day by day, still no sign, when path and instagram gonna out of beta.

Still waiting for Southwest.....

do any of the other airline apps offer mobile boarding passes on WP?

American Airlines does, you can save it to the wallet.

Thanks! I fly American on occassion. I fly Delta more often and their app is slow and doesn't offer a mobile boarding pass (that i can find).

I agree Delta app is the worst of the few I've tried. The app is slow and doesn't have much functionality. I fly Delta a lot. Delta has mobile boarding pass. When you check in via the app, it'll ask you if you want to pin the boarding pass to the start screen. However, slow app is better than no app. Southwest Airlines doesn't have app for WP.

I flew on Delta last week. The app worked great and did have an electronic boarding pass option. The app was much better than I remember it being, so it's possible that it was recently updated. The United app is also pretty good, but I hate flying United (flying them today because I have to). So psyched to finally have an Alaska app! They are my favorite and most flied airline.

United has mobile boarding in its app. Delta does... sometimes... kind of--if you're lucky. Supposedly WP8.1 allowed you to download Apple passbook entries to wallet--but I tried it with Alaska and it gave me a fatal error.

This is great... I'm on the hunt for a more affordable flight to SEA should I decide to do to Rock n' Roll Seattle Marathon. Although most of the Alaska air flights there don't fall into the "affordable" category. :|

I don't use them frequently, but we've used them to go to the Pacfic Northwest a few times. It's good news to see such a feature-rich app! Time to plan a trip, aparently ;-)

The interface of the app is wow

Perfect for my first business trip from SFO to SEA in a few weeks

ok this changes everything.

This is great. My work flies me out to Seattle a lot, using Alaska Airlines. Finally have quick access for check-ins and choosing seats and tracking my flight.

Right out of the hangars... Or right out of the taxi way... Would be a pun...

And still no Southwest :/ although they're only trialing paperless boarding right now and are in the process of moving to a completely new reservation system which is why it's taken so long to integrate AirTran since the merger. My guess is if they're actively working on the app which they sort of confirmed last time I emailed them about it they're going to wait to release it until all of that is settled.

Agreed,and no JetBlue, either.

I wrote to jetBlue over a year ago asking for a WP app. No response.

I just sent JetBlue an email, too. Maybe we need to take to Twitter.

Had wondered when this was coming. I had recalled the phrase "early 2014". Oh well. I had been a fan of Alaska's web page. It was very well done. Nice to have the official app though. I fly Alaska out of Seattle all the time and appreciate the flight info and upgrade list. Particularly the upgrade list!

So it's officially official that the official Alaska airlines officially released the official app for windows phone, officially.

Now if google would release YouTube finally everything would be great. For a now fuck scroogle

An official YouTube would not be as good as mytube.

Who cares about YouTube? You have a choice of 3rd party apps that are better than the so-called "official" apps on any platform.

Twitter shaming works to get official apps. I did it to Alaska and now I'm working on Uber, Lyft and Car2Go, which are services e use heavily in Seattle and still have no acceptable alternatives or an official app.

Looks beautiful. Someone test it and let us know if Cortana can take advantage of it.

As a Seattle resident, I'll say it's about damn time. Starbucks, we're looking at you...

Wish US Airways would make an app. Or at least lump on with the American Airlines app. I can't open US Airways mobile passes at all on Windows Phone 8.1, just asks to find an app but none are available. Sucka because I fly US Airways almost weekly, would be nice not to have to visit the kiosk to get a boarding pass printed.

As a Seattle-based employee of a Los Angeles area company, I've awaited this arrival more than any other official app. The design is beautiful and it appears to be well executed. Next flight is in a couple weeks - will put it through it's travel day paces then.