Ally Bank for Windows Phone adds Bill Pay rush delivery in latest update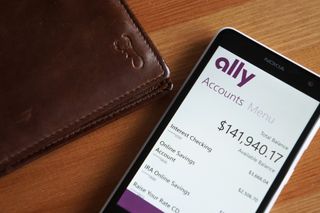 Ally Bank is one of the few major U.S. banks that offers an official app for Windows Phone users, and they have updated it this week to add a new feature called Bill Pay rush delivery.
Normally, Ally Bank's Bll Pay feature, which allows its customers to pay their bills online, doesn't cost anything. However, if a customer thinks that their payment won't make it in time for its regular due date, the new Bill Pay rush delivery will speed things up for an extra fee.
In addition, the Ally Bank Windows Phone app has some unnamed bug fixes in this update.
Download Ally Bank in the Windows Phone Store
Via: WMPU
Appreciate them for updating their app, and keeping it there.

Do you use them? I have been debating switching....

I use them. Best saving rate around.

I switched to them from BoA and haven't looked back. I can use ATMs anywhere and they always credit back the fee at the end of the month. There are no fees anywhere to be found, and I can't think of once I wish there was a brick and mortar to walk into. I've been with Ally since BoA dropped their app from Windows phone.
Although I will say that the app is not optimized for Win10 yet. It works much better on 8.1. I have issues with it crashing when looking at an accounts transactions. Otherwise it is a full featured app that is very well put together.

Wells Fargo is ok, but I switched to them because they publicly announce their continued support of Windows Mobile. Their app could use improvement, but at least they didn't cut me off like BoA. Wells Fargo could use a Universal App, and I would greatly appreciate it. If not, its great to know solid options exist.

I use them as well and love them. Service is always readily available as well and really helpful. The only time I have run in to any fees is when I made too many transfers during my statement cycle. I could be wrong, but I think it's a regulation where you can only make so many transfers between accounts during your cycle and I went over that once. Otherwise I definitely recommend them!

I've used them for a long time. If you don't need/care about a brick-and-mortar location, I'd recommend them. As realwarder said, they have some of the best savings rates.

I use them for the 1% savings rate. I have the majority of my savings there, but unfortunately I don't really use the app much as I don't make man manually transactions with them.

Do they have mobile check deposit through the phone? I'm currently with Discover Bank who seems to refuse to serve folks on Windows Phone and that's the thing that's killing me. Luckily I have an Android tablet, but I'd rather be able to use my phone as I don't always have my tablet on me.

Yes, you can deposit checks no problem, do it every week. I highly recommend the bank to everyone, even as a second bank. Interest checking, no fee's on ATM Withdrawals (but I think there is a limit of 6 per month). They have all the features you'd want. I came from using the Chase app, and my only complaint is that they hold checks a little longer then Chase did. For example I deposited 600 yesterday, they make 250 available within 1 day and the rest of the balance a little later. Add 24/7 phone support with live agents, and every Windows user should get an account with them to show support. I would bet they know they have a lot more accounts since BoA and Chase left Windows.

It's limited to ten withdrawals a month

Sorry, but not all Windows Phone users make important decisions like what bank to go with, based on if they have a Windows Phone app.

Yes they do. It was the first time I've ever tried this function and is surprisingly hasel free.

They do. And the best part is you can deposit a check up to $50,000 electronically I believe. With Chase, you can do $1,000 or something like that. No comparison

I actually use the mobile deposit feature more than doing it on the site. About a year ago they changed some things on the site that I thought made it harder to make a deposit there. The mobile deposit is very easy.

Was thinking the same :)
But it is just a beautiful screenshot from the store.

Rush deliver me a $10k Loan, will ya. Lol. $$$$

They need to bring over their Ally Auto App from iOS and Android. Currently I have their web site pinned to start but an official app would be nice.

hrmmm....never heard of them.....

They're an internet only bank, like Discover Bank (though you may have heard of them through their Discover credit card). So, great savings rates, but no physical branches. Almost impossible to deal with cash unless you bring it to another bank and get a check or something.

They are a rebrand of GMAC, which has been around since 1919.

In Canada they were a subsidiary of rbc(which their app on our platform is weak compared to ally)

I'm glad to see them update the app. I just wish that more major U.S. banks would update or make an official app for Win 10/Mobile. Capital One has an investment app, but no official banking app? Who thought that was a good idea?

Ally has been great for me

This is great! It's the company I use to Finance my vehicles.

c.nash above stated above that there is no Ally Auto app.

CompassBank has an app too, but their savings rate is so low, I won't go back. At least, CapitalOne 360 has a decent mobile site, but you have to go to full site, which runs on my phone albeit awkwardly to deposit. I have asked them to add image deposit to the mobile site. What gets me with these banks that don't support Windows is when they refuse to have mobile sites.

I love Ally but the app closes within a minute on windows 10 phones. I have 3 windows 10 phones and as soon as it shows my balance, it closes down.
Windows Central Newsletter
Get the best of Windows Central in in your inbox, every day!
Thank you for signing up to Windows Central. You will receive a verification email shortly.
There was a problem. Please refresh the page and try again.