Alto's Adventure brings air time and llama adventures to Windows 10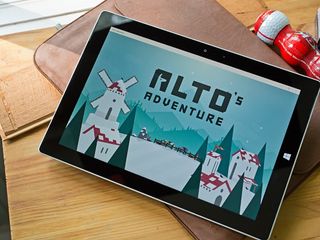 Alto's Adventure is a gorgeous endless runner game for Windows 10 PC where you have to chase down a herd of llamas that have broken free from their corral. The Xbox gaming title tests your skills at downhill skiing to avoid a host of dangers and performing stunts as you round up the livestock.
Graphics are vibrant with plenty of color and clean lines. Gaming mechanics are equally appealing and Alto's Adventure keeps you on your toes with plenty of challenges. You cannot let your attention stray with this free gaming title or you'll end up wiping out.
While the game would be a fantastic game for our Windows Phone, Alto's Adventure is only available for Windows 10 PC.
When you first launch Alto's Adventure, the game sends you through the process of signing into your Xbox Live account and acknowledging the necessary permissions. From there, a tutorial begins walking you through the storyline of Alto's Adventure and the mechanics of gameplay.
Briefly, the village's herd of llamas have broken free and are running wild across a series of mountain slopes. It is your job to ski the slopes, dodging dangers and collecting the stray animals.
The controls in Altos Adventures are not very complicated. Click the right button of your mouse or touchpad to make Alto jump. Click and hold to have him perform mid-air jumps. When playing from a touchscreen device such as a Surface tablet, tap the screen to have Alto jump and tap/hold the screen to perform the stunts.
Skiing past a llama sends them back to the village and there are plenty of dangers ranging from boulders to crevices to jump. If you run into an obstacle, miss a jump or fail at landing square Aldo finds himself face down in the snow and the game is over.
Along with the primary goal of catching the llamas, Alto's Adventure also includes coins that can be collected and used to buy power-ups and 180 performance based goals to pursue. These goals include tasks such as traveling a defined distance, collecting a number of llamas and more.
The graphics with Alto's Adventure jump off the screen in a colorful, minimalist and evolving scenes. Daylight gives way to nightfall, the weather changes from clear skies to thunderstorms and blizzards and don't be shocked if you see a few shooting stars in the night sky.
The changes in appearance add to the game's challenge. At night and during blizzard conditions, the boulders are difficult to see and it can be equally as difficult timing your stunts. The one click controls help you concentrate on gameplay and it does need your undivided attention.
Alto's Adventure is an addictive endless runner game and a great gaming title to spend a little down time with. While I wouldn't mind seeing an extra life or two, you can resume gameplay after crashing by watching a video advertisement. Speaking of which, the game is ad-supported with thirty-second video ads popping up every now and then — it'd be nice to have the choice to opt out of the ad support through an in-app purchase, but alas that is not an option.
Hopefully, the developer will release a Windows 10 Mobile version of Alto's Adventure to give the game a bit more mobility. Allow the Xbox support to synchronize your gaming stats and Alto's Adventure would be a fantastic universal game. Nonetheless, if you are in search for an addictive time-waster for the PC, Alto's Adventure is a must try Windows 10 game.
Download Alto's Adventure for Windows 10 PC (opens in new tab)
Windows Central Newsletter
Get the best of Windows Central in your inbox, every day!
George is the Reviews Editor at Windows Central, concentrating on Windows 10 PC and Mobile apps. He's been a supporter of the platform since the days of Windows CE and uses his current Windows 10 Mobile phone daily to keep up with life and enjoy a game during down time.
And not for mobile?!! How cruel.....oh! Never mind

Lowercase "P" in "phone" for device types please. :) Thanks for letting us know about the game. I too hope that the game is released for Windows 10 Mobile soon so that I can play it on my Windows phone.

People play these types of games more on mobile than PC

They are going to release it on mobile! Whats the hurry.. Atleast we'll get to play it

I've been waiting for a really long time and they don't release Mobile version. How cruel...

Already got it on my android phone and it is really a fun and gorgeous game for a endless runner. Will download it on my Win10 tablet. Might be a nice alt+tab game while working. Posted via the Windows Central App for Android

Well messenger adds support for calling on windows phone

I think that was a bug. It showed the option it also made one, also took screenshot of home screen but it disappeared when reopened it

Not a bug. Video calling and voice calling added.

I can't see that option. What version do you have?

The latest. The app doesn't show the version numbers now. The MSFT app showed them. :/
Facebook removed it. Or am I missing it ? I searched it everywhere.

And you really can call somebody from you re windows 10 phone?

WHAT A BEAUTIFUL GAME !! I want it in my 650 now !! ^_^ Apps like these help make Windows 10 even more awesome and the apps themselves can get more popular (just look at Asphalt 8). I hope other developers see this opportunity and release more apps/games.

Been playing it on my Surface pro 4 (core m). Absolutely FANTASTIC, with great graphics. Dare I say it looks even more fantastic (;-) Trumping it up) on my SP4.

It's definitely lovely and supports xbox controller. Except for when an ad pops up you have to clear it with a mouse. I would love it on mobile with sync.

This is another game (another one being the amazing Sheltered) where you can't see achievement descriptions in the app. What is the deal?

Best game ever, and it's free ! loves loves

Enjoying this one a lot more than I thought I would. Wish it was available on mobile also, though.

If request for windows 10 mobile be high it will come for it.just email them