Amazing Alex and Ms. Splosion Man arrive on Xbox Windows Phone, won't run on the same phone [Updated]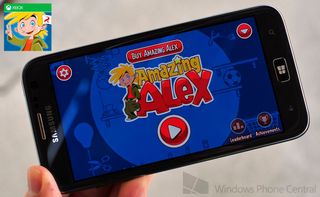 Things have certainly been picking up for Xbox on Windows Phone lately. Not only do Nokia and Chillingo continue pumping out exclusives like Vampire Rush and Storm in a Teacup, but there have been two non-Nokia Xbox releases for several weeks now. The trend continues today as the long-awaited Ms. Splosion Man from Iron Galaxy Studios finally debuts alongside Amazing Alex. That's the good news.
The bad news? Just like Chaos Rings last week, Ms. Splosion Man is only available for Windows Phone 7 devices! It staggers the mind to think that a Microsoft-published game would launch without Windows Phone 8 support in 2013. Color us all highly disappointed. Of course, Rovio's Amazing Alex is actually a Windows Phone 8 exclusive, so things sort of balance out… Sorta.
Alliterative Alex
Amazing Alex is Rovio's first non-Angry Birds game in years, but it's still a physics puzzler. However, instead of slingshotting things around, this game is based on an older mobile title called Casey's Contraptions. And that game was inspired by The Incredible Machine, so that tells you what Amazing Alex will be like.
This game stars a little blond boy named Alex who loves to invent things. He basically shows up in the menus and such to give the title some personality, but not during actual gameplay. The game starts out very simply, with the tutorial levels sharing the goal of helping a rolling ball fall into a basket. During each level, players have a few objects they can place to help things along. As the game progresses, you'll eventually be assembling much more complicated machines out of household items.
On top of the 112 main levels, Amazing Alex also allows players to build and share their own levels online! Rovio groups their favorites as the Levels of the Week. The level creation and downloading should give Amazing Alex a fair bit of replay value. For more impressions, check out Simon's review at Android Central.
Amazing Alex for Windows Phone 8 costs 99 cents and is a light 20 MB download. Get it here at the Windows Phone Store.
So Splosive
Windows Phone gamers have been looking forward to Ms. Splosion Man since it was announced almost exactly a year ago on April 6, 2012. For our part, we even interviewed the game's developer that summer and published lots of awesome concept art. They couldn't have known the game wouldn't work with Windows Phone 8 at that time, but the news today still stings.
Ms. Splosion Man is a humorous but challenging platformer based on the XBLA game from Microsoft's Twisted Pixel Studios. A group of hapless scientists have inadvertently created the titular character. How does she pay them back? By 'sploding them!
Instead of just jumping like in most platformers. Ms. Splosion Man actually explodes herself, flinging her up into the air. From there she can explode again and reach new heights, not to mention take out enemies. The platforming bits become extremely challenging before too long – a Twisted Pixel trademark.
The Windows Phone 7 port of Ms. Splosion Man loses some graphical fidelity, but it's still a fairly attractive 3D game. It packs 50 levels of explosive platforming. For a multiplayer-like experience, friends can download each other's' ghosts and follow them along throughout a level. I wish I could play this on my Lumia 920.
Ms. Splosion Man runs only on Windows Phone 7 at the moment. We've contacted Twisted Pixel about compatibility and will update if we learn anything more. The game costs $2.99 and is a 207 MB download. Assuming your device can run it, get it here at the Windows Phone Store.
Update: Microsoft has let us know that there are no plans to update Ms. Splosion Man to run on Windows Phone 8 devices at this time. Sorry guys.
Thanks to Jonathan Dollison, TNT Judbud, and everyone else for the tip!
Get the Windows Central Newsletter
All the latest news, reviews, and guides for Windows and Xbox diehards.
Paul Acevedo is the Games Editor at Windows Central. A lifelong gamer, he has written about videogames for over 15 years and reviewed over 350 games for our site. Follow him on Twitter @PaulRAcevedo. Don't hate. Appreciate!