Amazing Weather HD updated with more beautiful live tiles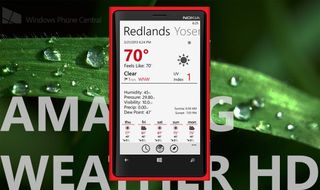 One of the highest rated weather apps on Windows Phone just picked up another update. Amazing Weather HD is now packing a few new aesthetic changes to one of the most beautiful apps. Some bug fixes and new features await you after the break.
If you update Amazing Weather HD to version 4.1.5.0 you'll find yourself getting the regular ol' bug fixes and some enhancements to the live tiles. You'll also be greeted with even more beautiful live tiles within the realistic theme. The screenshot below shows it off.
With Amazing Weather HD you have a variety of themes to choose from within the app, but it boils down to two distinct choices – either a metro theme or realistic theme. You can't go wrong with either, but the realistic theme with animations is nice and definitely add some flair to the app. Lockscreen support is also excellent, with a ton of different styles to pick that display the weather in multiple formats.
Amazing Weather HD has been one of our favorite Windows Phone apps for a long time. Last week we told you it was on sale for $0.99 instead of its regular $1.99 price tag and it looks like that deal is still going on. The sale is good in the US, UK, France, Spain, Finland, and Germany Stores – so get on it if you haven't already purchased this app.
You can nab Amazing Weather HD for the sale price of $0.99 here in the Store or spring for the free 'lite' version here. Both apps work on Windows Phone 7.x and 8. Use our QR codes below (lite version on the right) or swipe to the right in our Windows Phone Central app.
Thanks for the tip Lee K! Also, Rain image above from Moyan Brenn in the Flickr Creative Commons
P.S. The developer of Amazing Weather HD chimed in the comments below with this: "Issue for our WP8 users in Italy, we have updated WP7 version with Italian and that caused the App to be defaulted to WP7 version on WP8 devices. To solve this issue change you region to any thing else, restart the phone download the app (84 MB) and then you can set you phone region to Italy again, we are so sorry we will fix it soon."
Get the Windows Central Newsletter
All the latest news, reviews, and guides for Windows and Xbox diehards.