Amazing Weather HD updated with more beautiful live tiles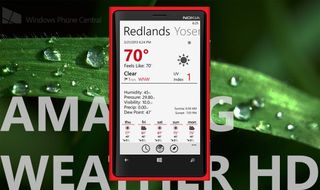 One of the highest rated weather apps on Windows Phone just picked up another update. Amazing Weather HD is now packing a few new aesthetic changes to one of the most beautiful apps. Some bug fixes and new features await you after the break.
If you update Amazing Weather HD to version 4.1.5.0 you'll find yourself getting the regular ol' bug fixes and some enhancements to the live tiles. You'll also be greeted with even more beautiful live tiles within the realistic theme. The screenshot below shows it off.
With Amazing Weather HD you have a variety of themes to choose from within the app, but it boils down to two distinct choices – either a metro theme or realistic theme. You can't go wrong with either, but the realistic theme with animations is nice and definitely add some flair to the app. Lockscreen support is also excellent, with a ton of different styles to pick that display the weather in multiple formats.
Amazing Weather HD has been one of our favorite Windows Phone apps for a long time. Last week we told you it was on sale for $0.99 instead of its regular $1.99 price tag and it looks like that deal is still going on. The sale is good in the US, UK, France, Spain, Finland, and Germany Stores – so get on it if you haven't already purchased this app.
You can nab Amazing Weather HD for the sale price of $0.99 here in the Store or spring for the free 'lite' version here. Both apps work on Windows Phone 7.x and 8. Use our QR codes below (lite version on the right) or swipe to the right in our Windows Phone Central app.
Thanks for the tip Lee K! Also, Rain image above from Moyan Brenn in the Flickr Creative Commons
P.S. The developer of Amazing Weather HD chimed in the comments below with this: "Issue for our WP8 users in Italy, we have updated WP7 version with Italian and that caused the App to be defaulted to WP7 version on WP8 devices. To solve this issue change you region to any thing else, restart the phone download the app (84 MB) and then you can set you phone region to Italy again, we are so sorry we will fix it soon."
Windows Central Newsletter
Get the best of Windows Central in in your inbox, every day!
I've said this before and I'll repeat it: the sale is also available on the Portuguese/Brazilian store. By the way...84MB worth of update would necessarily mean more than just bug fixes. XD

The app has always been 84MB in size.

Well, in that case, the update reinstalls the App. Because I just updated it and the size it showed downloading was 84MB ;)

90% of the download size is the HD animations.

And yeah now it supports wide tile for 7.8 devices.. Been waiting for this update..

Hey Sam, can you make sure to put the app link in for the WPCentral app, so those of us on our phones can have easier access? Thanks.

Did I really forget that? My bad. I'm at dinner right now and will do it as soon as I'm back at the PC. 20 mins maybe. Again, my bad :)
Edit: Aaand fixed. Thanks for reminding me.

Sam, sorry for disturbing you, but the Lite version is no longer available (on my 7.8) > on the store website it says so.
Robin

So, does this have a Live Tile that automatically updates your location? Or do I have to have a tile for every city i want to view?

It updates automatically. Or at least it does for me :P

It has a GPS option for live tiles. That's why I love it.

and is this feature on WP7? Because I couldn't get it to work on my Focus Flash on 7.8

Yes, its on WP 7.8. I just installed the update, and it is working flawlessly! :D

Flawlessly? Go to Radar view and zoom out...then zoom out some more, and more. Watch it crash! Still like the app though.

I did what you said on my focus s and it didn't crash

I just installed it on a Nokia 1020. It seems to update the live tile, but not all the time. I have it at the hourly setting (it would be nice to have say 30 minutes) and I've seen the live tile update a couple of times, but certainly not every hour. And the lock screen doesn't update. It still has info from last night, even though the tile has updated a couple of times. Is there a more recent version? I'm still in the "try" cycle

Wish. I was just thinking about this today and when they were going to update it for wide tiles on 7.8 and now my wish has come true! So gorgeous of an app! :D

For the lite version on 7.8 in the store it says: this app is not made for your version of windows.....

http://www.windowsphone.com/en-us/store/app/amazingweather-lite/230cf37c-f128-40c4-aad6-c434fa3b1d3c

Sooo. Does this update break the livetile for unfixed 7.8 phones? I love this app but refuse to update unless it will work on 7.8. I've got a l900 threw att and don't expect the fix for 7.8 anytime soon.

It worked on 7.8 before the 8862 update.. Now it works even better!

Amazing app, its my only wide live tile cuz its beautiful and useful.

Call me old fashioned, but I find it hard to pay money for a weather app.

79p? I pay 50p to pee in Europe!

You pay 50p to pee, I've never paid to pee

Call me old fashioned, but I believe someone's development time is worth something. If it's too much for you, download one of the free ones.
But then again, your time must not be worth anything either. Right?

That's kind of the point to begin with... with so many decent free options, its hard to find a reason to pony up for a paid app.... arguably, the OEM or carrier should also offer weather apps as part of your phone package (which they do).
Like, most cars have an outside temperature reading... imagine a car dealer that says you have to pay extra for it. I say all the above as a person who paid $2 for the Amazing Weather HD app, which was well worth it.

Agree...although a little less snarkily ;-)

I was the same way... until Amazing Weather HD... I was willing to pay for the gorgeous live tiles, but more importantly, live tiles that WORKED and actually updated. AW-HD is probably the only weather app I will ever pay for.

Of course, I also used Market credits I earned through Bing Reward points to purchase the app, so I didn't really pay for it with real money :)

Amazing Weather HD's lockscreen support isn't actually, well, HD. I've mailed the developer on the issue (no answer), just in case they've missed that in the reviews. Of course you wouldn't notice in most devices (with non HD screens) but in my Lumia 920 I had to come back to the native Bing support as wallpaper; it's real HD :) I can take such thing from AccuWeather that I didn't pay for, but not from a paid app with the HD tag in the name. After all, that's what the app's supposed to be about, right? ;) Oh, and did I mention that Weather Flow does indeed offer HD lockscreen support?
Anyway, I figure I'll stick to this one I already purchased and hope for the 'little' issue to be addressed soon 'cause besides that it's a great app that could get almost perfect - looking forward to that update soon, developers!

Good point! Also, AW thinks I live all over the country. The GPS is real messed up. That shouldn't happen.

Doesn't update the live tile on my L920 unless you tap it. I have the paid version too. Tried to contact the developer 3 times and nothing.

Had the same problem on my 920, also email dev like you did, and got a response many days later after a 2nd email. By the time I got a response though my live tile had mysteriously started working, and I have no idea what kick started it.
Here are some things to try (BTW, I did these w/o any success days b4 mine decided to start working):
* Be sure to pin the live live to start screen from within the app, and not from the OS's app list.
* Go to OS Settings > Background Tasks, and ensure that Amazing Weather HD is enabled as background task.
* Reset or power off/on your device.
* Based on the setting within the app, it seems the most frequent update interval for its live tile is one hour, so don't expect the live tile to update more frequently.
Hope that helps. Keep in mind, I have no relationship w the dev or any vested interest in the app, just trying to be helpful.

Thanks for the heads up. I'll go back and follow these steps and see if it resolves the issue.

its just awesomely beautiful...on Lumia 710

I can purchase the paid version on my HTC 8X but the lite version isn't available for my device??? What???

yeah, having the same problem with the lite version: on the website of the store it says that the app is no longer available :S

Go to the regular one, and press try. Same thing as lite.

I'm using the lite version since it was update last year, it has no updates and wide tile support and its way too old version

Wow... amazing... my Lumia 900 just looks awesome now with this wide tile, I almost want to see the screen to the longest time out just so I can oogle at it. I was one of those people who refused to spend money on apps, spent lots of time deliberating on whether I should buy this one. Best $0.99 spent. Ever.

Its nice but I can't justify 84mb download, I'll stick with weatherflow since its lock screen is better. However, I almost bought this app...its just that 84mb DL.

So with lite version you miss out on hd stuff???

Lite version not available on 920 :-/

The lite version is not working with 7.8 or 8

Yes, Lite version is removed as there is a Trial now.

Also don't forget to help us in the Next App Star Contest and get the chance to win Lumia 920 Device each day (From Microsoft):
To Vote:
1- Go to the Next App contest url nas[dot]newwp[dot]it
2- Login to facebook
3- Add the next app star app.
4- Click on start voting
4- You have to keep voting to other apps until you see Amazing Weather HD
Thanks alot,
Also we are working on more HD wallpapers :)

Is it possible to grab Bing daily images as wallpaper then add weather information on top of it? If you plan to do so, please make sure to grab the HD version of Bing daily image.

But Lite was free and trial expires. Why remove the Lite?

I love this app, but I miss the dark (realistic) wide tiles. They made the white font really pop out. This was one of the main reasons I preferred this over Weather Flow. Now the colorful tile makes it a little harder to read the overlaid. text.
Edit: So its close to half past 11 here in the west coast but the live tile shows blue skies as if it were daytime.
http://sdrv.ms/Z5HeX9
Anybody else seeing this behavior?

Il say it again. To bad this app is so horrible were I live. I say this app is at top bottom. But it sure is pretty.

Best weather app...ever! Not just on Windows Phone. Extremely glad to see the wide tile now!!! Like that the back side of the tile gives you the weekly forecast! The animations are just icing on the cake.

I love this, but I find the 84MB file size a bit hard to swallow for a weather app. Yes I know its mostly due to the beautiful hi-res pictures, but for someone already struggling with insufficient storage for my games and stuff, this maybe a bit much.

Useless app, if I pin it it says cloudy with -1 degree's Celsius, but the live tile shows a field with blue skye and sun, and when it flips it shows a dark background with snow like it was night.

A fix is coming soon to fix the cloudy issue.

I know my comment sounded harsh but basically I could not use it to its full potential. I mean yes, it showed the correct celsius temperature but the main attraction of the app is its own live tile and if that doesn't work than why should I buy it?
I'm curious also, after you will bump up the version will I still be able to try it or it will say that the 72h expired.
Anyway, as a side note, I wanted to buy it in the first place without even trying because I usually trust WPCentral editors opinions on apps, and if they say it is one of the best then there's a reason for that. I'm pretty glad I didn't because as it seems the app still has some issues. I don't mean to say now that the WPCentral editors lied, maybe for them it worked but not for me.

I'm still disappointed you can't add the lock screen weather info OVER your chosen lock screen wallpaper!! Only their papers or bing ones.. I don't want a constantly changing picture of some leaves or puddle on my phone... Sort it out!

We are working on it in an enhancement update.

No offenense but comparing this to the AccuWeather App boils it down to the easy choice of - Do I want to fork out the cash?


Nice! Still no animated radar needs it to be a complete weather app.

Thanks, that's what I was wondering. Glad i didnt waste my money, time & storage.
No animated radar on the Weather Channel app either, Accuweather's works though. Guess I'll stick with it.

Issue for our WP8 users in Italy, we have updated WP7 version with Italian and that caused the App to be defaulted to WP7 version on WP8 devices.

To solve this issue change you region to any thing else, restart the phone download the app (84 MB) and then you can set you phone region to Italy again, we are so sorry we will fix it soon.

Please WPCentral can you update the POST with this.

I'm in Italy, and I set both the country, the regional format and the search language to United States, but I still get the 23MB WP7 version of the app in the store...

Wish there is a version for those who doesn't care about the bloat (realistic theme, movie, animations etc). 84MB is just way too hefty for a weather app. Give me a Metro only version of Amazing Weather.
Also, is there a way to create a live tile without the back tile?

I'm on a l920 so dl a 84mb file for accurate and crisp weather app is no big deal for me and this app seems better than the weather channel app which always gave me weather for the next day not current day.

MAPS STILL SUCK! COME ON!!!

I'm trying to understand what's happening here. So there's no more Lite version right? But getting the trial version of results in a notification that says "You'll recieve weather updates for 72 hours." That means the trial will stop working, so it's not the same as the Lite version which worked indefinitely with ads. So how can anyone say that trial = Lite?

The designer working on Amazing Weather HD is sloppy. A lot of small things are rough around the edges; icons that don't seem properly scaled up to HD, I don't think content is ideally organized on some live tile layouts, and the animated photos don't seem to be HD either. Then there's the performance hit with the animation. Even app icon looks a bit rough.
But I don't want to take away from the respect this app deserves at all. I can tolerate those flaws because it's the best weather app out there by far. Even without the cool live tile functionality it's excellent.

Hmm so what's really HD about this app? Just wondering... (See my comment above)

It says it wasn't available for my HTC 8x device.

It has just completed downloading on mine OK.
I am in the U.K. if that makes any difference.
Seems to be working well too... lovely graphics!

The live tiles are still not updating for me. What gives?

Have you updated your phone to 8862? That should fix it.

My phone says there are no updates available.

Why doesn't my live tile ever update? The live tile doesn't update unless I open the ap, so sometimes it is showing the forecast from 3-4 days ago. How do I fix that?

Have you updated your phone to 8862? That should fix it.

I'm using a WP8 device, a Lumia 920. I have the latest firmware available.

Same here. I've tried uninstalling, then a soft phone reset, then reinstall. Live tile still does not work. Wish I could get a refund.

The update was welcomed, my live tile now updates regularly! Awesome app.

I agree with pmhgeneral, it needs to have an animated radar. I actually paid for it and use AccuWeather instead. Plus AW HD seemed harder on my battery when background enabled. There have been a few updates so far so perhaps the battery issue is fixed. But if it had an animated radar I would start using it again.

I like how some people comment on things here without thoroughly ready the article and the comments previously made by other users and the developer... On another note...never had a single problem with this app at all! Never knew a "Lite" version excited. I ran the 72 hour trial...tiles update fine...even drove through several cities to test its GPS accuracy in my area...it worked flawlessly updating the live tile automatically. Bought the app the following day after testing :-)
(FYI: I ran this app on 7.5 and it worked perfectly and updated to the 8862 build of 7.8...and it works even better with wide tile) Is it possible that some users have weird corrupted versions of 7.5 and 7.8 that cause his great app not to be fully functional on their devices...because I and other users have never had any issues....

The app is pretty nice, but zooming in and out of the radar views is almost impossible. If you want to zoom in and move the map around you cant because it swaps to a different map view left or right. What an incredibly stupid design choice.

I tried it the other day for the first time and it was great. The only problem I saw on my 8X was that the text quality of the weather info in the lockscreen looks "edgy" or poor quality. I didn't like that for a feature I will be looking several times a day.

Anyone is seeing this same thing on their phone? I'm willing to buy it, but after this is fixed.

I will try Weather Flow as well. I have been using HTC app which is great for what I want, but the lockscreen info of Amazing Weather HD and Weather Flow is more complete.

Also don't forget to help us in the Next App Star Contest (round 2) and get the chance to win Lumia 920 Device each day (From Microsoft):
To Vote:
1- Go to the Next App contest url nas[dot]newwp[dot]it
2- Login to facebook
3- Add the next app star app.
4- Click on start voting
4- You have to keep voting to other apps until you see Amazing Weather HD
Thanks alot,

I have a 900 with the 7.8 update. I'm running version 4.1.5 of this app, and don't have animation on the wide tile. Aren't I supposed to? Fixes?

NOT ONE SINGLE LIVE TILE AVAILABLE ON TEH LUMIA 928. WHAT IS THIS BULLSHIT?

omg.. a pushpin. how stupid. Live Tiles go under live tiles. I just foamed for 10 minutes..
Windows Central Newsletter
Thank you for signing up to Windows Central. You will receive a verification email shortly.
There was a problem. Please refresh the page and try again.