Amazing Weather HD updated with dynamic lock screens and more live tile options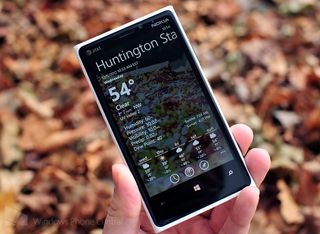 Amazing Weather HD is one of the top weather apps available for Windows Phone hardware. The Windows Phone 8 version of the app has been bumped to 4.1 and adds two new features. While the app is a slightly heavy download (86MB), it has continuously been recommended by ourselves as one of the best weather solutions for Windows Phone.
So what's new?
Dynamic Lock Screens and the ability to mix and match live tiles provide consumers with more levels of customisation outside the app itself. The lock screens designs are nothing short of beautiful, with a number of styles and themes to choose from. While the aesthetics are more than pleasing, we're not being hit negatively for functionality.
The themes to choose from include metro and the use of Bing wallpapers. There's a number of combinations to be used that can help keep the look of the lock screen fresh. We would like to see the ability to add your own wallpapers to the lock screen with Amazing Weather HD content on top, but we're sure this will arrive in a future update.
As for the live tiles, you can now "mix and match" styles and content on the front / back of all three sizes (wide, medium and small). The option to customise them to each city added in the app provides more flexibility and choice.
Overall we're extremely impressed with what developer EizSoft has achieved with Amazing Weather HD. There's a good reason we continue to recommend this app over the likes of Weather Flow, and the added lock screen support with high resolution icons and images make the experience that much better.
This update is for Windows Phone 8 users only? Correct, but the developer does note that Windows Phone 7.8 owners have not been forgotten. An update for legacy hardware will be published.
You can download Amazing Weather HD ($1.49) from the Windows Phone Store (free version). Thanks to everyone who tipped us!
Windows Central Newsletter
Get the best of Windows Central in in your inbox, every day!
Rich Edmonds was formerly a Senior Editor of PC hardware at Windows Central, covering everything related to PC components and NAS. He's been involved in technology for more than a decade and knows a thing or two about the magic inside a PC chassis. You can follow him on Twitter at @RichEdmonds.
Cool I'm glad I payed for this app

The live tile stopped working for me a week or two ago. Does anyone know a trick to restore it? Today's update looks interesting. I quite like the application, at least I used to like it until the live tile went on strike.

Uninstalling and reinstalling worked for me. My live tile updates correctly again.

Store says its $1.99... Not $1.49. Just info, not being a dick by the way. Haha

Looks nice but I don't think anything can take me away from my favorite weather app simply called Weather. :p 10 day forcast, nice simple metro live tile that I keep on the smallest size.

I do the same. Love the small tile with the metro look for quick weather info.

That is one of the things I love about this app (Amazing Weather). It does have the metro look and the tile is metro as well.

Highly recommended.

This is a great app; I love to show it off. It got crashy for me right after portico, but that seems to have been resolved. Can't wait to try out the lock screen function.

The lock screen does not seem to update unless i go and launch the app. That is kind of disappointing. I wish this stuff could just work.

The wp 7.x version has also been updated, but there's no resizable tiles.. :(
I want it so bad for the 7.8

I can go from normal size tile to small tiles. NL900 7.8

Yes, me too. But we still don't have the double wide size. :(

If I bought the WP7.8 version do I have to pay again for the WP8 version when I upgrade?

No, it will make you hit the pay button but it won't charge you...it'll say you've already purchased this, would you like to download.

Very nice. :)

And thank you for answering. I was asking mainly because I bought the 7.8 version not too long ago.

Nope. Unless there is something weird going on. I had purchased a ton of apps on my WP7 device and was able to install them all on my WP8 920.

Coming soon for 7.8 devices to add wide live tiles and mix and match, also we will update the wp8 version with more sources to lockscreen images. :)
Thanks all for your support.

Thanks for the update, I especially like your use of wide tile to show 5 day forecast.

You guys are awesome, one of the few apps I have purchased, love the customization on my wp8, can't wait to download the new update

Thank you so much!!! Can't wait for the 7.8 update!!! Your app is the only app I have ever actually purchased :-)

This is one of my favorite apps, on any platform. The new lockscreen functionality is great, although it doesn't update unless the app is launched. I'm confident this will be fixed soon, though. Thanks!

FYI - After uninstalling and reinstalling, the Live Tile updates properly again.

Damn. My favorite app gets the treatment. Worth the price folks.

Rich, you forgot to mention that you have the ability to update live tile and lock screen separately. This drains battery more if you set them both to update hourly which I do for the live tile, but not the lockscreen one.

My honest advise is to try them both (they have a free trial). I did and I prefer Amazing Weather but you might not.

AW HD gets my vote since you're asking.

Best weather app out there!

Is it just me or is the lock screen text not HD as stated in the article? Just like Weather Flow the text doesn't look sharp

I can't comment on the WP8 version but on the WP7.8 version the text does not look sharp to me either. I thought that was being addressed with this update.

Seems HD, just the same as the time/date or calendar text. What you might be noticing is the opacity setting lets you fade the lock screen weather data to your liking and isn't 100% solid by default.

The app called 'Weather' used to be my favorite EXCEPT for the fact that the live tile would never update. That's the only reason I made the switch to Amazing Weather HD.

If it had a radar I would use it..please add radar!!!

920 user in UK being told that this app is not available for my phone. Thanks.

does this have follow - me function?

I like the live tile in Weather Flow better (hourly forecast), but I like the weather data in Amazing Weather better (forecast for the week, in words). So I just use both.

I live in San Diego, California. We have no weather.

Nice update.. I use the Bing image for the background. Now I can shrink my start screen tile to a smaller size thanks to the lock screen features.

I don't know what you're referring to with new options for live tiles. When I go to Settings>Live Tiles, the only option I have is a slider to show temperature and drop down menu for frequency of updates. Am I missing something? Running this on AT&T HTC 8X.

Yes, they are not in there. You see them when you click 'Pin' at the bottom of the specific location page you want to pin to start.

I rebooted my phone, lock disabled... after WP logo, RIGHT to Start. Lock Screen was set to Amazing Weather. :/

I like having my photos on the lock screen, unspoiled by text and figures. What I would really like is a weather app that offered the option to display its info for a few seconds and then disappear, with an inconspicuous button to bring it back.
Make that behavior contextual, like only displaying itself first early in the morning or upon a re-boot, or if there's a significant change in forecast or a weather alert - now THAT I would pay for!

I'm not a developer, but I'm pretty sure what you're describing is impossible with the current WP8 API set.

Best weather app just got better! A huge thanks to the devs.

I love devs who support WP. Glad i paid them for this app. I actually switch between this and weather flow but after this update i reckon Amazing Weather has the edge currently. Keep up good work please :)

Still no radar or weather alerts. Disappointing.

Have you tried this version? Mine has radar. Im not sure about alerts.

No ANIMATED RADAR = USELESS!

Lockscreens are pretty and all, but I have to pin "RadNow" tile next to Amazing Weather tile, so I can get access to a real animated radar. Static radar is garbage.

Son of a Bitch!! (sorry) I just "Tried" this (NOT) Amazing Weather HD app on my Lumia 920, and as soon as i activated Lockscreen option it Killed my Phone!!! Screen is black/off and will not respond plugged in or not. I can call my phone and it will ring (vibrate) but screen remains BLACK. Sh*t!!! If anyone has a suggestion, please grantgg@outlook.com

Try to keep "volume down" + lock button for 10sec.

Thank you AlexxZD!! That allowed the phone to reboot properly, all good now. I'll rememer that sequence. thanks

You're welcome ;) It's useful sentence for a lot of freeze issues.

Needs animated radar then its a complete weather app.

I like a lot this application - animation, etc. I'm really glad to have un update, but... I've tried to put Amazing Weather to my lock screen - image is beautiful, weather info is good et it looks nice on my lock screen (much more better than Weather Flow), but it seems to me that it's not updated :( (update each hour, but nothing...). Well, un update to fix the issues of lock screen would be appreciated.
(Nokia Lumia 920 unbranded, France)

Just installed it. Really nice app.

Until WP gets at least one live tile/ lock screen app to actually update properly, it will never be anything more than a gimmick feature. It looks innovative but in reality the lock screen feature is nothing more than hype at this time.

This app still havent deliverd on language support and improved locations and naming.
Still dissatisfied with it and regret purchasing it.

Neither my live tile neither my lock screen don't update automatically since the last update (4.1.0-WP8). The application was working properly before. It's very disappointing for me. Un fix please...

I had to uninstall the paid app, as it decided to stop working altogether. Now I need to go home to reinstall it,...ni WiFi @work.

The lock screen info does not update, so useless to me. If you want weather on your lockscreen, use AccuWeather.

Not only does the Lockscreen not update, but now I notice that the live tile stopped updating with this latest version. Is anyone paying attention?

Try uninstalling and reinstalling.

It worked for me :) Thanks doublebullout. ;) Now it works like a charm.

Did all that, still not updating.

My only complaint is that you can't have your own wallpaper set, while also using the weather options on the lockscreen. You can only choose preloaded wallpapers or Bing. And sometimes the Bing wallpaper is ugly and I don't want it as a lockscreen wp. Other than that, the app and update is really awesome. :]

If you fancy a change to this weather app or your other favorites, try "Weather To-Go" (by "Apps To-Go"). It has:
- Excellent place name coverage for GPS weather (yes, incuding Faroe Islands!), in multiple languages.
- Daily and houry weather; sunrise/set times, local times, and moon phases.
- All sized tile / lock screen support, which update properly.
- Many settings to customize weather information and the look and feel of the app/tiles/lock screen.
- Metro vs. rich images, over 50 weather condition icons, each with separate descriptions.
- Background images, or bing, or your own picture.
- Add up to 6 of your own places. Search for the smallest village, it will probably find it.
- Support for 10 languages.
- Frequent updates. Email support and you'll get a quick reply. Feedback welcomed.
- 5 Day trial. Purchase at the lowest price the Store allows.
- 4-5 star reviews on average.

Hope you'll try it - know you'll love it! :-)


I wish i could share my weather om fb with this app

Windows Central Newsletter
Thank you for signing up to Windows Central. You will receive a verification email shortly.
There was a problem. Please refresh the page and try again.