Amazing Weather HD for Windows Phone launches this month's AdDuplex HERO App lineup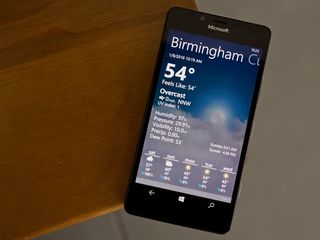 The Windows Phone Store is packed with weather apps and Amazing Weather HD can easily be considered among the best of what is available. As the Store descriptions suggests, Amazing Weather HD is where beauty meets brains with its eye-catching graphics and extended forecast information.
Amazing Weather HD launches this month's HERO Apps program, which is a promotional campaign for Windows Phone and Windows developers on the AdDuplex Network. The program partners AdDuplex with myAppFree, AppDeals, PluralSight and Windows Central to deliver a host of benefits to the top apps and games each month. Our role in the HERO App campaign is to offer a little exposure to these titles by sharing them with you, our readers, and today we shine the spotlight on Amazing Weather HD.
In a nutshell, Amazing Weather HD is one of the best-looking weather apps available in the Windows Phone Store. The main page highlights your current conditions, a five-day forecast and a breakdown of the weather over the next few hours. The weather information overlays an eye-catching, animated HD wallpaper that illustrates your current conditions.
While Amazing Weather HD makes a nice first impression with its appearance, there's more to the Windows Phone app. Additional key features for Amazing Weather HD include:
Weather Alerts
Weather maps that include radar, satellite ir4 and satellite visible
Live Tile support for nine forecast locations
Lockscreen support
Hourly forecasts
Ten-day extended forecast
Three app themes that include Dark, Light and Animated
Forecast information can be set to your Windows Phone location services or set to a particular city.
While the feature set is somewhat common amongst your top-tier weather apps, what helps Amazing Weather HD set itself apart from similar apps is the Live Tile and Lockscreen support. Amazing Weather HD has seven Lockscreen layout designs to choose from. Amazing Weather HD's Lockscreen can be set to a specific location or set to your Windows Phone location services and you have your choice of using one of Amazing Weather HD's images or your own as the Lockscreen wallpaper.
If my count is correct, Amazing Weather HD's Live Tile support offers your nineteen different layout designs. Live Tile support covers all three tile sizes, has the option for transparent tiles and almost as many designs for the back of the tile. The app will support up to nine Live Tiles pinned to your Windows Phone Start Screen.
While one may also argue that a Windows 10 PC version is needed, the only nit I have with Amazing Weather HD is that it lacks animated weather maps. It's not a deal-breaker, but it would likely complete what is otherwise a masterpiece of a Windows Phone weather app. We've seen the app grow over the years to add new features and maybe one day we will see animated maps.
Overall, Amazing Weather HD is a solid weather app and a Windows Central Staff favorite. If you are searching for a weather app for your Windows Phone, Amazing Weather HD should be on your short list. There is a trial version available that has ad-support and the full version is running $1.99.
Download Amazing Weather HD for Windows Phone (opens in new tab)
AdDuplex HERO Promotion
AdDuplex is a fantastic resource for the cross-promotion of Windows Phone and Windows apps. AdDuplex has launched a new program designed to help developers promote their apps even further with free access to various tools and resources from AdDuplex.
The HERO Apps promotion partners AdDuplex with Windows Central, myAppFree, AppDeals and PluralSight (opens in new tab) to provide additional benefits to the top apps every month that include:
Vouchers to advertise on AdDuplex
One month subscription to Pluralsight Plus
A featured campaign with myAppFree
A featured campaign with AppDeals
A review here on Windows Central
If you are a Windows or Windows Phone developer, you can sign up for the HERO Apps program here at AdDuplex's website. To participate in the program, you will need to apply within thirty days after your app or game has launched on the AdDuplex network.
Windows Central is already partnered with the myAppFree campaign and is proud to be partnering up with AdDuplex with the HERO Apps program. It is another excellent opportunity to help promote both the Windows Phone and Windows platform.
Keep in mind that the HERO Apps are different than what you find with the myAppFree deals. The HERO Apps are free, ad-supported titles that often have the option to remove the ad-support via in-app purchases. The myAppFree deal delivers a paid app or game at a discounted price or for free.
Windows Central Newsletter
Get the best of Windows Central in in your inbox, every day!
George is the Reviews Editor at Windows Central, concentrating on Windows 10 PC and Mobile apps. He's been a supporter of the platform since the days of Windows CE and uses his current Windows 10 Mobile phone daily to keep up with life and enjoy a game during down time.
Price for one. But I am going to try it out I think =)

In everyway possible, that radar on this app is not live but a few mins delayed. MSN weather has automatic emergency warning for floods, storms, freezing and tornados. Also giving you hour by hour temperature rising and dropping and so much more. I'm not fooled by useless delayed radar, MSN weather is better.

But msn's live tile is just crap, low definition, and not transparent. So, for someone that live in area where there are no flood, no tornados, no storms, no freezings, and where you can see the sky and feel the weather, Amazing weather HD is just fine and better because of the tile. Even if I like msn weather for the wind informations it provides, it lacks a dark theme and a transparent customizable tile to be on par, for me. So, not in everyway possible :)

Hildr you live in a boring place. Where's your sense of adventure? ☺

I also prefer MSN app. Greetings from Portugal

MSN for main weather. Lockmix with the weather and Bing background for the lock screen.

Freezing at launch on my 930.

I really like what Microsoft has to offer in their weather app mainly for the integration with Places and consistency with desktop client. Weather alerts on phone, desktop, browser and Band through one app has rendered these third party weather apps useless. It used to be a killer live tile was the feature to be had - now it's all about the platform and adjacent integration with the desktop. That's the main hook with Windows Mobile, so goes the (pitiful) app store.

Can't put the Bing weather information on the lock screen or glance anymore, so it's not super useful to me. Edit - Reply fail. Should be above.

Yeah, I sure hope they manage to get weather back on the glance screen. I used to have everything that I wanted on the glance screen, but not anymore. What were they thinking?

LockTemp will give you the temp on the lock screen.

Use to like this app. Loved that you could have the weather info along with the Bing lock screen, but they took that away. The live tile options are pretty great. The MSN weather app looks more polished.

Try lockmix for Bing and weather for the lock screen

It's a nice app but the forecasts aren't correct.

The same is happening to me.

The location based live tiles did not always reflect the correct location. Then again, none of the apps that I have tried are perfect in this regard, or even close. Microsoft is pretty good, but you have to launch the app to update the time. Acuweather is good too... If only the alerts worked. Ask I get is an ad and a blank screen when I tap the alert exclamation point.

I've bought this app long time ago but I use it just a few days because it doesn't work in the background and it's not updating the live tile. You have to go into the app in order to update the stats and then you have to go through all your locations to update them. The locations are not all updating automatic when you start the app. I find the reviews a bit too enthusiastic/generous...

That's because this is basically an AdDuplex advertisement.

Best weather app! Love the lock screen. I use that all the time along with the live tile. Don't normally open the app though.

I have been using Amazing weather HD for long time. Recently I started using Progonza. It's quite good as well.

I use 4castr but the App don't have live tiles (W10M)

I've used Amazing Weather since WP7. I pin a wide tile to flip between 5 day and hourly forecasts for current location. I supplement radar shortcoming with NOAA radar app tile next to Amazing Weather forecast. Rarely need to launch apps.

Has been and still is my favorite weather app and the only one I have put money towards. Always has been accurate for me. Was part of the beta, which was great! Wonderful lock screen options so you can have weather and your own picture at the same time.

It really is a nice app, very detailed.... Too bad on Windows 10 Mobile you cant UNINSTALL the weather app... or I would be using it..

Kind of reminds of of Weatherflow Pro... and we all know what happened to that. I hesistate to buy a weather app now. I think I'll stick with ​Accuweather
Windows Central Newsletter
Thank you for signing up to Windows Central. You will receive a verification email shortly.
There was a problem. Please refresh the page and try again.