Amazing Weather v3.0 with new themes is now available for download on Windows Phone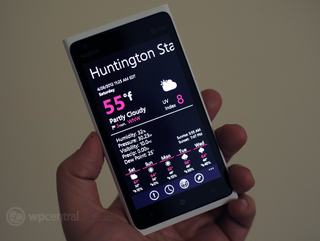 In the race for the coolest weather app for Windows Phone, you're the winner. Which is why we love to bring the news of app updates in this area for Windows Phone, since so many of you have your favorites and lets be honest, everyone needs a weather app.
We reported earlier that Amazing Weather (review) was going to get some major new themes in version 3.0 and sure enough, that update has just gone live in the Marketplace. Here are the changes:
3 beautiful themes
3 distinct live tiles
weather alerts
offline mode
auto location using GPS
5 different cities,
refined UI with charts
support for new languages
The auto-location using GPS is great as you can pin that tile to your Start screen and it auto-updates your location when the weather is refreshed -- perfect for those of you on the go. The new themes are great and a clear shot at Weather Flow (who went after the "realistic weather" model that Amazing Weather had originally brought).
So far we're really liking Amazing Weather and the update mostly because it delivers radar and a detailed weather forecast. The app fetches for a $1.29 in the marketplace with a free trial. Is it the best? We'll leave that up to you but we'll consider this as one of the top contenders.
Make sure you take a look at our "Best Weather Apps for your Windows Phone" if you need some more ideas!
Windows Central Newsletter
Get the best of Windows Central in in your inbox, every day!
Daniel Rubino is the Editor-in-chief of Windows Central, head reviewer, podcast co-host, and analyst. He has been covering Microsoft since 2007 when this site was called WMExperts (and later Windows Phone Central). His interests include Windows, laptops, next-gen computing, and for some reason, watches. Before all this tech stuff, he worked on a Ph.D. in linguistics, watched people sleep (for medical purposes!), and ran the projectors at movie theaters because it was fun.
Amazing Weather DEVELOPER.
***********************************************
A fix is coming soon v3.1 for the disappearing live tile issue (For people whom are updating only) and enhancements to loading weather data, the update is already submitted and will be available soon.

As a work around just remove all the cities and add them again.

We are really glad that you are considering our app to be one of the best, we are always working hard to excel and give you a worthy and unique app. Thanks :)
***********************************************

This update is great! I think I'll finally switch from WeatherMaster. Even though I still prefer Weathermaster's live tile. The more detailed weather in Amazing Weather wins out.

Same here.. Very happy with update.. ;)

I 3rd this...I'm using AmazingWeather but, really want to try this...

I tried the older version and with out Auto locate via GPS it was pointless because I tend to travel a lot and I hate having to configure an app evertime I am away from my home town.

Now this is more like it! I hope more apps follow this excellent update!!

Love it! It totally blows away the Weather.com app. I'm using the theme that shows current weather on the front and 3-days on the back. This is how live tiles are DONE!

Nice job, still prefer weather flow... I had purchased weather live, but was disappointed when they made some major changes. As long as they don't make major changes with weatherflow, I'll stick with that one for now

Really nice job. A few more themes would be nice. Maybe a better splash screen. But all in all possibly the best weather app out.

Yes we are considiring changing the splash screen in the next update, hopefully next week :)

I downloaded the trial version a few weeks ago, but didn't buy because the live tile only updated every 2 hours. I really need a tile that updates at least every half hour for the app to be useful to me. Anyone know if this has been changed in the new version?

No half-hour but it can do once an hour now.

Hm, I need to decide if that's often enough. I live in the desert, so our temperature variation can be pretty extreme - on Android I have temperature updates set for every 20 minutes, but I know that's not possible on WP. 1 hour might be useful enough for me, though (whereas 2 hours was often so inaccurate as to be completely useless).

Well I just bought it and it is nice. Except live tile hasn't worked at all. Just the apps icon.

The Weather channel remains the best . Perfect live tile update, great graphics/Animation. Free...

I purchased this tonight b/c of the awesome update. Kudos to the developers! Two very minor things bother me: 1) inconsistent capitalization, and 2) the "f" or "c" designator following the degree symbol. Regarding the first, I don't understand why city names are capitalized, for instance, while names of days (in the extended forecast) are not...I'd rather see all capitalized, or all not. As far as the Fahrenheit/Celsius indicator, I'd like to see it removed...things would just look so much cleaner without it! Very minor gripes...the app is great. Well worth a buck thirty!

The "f" bothers me most in the live tile. Thankfully it is removable in the options. Just toggle the temperature option under Live Tile.

I still don't like it. Can't identify smaller city's, correct temp? no Scandinavian language support etc. I'll be using the ol' weathermaster, it spell's correct also.....still no Swwdish language anywhere

We are going to support Swedish soon after a week we will submit another update with more languages, Traditional chinese, Italian, Swedish, Chezc, Hungarian, Portuguese.. and for the cities its just the weather provider dosen't have stations in these cities yet.

Oh, Nice!? Thnx for the heads up. Will keep it and wait for the update.

I agree the Splash screen has got to go and made more modern or METRO!

To the developer. Can you make music playable while displaying the fancy weather graphics? Also the update is much appreciated and I will recommend all my friends!

Why must the music stop when the animations go on ? I have never seen this in a App, HTC's hub does fancy (too fancy) animation and my music still plays...

Will there also be new graphics added in the next update?

The reasons I walked away from Weather.com and Accuweather was the load times. Both took 6 seconds to load up and Accuweather another 6 seconds to load the current weather. Instead, showing the first-ran weather for that 6 seconds. Obnoxious when you've had the app for 6 months and it is showing summer temps in the middle of winter. "Weather" by Microsoft is a no-thrills app but it throws up the weather and forecast in 3 seconds.

Another update is coming soon to speed up the loading of data, but why do you compare with Microsoft's weather app its just empty (there is no details) ??? But we will try our best to make it faster :)

The speed is fine when it is seconds compared. I find the detail in this app better then all apps. Any news on having the music player while the app is animations are on?

I wish the live tile could match your tile's theme's color. It stands out too much if your not using the graphic one. Weather is one of those apps that dont need to stand out and be super fancy. I would of liked the MS one besides it didn't update for traveling.

I have WeatherMaster on my phone, as it's not as nice (in the App) or detailed, the live Tile is nice. It matches the theme, Shows current temp/high/low on one side and next 2 days on the other side...and follows with GPS...

Hmmm, our live tile do match the color of the system if you choose the first two, on the next update cycle it will change according to your accent color.

It does not work on my phone then. You have 3 options when you try to "pin" the location. If I chose one of the first 2, it will be this yellowish/orange color. It did not match my Theme color.

Even changing colors/back drop did nothing, it stayed the same color.

Bug ?

Edit: Ahhh, figured it out. I was using a custom color, not one of the default colors. I tried the one of default colors and it worked. It needs to work with custom colors...

Eizsoft...one more time. Why can't we play music with the graphics options running? Thanks

What do you think about this new Splash Screen Metro/Realistic..... http://i.imgur.com/5XeEa.jpg
Windows Central Newsletter
Thank you for signing up to Windows Central. You will receive a verification email shortly.
There was a problem. Please refresh the page and try again.