Amazon Instant Video comes to Xbox 360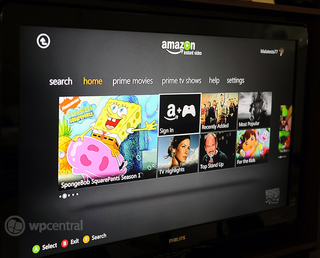 Amazon and Microsoft have joined forces to bring Amazon's Instant Video to the XBox 360 console. Not only will users have access to Amazon's 17,000 film and television titles, but they will be able to control it all using Kinect voice and gesture commands. Speaking of the new joint venture, Ross Honey, general manager of Xbox LIVE Entertainment and Advertising at Microsoft had this to say:
Amazon' put out a comment of their own via their vice president for video, Anthony Bay:
This is a significant move for Amazon, as XBox 360 continues to be the top-selling gaming console in the country. Microsoft, too, will benefit greatly from Amazon's huge media catalog as they strive to make XBox a one-stop place for gaming, music, video and social media.
Source: Amazon (opens in new tab)
Hope it beats Netflix or Hulu.

Y would u hope that lol a variety is best not just one option

Tell that to my wallet >.>

Why? No, they don't offer everything. But for $8 a month (or $16 if you subscribe to both), you still get a bang for your buck. And if you really want newer movies, just supplement the lack of with Redbox (if available in your area)

Amazon cost about $6.50 a month.

But I have Prime for the free two day shipping on most items, video content is secondary and a bonus. I also get other perks from Prime on the Kindle. It's good value overall, I wonder how long they can keep the price so low.

My post was no indictment against Amazon Prime. I was just pointing out that for me, Netflix and Hulu Plus are more than satisfactory.

Is there an app? If not then what's the point....

Uh, yeah. Kind of the point of the whole article.


We don't need to hold ourselves back with minor details like "Read the article I am commenting on", a Title clearly is enough information to base an opinion...c'mon now...this is the digital age...OOOOH! A Squirrel!

Amazon's streaming selection isn't as good as Netflix or Hulu but they're more aggressive with pricing to rent/own videos than Zune, Vudu, or CinemaNow. Competition benefits everyone.

If I had a dollar for every bad movie on netflix/hulu, they would be paying me monthly fees

Yea Netflix is losing it. They rarely have what I want to watch at the time

I recently canceled my subscription to Netflix. When asked why, I checked off the selection answer. I'm currently using my free one month subscription to Amazon.

Uterly disappointed in netflix... I now probably have enough to just cancel my service with them.... I hardly watch it too... I am mostly renting on Zune or HBOgo

Could this mean anything for the Fire & Live games?

I can see Microsoft making them achievement enabled, but I could see some titles similar to what iOS has.

No way...if you want to make a game that can be played on the Xbox, you will have to go through the XBLA process if you want achievements or the Indy path if you don't. I do not see them making a secondary market for gaming on the console. [Although I have never heard of Fire & Live, I am guessing it is like the Amazon Android Marketplace?]

he means does this mean the Kindle Fire will get Live games.

Considering the Kindle Fire is a cheap POS, I hope not.

Since Microsoft just became a partner in the Nook, no.

I assume that this is US only

I guess this will get the same international support as the Amazon App on the Windows Phone i.e. none.

IV been wondering if this would ever happen

If they don't have telenovelas on it then I'm not interested

And what does this have to do with windows phone? I didn't see "coming to windows phone" or "it might come to windows phone", etc.

They occasionally cover Xbox and Windows 8 news.

Indeed. It's a big win for MS's ecosytem to get this. It's also a decent sign that a mobile app may be coming down the line (then again, that hasn't panned out for Hulu just yet).

Just wish these mobile "video" apps would allow us to download the movie/show with a date of experation, just like with the Zune movie rentals. Odds are, if I have access to WiFi, I don't need movie streaming. To many of us go off the grid and/or don't have access to WiFi when we would like to watch something.


WPCentral keeps us up on Xbox 360 news as an extension of MS's 3 Screen initiative since most of the people that are rocking the phone are already rocking the other 2 screens.

Love it. Totally interested

If only MS wouldn't require a paid Live Gold membership to use these online video apps!!!!

they don't for some of them, it is a bit of a crapshoot. Basically if none of the app traffic traverses the XBL network you don't need Gold.

After dealing the the free services on my now ditched ps3..... Happy to pay for Xbox live service....though it's not fully needed

FINALLY! =D I've been waiting to Prime up my Xbox for a while...

Any news on whether or not this is coming to the UK.... kinda get the impression from Microsoft that they just can't be arsed with this side of the pond.... I mean look at the lack of podcast support in the Zune market place.... It is absolutely nothing to do with rights because Apple seem to manage everything worldwide....

I mean, do you really believe that MS doesn't extend its services to other regions because it's lazy or just doesn't care? I'll go out on a limb and say that MS wants their services everywhere--it's how they plan to you know, make money. If they can't there's some reason for it, one that we're usually not privy too. But I honestly don't believe it's because "they just can't be arsed with this side of the pond".

Many internet commentators need to take a college Intro to International Business course to begin to understand what a complex labyrinth doing business abroad is like. Multiply that with media rights and local covering media, it's a wonder any of this happens at all.

They don't have to go to business school... They just need the basic understanding of : reading the article, ask before assuming question, stop moronic trolling

Tattooed, Firstly, Microsoft can only bring apps to content that is available in the UK. Fortunately in this case, Microsoft already has an app for the Amazon UK streaming service, branded here as Lovefilm. So you could say in this instance we got it before the Americans ;)

THIS WEEKEND GOLD WILL BE UNLOCKED ALLOWING YOU Y
TO USE ALL APPS ON THE XBOX VIA @majornelson

So, will we be able to stream this to our Windows Phone? I'm still very new to this whole thing since my wife just registered for the Amazon Prime membership this past weekend for the sole purpose of being able to stream stuff onto her tablet when away. I believe she can also do it with her phone(Droid) but we're still figuring it all out.


I understand that they want to make money but it seems that the US gets a whole lot more.... Podcasts is just one example. Apple has podcasts on there market place so if they can manage it why can't MS..that doesn't seem like a rights issue so what is the reason.... Netflix is another example of a substandard service over here. I know that's not MS but we still get a lot less and pay good money

Netflix went completely dowhill. Hulu is annoying with all those constant ads and crashing app. Knowing Amazon, it won't take them long to take lead. Especially given the fact that Prime gives you 2day shipping.

Amazon s buying app for WP is awesome...and the kindle app ain't bad either

How about Amazon Video integration on WP? If marketing ever pulls it's head out of its ass then this might be a big selling point. And keep it exclusive to WP for Christ sake!

Amazon still doesn't have prime streaming support on iOS - going to be a while before they get to WP.

Looks like those rumours of a Kindle Fire 2 running Windows 8 just got more credible. But will we be ble to install Win 8 on the first generation? Fortunately their are no carriers to deal with. This is very good news.

I don't see how this supports those rumors at all - prime streaming is supported on a bunch of platforms including the the PS3. I wouldn't hold your breath for WP8 on Kindle.

Shhhhhhhhh nothing to see here.

Very happy! It is a good start! Needs to be fleshed out a lot more to include the full services of amazon but a good start regardless.

Another reason to love the prime membership. Can't wait to get home to try it. If it would let me order groceries (you can order groceries from amazon here in Seattle) it would be perfect!

Can't wait for an official app. I have amazon prime do I get access to a bunch of free movies and tv

Pretty sure. I watch/order movies through my TiVo using my login.

Awesome, why is this on wpcentral?

Why did you leave such a useless comment

Kudos to MS, 30% share in Barnes & Noble with their Nook, and now this partnership with Amazon. This just means more flexibility & great choices. Now if we can get the apps, it'd be perfect.

Why can't there be one app that does what Netflix and Hulu does combined. One for tv shows and the other for outdated moves. #$%& it, I'm going back to Redbox.

You mean like Zune, iTunes and amazon? Redbox sure doesn't haha

Now if we could just get a mobile app for windows phone 7.5

I totally love Bing search on the Xbox. Just typed in a movie and bam, I can rent it from vudu ? cinemanow or I can stream it for free from Amazon Prime. Awesome.

Same from the Xbox Live Companion app on WP8. Amazon appears to be fully integrated in the searches. Only thing missing is the ability to rent/purchase within the app. However, items I have purchased on the past show up in the "Your Video Library" section.

I am using it now! Awesome move for Amazon and MS

I love my XBOX and microsoft but the issue I currently have is I am in Germany and it is not supported in my region even though I am US mil and have all US accounts. I use Unblock-US which will work for everything except the XBOX. My PS3 works with Amazon, my PC works with Amazon but not the XBOX. Sad deal that microsoft does this and that is the reason I will never be a 100% XBOX fan. There is always a place for my PS3.


I started using the app & looks as if I can only view my prime subscription videos & not new releases to rent. Is this strictly for prime users or are they going to add the rental content also?

Should I hold out hope for a windows phone version of the app?
Windows Central Newsletter
Thank you for signing up to Windows Central. You will receive a verification email shortly.
There was a problem. Please refresh the page and try again.