Amazon Mobile and Fhotoroom for Windows Phone both updated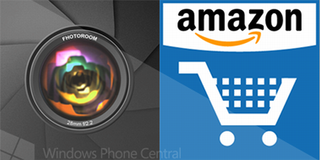 The start of the year has already seen a slew of updates for apps and now we're seeing yet more updates arrive for Windows Phone. This time it's the turn of Fhotoroom, the popular social networking and photo editing app and Amazon Mobile to get bumped.
Fhotoroom, in case you aren't familiar with the app and service has this to offer:
New Stats page to show your rating.
Swipe Left/Right to scroll through filters
Updated Camera Pinch to Zoom
Fixed Back Button Issue
Several UI tweaks
General Minor Bug Fixes
Unfortunately details of both of these updates are hard to come by, in the case of Fhotoroom it refers to things added from the previous version. The latest version takes it to 2.4 so we're going to have to put this one down to some bug fixes and such.
Amazon Mobile also gets a small bump but again details are thin on the ground. As this isn't even a real version bump again we'll have to assume it's just limited to bug fixes too. Here is what they have to say about the app:
What's New in 2.0
Both the apps are available to download and update from the Windows Phone Store
Fhotoroom here
Amazon Mobile here
Let us know if you notice anything new or interesting in the updates, comments are open below.
I wish more devs would update for the new WP8 screen sizes

Blame Microsoft for delaying the SDK forever.

I'd really like to be able to zoom into photos of items within the Amazon app. Has anyone else figured out how to do this?

No; I just click on the Full Site link to view photos.

And Hey, guess what - Amazon Mobile still doesn't support Bing Vision AppConnect! morons.

And, once again, I appear to be the only one who cares... :( I'm telling you, everybody's missing out here.

I don't like this one. I want the official pinterest app!

Has anyone been able to get lightening deals to load after the update? Thx

I don't see them, just regular deals

Yes - swipe over to the Deals page/tab, then click the "more deals" link at the bottom. First page that shows is Lightning Deals.

that Fhotoroom QR tag is for Windows 8. Not Windows Phone 8.

I noticed Fhotoroom also took off tumblr support on their front page and in their networks that they connect to on their site. That sucks. Unless they're really working hard and really working on that fix and don't want to say something that they currently have trouble connecting to.

On their twitter they said it was due to tumblr's API.

i'd like to use fhotoroom but whenever i sign into my facebook and you have to click install to go any further, it does nothing. i just keep clicking install and the page goes nowhere. kind of sucks. tried uninstalling and reinstalling and still the same thing. oh well.

The fhotoroom to tumblr issue is directly related to the new tumblr API and with little support from them other than directing to twitter API is really sad state of affairs. We have put a pin on this so that we can streamline better support for facebook and twitter with no real issues with flickr.
At present the tumblr method is broken and we had hoped to have it resolved for our last update but that did not happen. We have authentication and multi blogging support working but not posting. So we have made great progress but the most important part is still missing, posting! We removed the tumblr icon to be honest with what we presently support until we can resolve this issue but not until we get our working services operating at a higher level. We do apologize for this.
Lastly our WP8 factor. WP8 has so many amazing features for us to take advantage of not to mention for our type of app the OS change was a bit bigger. So we can say the WP8 version will be available in the next few weeks and the wait will be worth it with an updated UI to boot.

@Robert Brand our emails and twitter lines are always open and we are always happy to answer anything.

Nice share. I find it really interesting. But I think I'll just go for Amazon Mobile. - Aldo Todini
Windows Central Newsletter
Thank you for signing up to Windows Central. You will receive a verification email shortly.
There was a problem. Please refresh the page and try again.