AMD announces first Ryzen desktop chips with Vega graphics, teases future roadmap
AMD returned to the fore with its Ryzen processors in 2017, and now it's giving fans a peek at where it's headed with Ryzen and Vega in 2018 and beyond.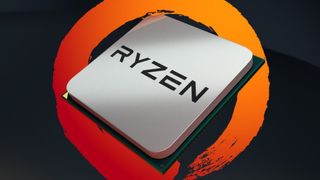 As CES 2018 kicks off, AMD is preparing fans for the future of Ryzen with a look at its roadmap for the years ahead. In addition, the company has announced a pair of low-cost desktop APUs that combine a Zen core with Vega graphics, new mobile processors with Vega graphics, and more.
The most timely reveal is that of the first Ryzen desktop chips to integrate graphics built on AMD's latest, the Vega architecture. The two chips, dubbed Ryzen 5 2400G and Ryzen 3 2200G, offer up budget options for those looking to build a low-cost gaming PC. The two chips won't appeal to anyone wanting to push modern games to their fullest, but, at $169 for the Ryzen 5 chip and $99 for the Ryzen 3 chip, they do represent a good option for fans of Team Red on the low end.
In terms of specs, the Ryzen 5 2400G with Radeon Vega Graphics is outfitted with 4 CPU cores, 8 threads, and a boost clock of 3.9GHz. In terms of graphical power, you're looking at 11 compute units and a max GPU clock of 1250MHz. The Ryzen 3 2200G with Radeon Vega Graphics, on the other hand, packs 4 CPU cores and 4 threads, with a max boost clock of 3.7GHz. That's padded by 8 graphics compute units and a 1100MHz max GPU clock. Both chips are expected to be available starting February 12.
In terms of what's coming down the pike, AMD says that we can expect the Vega family to expand to include a new Radeon Vega mobile GPU for ultrathin notebooks in 2018. Likewise, a Vega GPU build specifically for machine learning applications will be the first 7nm AMD product, the company says. Looking forward, work on the next Zen core, Zen 2, is already well underway. AMD says the design is complete and it will "improve on the award-winning Zen design in multiple dimensions." As for what that means in terms of a performance increase over current Ryzen CPUs, we'll have to wait and see. Expect Zen 2 to debut sometime in 2019. In the meantime, PC World reports that an interim update, Zen+, is planned for later in 2018, but official details are light.
If you're looking to pick up Ryzen processors that are available now, there's good news asa well. AMD has announced permanent price cuts (via PC World) to products in its Threadripper, Ryzen 7, and Ryzen 5 lines, dropping some prices significantly. For example, the high-end Threadripper 1900X is now $449, down from $549. Likewise, the Ryzen 7 1800X has dropped from $499 to $349, while the Ryzen 5 1600X has moved from $249 to $219. You can view the full cuts in the chart below.
With those price drops, AMD has substantially upped the ante against Intel in terms of price for performance.
See at Amazon (opens in new tab)
Get the Windows Central Newsletter
All the latest news, reviews, and guides for Windows and Xbox diehards.
Dan Thorp-Lancaster is the former Editor-in-Chief of Windows Central. He began working with Windows Central, Android Central, and iMore as a news writer in 2014 and is obsessed with tech of all sorts. You can follow Dan on Twitter @DthorpL and Instagram @heyitsdtl.
I certainly hope AMD releases something of their own that has enough graphics horsepower to compete with thier collaboraitons with Intel. It would be ashame to see that you can buy integrated AMD graphics that are more powerful on an Intel chip vs their own.

I would think they would be at the very least on par for performance. Much of the research and tech will be the same whether Intel or AMD sits in the CPU socket. They will probably use the exact same GPU units regardless of Intel or AMD. Unless they want to make production and R&D a lot more expensive, which I'm guessing they won't.

It's not exactly an apples to apples comparison though. The intel/amd design is more of an SoC with a seperate CPU and GPU rather than the tradition APU approach. It has it's own 4GB RAM built in for video. Whereas traditional processor with integrated graphics share the system RAM(Ryzen included)

The last 5 years or so AMD have been killing Intel's integreated graphics implementation....dont see why this wont be the same.

It's because Intel's now got higher-end mobile CPUs that aren't relying on the garbage iGPU they make. Instead, higher-end Intel mobile chips will carry AMD Vega graphics.

It'll probably end up similar to the desktop situation: Do you want performance in low-thread games? Intel's got the single-core clock speed advantage. Want multi-tasking performance or high-thread gaming performance? The AMD stuff will play better.

Well, AMDs APUs are 15W, the Intel/AMD venture is 65/100W, so ...

I'm wondering if I need to start thinking about upgrading my power hungry AMD processor (FX-8350) and my video card heating element (R9-390x) to something a little cooler and more power efficient in my PC. But I don't know how they compare to these newer processors.

The Ryzen 7 1700 and Ryzen 5 1600 are only 95W CPU's so they will be much more efficient than your 8350. I have my 1700 overclocked to 3.8 GHz and it is still relatively cool under load with a good heatsink on it. If you want a cooler and more efficient GPU you should look at something from Nvidia