How to pick the right AMD Ryzen CPU for your PC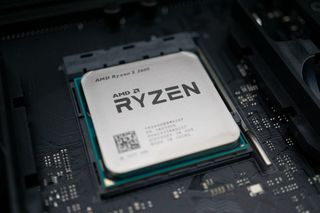 Intel and AMD share a similar model-naming scheme. The two main families of processors — Core and Ryzen, respectively — use 3, 5, 7, and 9 to differentiate the CPUs. The lower the number, the less capable the processor usually is. A Ryzen 3 processor won't be able to outpace a Ryzen 7, for example. And just like Intel, AMD keeps everything simple by only using a few model numbers, as well as the "X" suffix.
All you need to know about AMD Ryzen
AMD's Zen architecture brought an array of new processors to consumers on the desktop. Here's what you need to know about this line of Ryzen CPUs, as well as what this all meant for the PC market. Even though we're on Zen 3 and 5000 series CPUs from AMD, there's much to learn about the architecture and how the company managed to hit back at Intel.
Find out more about AMD's latest CPUs
Here's a quick breakdown of the different AMD Ryzen processor brackets:
Within each bracket, the processors are named by model number — the higher the model number, the more powerful the CPU. For example, a Ryzen 3 1200 is less powerful than a Ryzen 3 1300X and a Ryzen 5 5600X. An X suffix simply means it's a slightly faster version of that model from the factory. So, the Ryzen 7 1800X is stronger than the Ryzen 7 1800. The differences aren't huge and only represent a slight increase in factory-set clock speeds.
Ryzen CPUs that start with the number two are Zen+ processors (2000 series), released in 2018. Third generation CPUs (3000 series) using Zen 2 were released in 2019. Zen 3 CPUs (5000 series) arrived in 2020. And those with a G suffix for graphics include Vega video processing, much like the majority of Intel CPUs. That means you can run a system without a dedicated video card. The Ryzen 5 2400G is one such CPU.
All AMD Ryzen CPUs use the same socket AM4. Generation 1 and 2 Threadrippers use a unique TR4 socket, while gen 3 Threadrippers use TRX4. To recap all of the above:
Picking the right CPU for your PC
Ryzen 3
Ryzen 3 is designed for budget-friendly PC builds and consumers who don't use their PCs for intensive applications. That said, the processors are all quad-core, sporting four physical cores, and as such, they aren't slouching. You'd be able to build a capable gaming rig that can handle even big games.
3000 Series
Ryzen 3
2000 Series
Ryzen 3
1000 Series
Ryzen 3
AMD's latest 3000 series comes rocking a boost clock speed of 4.0GHz, allowing you to get more done at the same affordable price.
Ryzen 5
Ryzen 5 is where things get interesting for AMD processors. These CPUs are priced aggressively to take on the popular Intel Core i5 family and are incredible for gaming. These processors are a mix of quadcore and hexacore processors, packing more than enough power for video editing and other intense workloads.
5000 Series
Ryzen 5 5600X
3000 Series
Ryzen 5
2000 Series
Ryzen 5
1000 Series
Ryzen 5
The new 3400G and 3600X processors are some pretty hot chips. You've got the latest Vega 11 in the former, while the latter comes with a whopping 32MB of L3 cache, making it ideal for intense workloads.
Ryzen 7
Much like the Core i7 Intel processors, the Ryzen 7 family may be overkill for most people, but it allows for advanced computing at a somewhat affordable price point. If you happen to have a capable GPU, you may find some benefit in picking up a Ryzen 7 CPU.
5000 Series
Ryzen 7 5800X
3000 Series
Ryzen 7
2000 Series
Ryzen 7
1000 Series
Ryzen 7
The new 3700X and 3800X are for serious productivity. A massive 32MB of L3 cache is joined by high clock speeds and great overclock support, particularly in the more pricy 3800X.
Ryzen 9
The Ryzen 9 family is AMD's latest batch of computing magic, packing in up to 12 cores and 24 threads and are a great middle-ground between the Ryzen 7 and Threadripper.
5000 Series
Ryzen 9
3000 Series
Ryzen 9
These new processors are exactly what gamers, streamers, and content creators need for optimal performance. Taking on Intel's Core i9 range, AMD is going all out in the war for system builders.
Threadripper
You probably won't need a Threadripper CPU, but it'll be awesome to have one. It's for advanced users only who need to push their systems beyond their limits. I'm talking up to 64 cores and 128 threads.
3000 Series
Threadripper
2000 Series
Threadripper
1000 Series
Threadripper
What do you get with the 3000 series Threadripper processors? Aside from excellent choice, you can go all out with up to 64 cores and 128 threads. If you need some serious computing performance, these are the chips for you.
The choice is yours
Which processor is perfect for your build depends on what you'll need the PC to do, as well as how much money is available. We rounded up the best processors for building a PC on different budgets.
The best CPUs for your desktop PC
When looking for a new CPU, it's easy to automatically go for the more expensive options expecting a return in performance, and you'd be correct in that assumption. However, the question is whether or not you need that kind of power and whether or not you really need to pay that much. See our collection of the best options based on several performance and price points.
Best CPUs for your next PC build
Other than that, the rule of thumb is to spend as much as you can, within reason. It's better to purchase a Ryzen 7 instead of a Ryzen 3 and then have to upgrade sooner, which will cost more in the long run.
Rich Edmonds is a word conjurer at Windows Central, covering everything related to Windows, gaming, and hardware. He's been involved in technology for more than a decade and knows a thing or two about the magic inside a device chassis. You can follow him over on Twitter at @RichEdmonds.
It would be nice if AMD would release console like APUs in the future (of cause with current technic) including the RAM on the chip. The "VRAM" is still the biggest flaw of Desktop APUs right now. Maybe it's possible with the 7nm process.

Not at all. Get a R5 3600X and you're set.

A few months ago I built a new work PC using a Ryzen 7 1700, a Samsung EVO 960 m.2 SSD, and 16GB of DDR4. It's a beast! I have an enormous Excel spreadhseet with formulas all over the place that I use to cruch financial data, and this new desktop can blast through the sheet in less than half the time of the Xeon-powered server that the financial software runs on!

Built my ryzen 7 1700 machine a couple of years back and yes it is a beast as you say. Just updated the ram from 16GB to 48, even better now.
Just need a better video card for video editing.

Ryzen 7 are not hexa core cpus, they are octa core. Any chance of fixing the table in the article? Also, you state a 1800x is more powerful than a 1800... no sheet, since there's no such thing as a 1800. It goes 1700, 1700x, 1800x. Also, x does not simply denote a more powerful processor in general, it just means the chip supports XFR boost on one or two cores during low core count heavy load given a good cooler. Also, the article states all Ryzen CPUs use the same AM4 socket. But the Ryzen 9 CPUs which this article also discusses very much do not use AM4 as Threadripper uses a whole different socket. I mean have you seen the size of those things? The idea you could drop one into an AM4 socket is laughable. Did the author of this article read about Ryzen 7 before writing? Because these basic errors do not encourage confidence in the article. It needs big rewriting. Ideally by someone that actually uses Ryzen and so knows something about it.

I don't think Threadripper is actually called Ryzen 9. XFR should also be enabled on all Ryzen CPUs, X-series just has a higher TDP.

Ryzen 9 are AM4 sockets. Not sure what articles you've been reading.

I regret going from 7700k to all AMD build. X370 has VRM overheating problems and my rx 580 runs super hot(90c). Even tho the 7700k runs hot. At least you can cool if off with good cooling. Can't do much to help the VRM problems that some b350 and x370 boards had.

Which case are you using?

My cooling isn't the problem. But anidees AI-Crystal, with cryrog water cooling 280mm rad cpu cooler. It had no problem cooling 7700k at 5gigherts (which is known to run really hot) and z270 never had vrm problems. VRM problem is a known issue with x370\b350 boards that have lower than 7 power phases and my rx580 is an msi card. Which has horrible cooling. Both are wide known issues.

Lol I wasn't asking about the cooling, I meant what case you are using for your build :). Perhaps I should've been clearer. Never the less good info 👍. I have a xfx rx480 gtr black edition and the cooling is fairly decent as sits at 33 (cold days) to 49 (hot days) degrees celsius on idle . But it's pretty long and it's slowly pulling out the pci-express slot off the motherboard because it's rear heavy. I wish motherboards included some sort of mechanism to prevent this from happening with long and heavy cards. As the dual i/o screws are not enough.

Why would you want to know what case im using. If it had nothing to do with what I wrote, outside of cooling. Ya, my case does have a slot that holds up long videos up so it doesn't sag. My 580 doesn't need it and isn't long enough to hold use it. But it held up my 970gtx no problem. wish kept that card tho. Run at 70c full load and was super silent.

Lol, 11 months ago and the article is not updated.

A generation later and the article is not updated 🤣

It's not just about the CPU and clock speeds though. The non-Threadripper processors only support 24 PCIe lanes, so only enough for one x16 or two x8 GPUs, and one (possibly two) M.2 SSDs. The TR has 64 PCIe lanes so can do multi SLI/Crossfire easily and can have as many as 3 M.2 PCI x4 SSDs connected directly to the CPU. As with anything tech related, you get what you pay for but it would be useful to mention these differences in the article. CPU clock speed isn't everything!

Just checked and the 1600X is $184ish bucks so the price needs tweaking as it is not $200 as stated in the article. As the 2600X is about 5 bucks more, it's a no brainer.

For gaming purpose, all I can say is if you don't have the budget for a GPU higher than an RX560 or GTX 1050, just go for the lowest Ryzen. I'm using Ryzen 3 1200 paired with an RX 560. The CPU rarely goes past 55% when the GPU is already at 100%.

Depends on the gaming. For Simulation Games I would really recommend a R5.

Windows Central, your coverage on AMD is abysmal. Their Ryzen and Vega line up has clearly been proven to be superior to Intel in terms of cost to performance ratio. I am baffled by Microsoft choosing garbage Pentium and Atom processors for their surface go line up. They have also made partnership with Qualcomm to include 4G LTE connection in their future mobile pc lineups. Imagine having x86 power with Always connected connection of ARM in one.

When will the Ryzen Pro CPUs be available for retail. This is ridiculous that they've been available for over a year and none of the Pro CPUs are available for purchase on retail sites. What about us professionals that work from home and or have small offices!? Why do I have to go through Lenovo or HP to get one of these CPUs. I want to build my own!

I doubt you will ever see a Ryzen Pro processor in a box. If you really want one you should pillage a Ryzen pro HP system from eBay then buy the rest of the parts yourself.

Ryzen 7 are not Hexacore processors, they are Octacore processors.

R5 3600 is what a gamer would need. Nothing more.

Ryzen 7 3700x is a beast of a cpu. Built last year and have never second guessed the choice.

Post necromancy. Such a tease. Like anyone can get the new chips lol
Windows Central Newsletter
Get the best of Windows Central in in your inbox, every day!
Thank you for signing up to Windows Central. You will receive a verification email shortly.
There was a problem. Please refresh the page and try again.