AMD's next-generation Navi graphics cards could be unveiled at E3
By Harish Jonnalagadda last updated
AMD's Navi-based GPU is set to offer the same level of performance as the RTX 2070 for $250.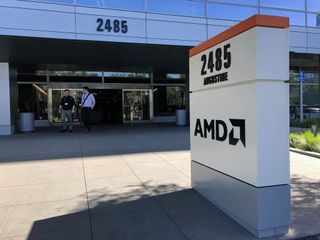 AMD has turned things around dramatically in the CPU segment with its Ryzen series, but it hasn't been able to do the same when it comes to GPUs. That's set to change in the coming months, however, with the launch of the 7nm Navi graphics cards. According to TweakTown, AMD will briefly touch on the next-gen Navi GPU at Computex 2019, with a formal launch slated for E3, which takes place from June 12 - 14 in Los Angeles.
The performance on offer will be on par RTX 2070, which would be pretty significant as the card is slated to retail for just $250. The latest rumors suggest we'll see three SKUs — the RX 3080, RX 3070, and RX 3060 — with the 3080 rivaling the RTX 2070. The RX 3070 and 3060, meanwhile, are set to take on NVIDIA's RTX 2060 and GTX 1660.
NVIDIA's ray tracing bet didn't exactly pay off, and the timing is ideal for AMD to capitalize and introduce Navi cards at a lower price point. Visit our collection of the best graphics cards to see the top options available now.
Yeah real crazy (If true)

I hope Xbox is using the post navi Arcturus chips.

More Marketing Smoke from AMD. As is normal for ALL GPU manufacturers (Nvidia does this too) they will find the worst thing an RTX2070 does, and compare themselves to that one specific function. In this case, probably raw rasterization bandwidth. $250? I will believe that when I see it (and does that require an 800 W PS?) I really do hope AMD delivers with Navi as Nvidia needs some competition (just like Intel does) to drive down prices to more reasonable levels, but I am not holding out hope as Vega was touted as a miracle GPU and was actually a bit of a bust.

I'm inclined to go by PC Gamer, with the next bunch being the midrange Navi 10, and then Navi 20 rocking up next year, the midrange cards will be the approx. $250 mark and will be the successors to the RX 500 series, whereas the Navi 20 models will be the high end and go up against NVidia's RTX range (complete with ray tracing). It could be that AMD will announce both ranges at E3 but no, it is very unlikely that there will be a $250 card going up against the RTX range, it just doesn't match up with what AMD usually do.
Windows Central Newsletter
Get the best of Windows Central in in your inbox, every day!
Thank you for signing up to Windows Central. You will receive a verification email shortly.
There was a problem. Please refresh the page and try again.