American Airlines updated for Wallet support and more on Windows Phone 8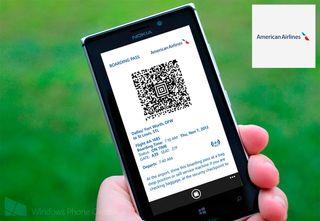 There are a handful of official airlines with apps on Windows Phone. Delta, United and American Airlines being the largest for US customer that have apps in the Store. American Airlines just received an update today that should make frequent flyers on the airline pretty happy. Let's check out the new features in American Airlines for Windows Phone 8.
The American Airlines app for Windows Phone came out in the summer of 2011. Its update today makes it pretty awesome for those rocking a Windows Phone 8 handset. Here are the new features in the American Airlines app:
Add your boarding pass to your wallet to scan at security
New wide tiles will also give you live updates on your flight (gate & terminal info, time changes, etc.)
Set our travel app as your device lock screen for flight updates too!
Fly frequently on American Airlines? Then you're probably going to love the new boarding pass feature that integrates with the Wallet app on Windows Phone. The Wallet on Windows Phone is a pretty underutilized feature that we'd love to see more developers take advantage of.
The update also includes things like support for double wide tiles and Lockscreen information. The new live tiles are larger than ever and help include things like gate number, terminal information, time changes, and more. You can also set the app to control your Lockscreen and receive information on flights there.
Want American Airlines for Windows Phone? It's a free app that you can get it in the Windows Phone Store, by using the QR code below or swiping to the right in our app.
I do a bunch in and out of DFW for work.

I fly out again in two weeks can't wait to use the wallet see how it works.

Btw this works beautifully. Its amazing inside the wallet I can also just pin that wallet item. Its great.

C'mon Jetblue. We need an app.

And SouthWest too. The current app is a web-wrapper written by Microsoft. I am a A-List Preferred with Campanion Pass status with them (their highest level rewards status) and left them a message on their website about lack of an app on Windows Phone. Someone from their customer service called me the next day and said they are currently trying to gauge interest in an app for Windows Phone and my request and feedback will definitely be passed to their IT department. If any of you have status on SouthWest, Please use the the feedback section on their website and ask them about lack of an official app.

This is a HUGE update. the previous version of the app had a bug, where the BP would stop working 30 minutes before the flight time (i.e. when most airlines board). This made the whole app pointless, as you need the BP once boarding begins. Not sure if they actually fixed this issue within the app, but atleast the BP will now be in the wallet app Previous workarounds were to save a screenshot of the BP before boarding, which was obviously annoying

Yeah. I had huge conversations with developers over emails where they kept saying it should work. But none of my friends ever had it function. The first time I tried it I didn't have a paper pass and had to wait to board last. from then on I would carry a paper pass for when the app would always fail. Going to fly over christmas so may give it a try. It was pretty worthless before. I used flightaware for flight status and paper for a boarding pass.


I can see how that's annoying, but it doesn't make the whole app "pointless". It has more functions than just boarding pass.

It also had more bugs than just the boarding pass bug. It would provide false check in confirmation. This is obviously bad. If you think you are checked in when you really aren't it can easily lead to getting bumped to a different flight. Flight status and gate information not accurate. Bad. The point is that a traveler without the app would have a little less convenience, but a traveler trusting the app could easily lead to missed flights, taking up AA counter time to have them print out a ticket for you and various nightmare scenarios an app like this is supposed to help you avoid. Also, new logo.

It was riddled with bugs before. I'll have to try it soon.
The bug was related to refreshing a flight's status. It really wasn't updating and I was late picking up my gf. I did submit a bug report

Downloading only to show my support.

I'll download too! I haven't flown AA in a long time, but the download numbers help show "demand".

Same. I rarely get to fly anywhere, but I'll download and rate to show support.

We need Southwest Airlines like yesterday!

Indeed. Everyone else is on the ball. I fly United and Southwest. Luckily I have a great app experience with United!

Looks suspiciously similar to the BA app.

It's a oneworld alliance conspiracy.

Hallelujah - the App Ecosystem is now *COMPLETE* for me!

Now Aaron Baker cannot complain. Haha

Wallet integration is so nice on the apps that have it

I fly AA roundtrip basically every week and am looking forward to checking out the new version (just downloaded the update). I like the tile info updating. Not only was the boarding pass an issue before, it also messed up the upgrade requests on the previous version. It'll be interesting to see how good the updates are. I use TripIt, too, since that can keep track of airline, hotel and rental car info all in one app.

Downloaded and works fine....up until when I go into the Phone settings and I turn off Background Tasks for the app. App crashes once I turn the background tasks off.

App is able to relaunch fine if I go back into my phone settings and turn back on the background task. This is annoying. I want to turn off the background task for this app.

Meanwhile southwest just released a big update for their ios and android apps. Tons of comments about WP on their Facebook post met with the same canned "we're looking into it" response from every company ever.

Awesome! Used it in October and the bugs gave me a bad experience with the app. Hopefully it is fixed because will be using them in January for a few business trips. Please work correctly!

Really need more Wallet integration. I hope when Starbucks releases their app they take advantage of it.would be nice if 3rd parties did too.

Wouldnt mind starbucks using wallet. Also I wouldnt mind if I could finally use my phone to pay wireless.

Argh I hope delta gets their act togethet

Off topic: wouldn't it be nice if the lock screen changes what app uses it based in certain metrics (I.e. Calendar, location etc...)

I hate flying, but if I have to I'll fly on AA.

Sorry if it's off-topic, but this reminded me when AT&T told me a couple of years ago that they will have NFC payments enabled soon. Ha! Do you guys think that will ever work?

I really didn't know any apps supported Wallet. Wouldn't mind seeing a small article covering what apps use Wallet and how they use it.

Thanks for the post! American airlines app is really one of the finest travelling information app. The best thing is that the user can book flights, check in and get their gate, seat and flight status information at a glance. Why not share the fun moments by sharing your experiences with quick live audio podcasts? It's free!" https://itunes.apple.com/us/app/mappstream/id735066334?mt=8
Windows Central Newsletter
Thank you for signing up to Windows Central. You will receive a verification email shortly.
There was a problem. Please refresh the page and try again.