Amtrak releases official app for Windows Phone 8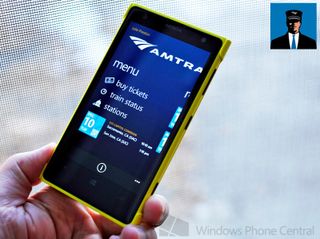 This came out of nowhere. The National Railroad Passenger Corporation, also known as Amtrak, has released an official app for Windows Phone 8 users. Amtrak, as you may or may not know, is an intercity passenger train service here in the United States. Amtrak operates 374 trains daily and connects 896 destinations in 46 states, at least Wikipedia says that. So what can you do with the Amtrak app for Windows Phone? Quite a bit it looks like, so let's check it out.
When you have an app that is for a transportation service like Amtrak you'd want the ability to book trips check your train status, and have your ticket integrated into the app. Thankfully, Amtrak for Windows Phone does all that and more. Here's the feature list:
Book one-way and roundtrip tickets
Check train status
Search for station information
Show your eTicket while onboard
Save your ticket to your phone calendar
It seems like a pretty stellar app for Windows Phone users that frequent Amtrak's services. You've got things like double wide Live tile support, a functional Metro looking app and more. You can also log in with your Amtrak account. Add stations or routes as favorites and you can quickly buy tickets or check on the status of a train all from your Windows Phone.
Amtrak for Windows Phone 8 is free and available right now. Go get it in the Windows Phone Store, use the QR Code below, or swipe to the right in our app.
Thanks for the tip cruisezero!
Windows Central Newsletter
Get the best of Windows Central in in your inbox, every day!
Good! glad to see many official apps!

Here they come❕ If you thought 2013 was good, then wait until you witness the support for WP in 2014❗ Joe B. Wasn't lying when he said that the app gap will close in 2014..

Right on time! I am actually taking an amtrak train in a couple of days.

I'm going cross country on Amtrak this weekend so it's perfect timing.

I love traveling by Amtrak! Have a great trip!

I was getting an error but it just worked for me.

Sweet! Booking a trip on Amtrak in the next couple weeks

Wow this app seems awesome. Great to see it has so many features and isn't some cobbled together mess to say they have one.

Anyone remember the apps that were announced in the Nokia Lumia 1020 announcement? I wanna know wich apps are still to be released.

100,000 more are coming they all stared with CERO like my old boss used to tell me i will give you raise but little by little and so is the samething for everything....

Nokia Transit worked great this past weekend, hard to see how it could be improved upon - but I will check this out. Thanks for the heads-up!

You can book tickets on Amtrak with Transit? I didn't realize that.

Can't get it. On L925...by way of WPC or straight from the store.

Nice to see Amtrak supporting WP. I normally take a few trips using Amtrak every year, so this will come in handy.

Finally! It looks on par with the iOS version. I'm happy to see more official apps coming.

It won't let me download the app on my 8x.

Great to see. Now if Megabus could release a WP8 app, I would be even happier.

The icon is a little creepy

Great, I take the train often

What I'd really like to see is more integration with the wallet. It would be nice to have all your tickets integrated with the wallet. Sadly, not enough companies are supporting the great possibilities of it.

This app is cool. I'd be crazy to actually use the service when there are still perfectly good airplanes available, but I love the care they put into this.

Awesome! Another official app to support, AND it's a good design! Very cool.

Can't download for HTC 8X...

Opened article in browser and clicked on the store link from there and I was able to download it. The link in the app doesn't work for HTC 8X. Says not supported in my region..weird.

Awesome! I use Amtrak occasionally.

This is great news I use Amtrack 2-3 times a month DC to NY this is going to save me so much time! I just installed on my HTC 8X on Verizon no problem

Yes!!!!!!! I'm going on a train trip in a few months to to visit my old college roommate.

Great news! I had written to them a few months ago and they said that nothing was planned, I guess they didn't even know internally!

It didn't come out of nowhere. I've been emailing and calling them repeatedly for 2 years to support Winphone! You're welcome. :-)

Funny I'm going to the chargers game Sunday and I was thinking of using Amtrak from LA . This is gonna work really well for my trip woo hoo .

Pretty nice app. Clean interface and fast performance. But lousy Amtrak. A car trip that takes me 4.5 hours would take nearly 48 by Amtrak!
Windows Central Newsletter
Thank you for signing up to Windows Central. You will receive a verification email shortly.
There was a problem. Please refresh the page and try again.