AnchorFree's Hotspot Shield Free VPN app launched on Windows Phone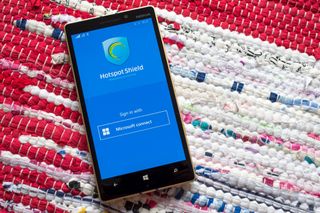 One of the most popular VPN clients is Hotspot Shield from AnchorFree. This week, the company has released its first Windows Phone-based app, Hotspot Shield Free VPN, in the Windows Phone Store. It has a number of features that will allow users to keep their Internet activity safe, while also allowing them to access sites they normally would not have access to based on their location.
Here's a look at the main features of Hotspot Shield Free VPN:
Turn VPN on/off right in the app
Unblock content such as Facebook, YouTube, Netflix,and Pandora
Access VoIP and messaging apps Including Skype and Viber
US virtual location
Secure online activity with banking-level encryption
Hide your IP address for maximum privacy & security
Thanks to everyone who tipped us!
Download Hotspot Shield Free VPN from the Windows Phone Store (Free)
Data collection everyone,

Yes, it also creates two certificates, one personal and another root, it doesn't delete itself after uninstalling. Does anyone if this is safe?

Yes. If you really want to delete them (although it doesn't matter), you can use the Microsoft Certificates app.

Certificates app cannot delete certificates as yet. It's a highly requested feature.

Yes its ok pretty darn good for free. Lumias come with VPN PRE INSTALLED But I don't think its free though.

I don't believe it is free...
.
I really hope w10 mobile supports openvpn so that we have far more Commercial choice. Like openvpn with pia, mullvad etc

ALL Windows Phones come with VPN support but sadly not SSL VPN which is required by businesses, thankfully Cisco have now released their AnyConnect software for WP.

Is rogers @home default dns safe?(not really displays ads inline in your browser)

Wow! Its the first time i heard a vpn app for windows! Keep the flock commin'!

Cisco Any Connect was already there. Hide me also plans to come to WP!

There are tens of VPN apps.

What is VPN??? what's the use???

VPN (virtual private network) is like your private internet connection. You can customize the security of it, pretty useful if you usually doing critical transaction or connection that don't want to be tracked

Changes your IP address or better yet hides your real one. Virtual Private Network. Good for hiding your IP when doing or searching for things you shouldn't have and just a good privacy thing in general. Posted via the Windows Central App on my Lumia 640 or using the Android Version which is free*

I use the checkpoint app on my 1520. Works great.

Sonicwall app works great as well.

Hallelujah.. Hma pro coming next I might not need an iPhone anymore

Now i can browse reddit without UC browser:)

Why not use the reddit apps?

This, satisfies the need of many around my side. Who mocked windows phone for the lack of such apps in the store. On a side note. Hopefully, the list of joining apps is incremental from here on end. *fingers crossed*

Can't download...India 920.. Keeps on showing error code 0x0000005.. Anyone else experiencing the same??

Installed without a problem. Lumia 925 India.

I have also problem for Nokia 525

Yes also I face the problem in India. Lumia 620

Same here on my 1520. Error code a little different 0x800413A0. Probably not rated for WinXM yet. I'm in the US.

Hey, Iranian people... congratulation!

The new store still don't show Windows mobile exclusive apps...i shouldn't have let the old store go....CRapppp...

What's this app is all about?

Think of it as browsing the web without giving out your location.

But you have to deal with ads inside your browser

I didn't see any ads yet. Could easily use Spotify and Pandora :)

Can't download in India :(

Downloaded and works fine on 920 India. Are you on Windows 10 TP?

can't install on windows 10 mobile :(

Only thing that seems off is the sudden use of ms account & the lack of publisher website

What's this app all about?

Um.... VPN: Let's just hide your IP and 'promise' you safe web searching. We never said anything about data collection!

Hide.me works great... no app required.

Health and fitness,travel,food and drink apps are going to be removed

How is that relevant to the article?

Can't download too. Error

Do we need an account for this ?

If you see the picture (which pops out along the main windows central website, and it also pops out in the article, and it's the only picture in this article) It says "Sign in with Microsoft Account"

I was asking do we need a password to access these services. Because they ask for a password.

Just tap done on password dialog

It will send a certificate to your phone along with a password. Just press ok and you are done.

I know its off-topic, but has anyone noticed that the Here Transit App is not available in the windows phone store? Any word?

Failed to download on my 1020, Nigeria and the file size suddenly leaped from 1.8 to 3.8mb

Downloaded successfully on L920. NG. Hoping to get it on my L520 soon as I get my WiFi switched on.

No more restrictions! Loving it, signed up on a couple of geo restricted sites already. Thanks Devs!

Cant chose a certificate. App automaticcaly connects to us. I live in Norway. Says press two times on The profile in settings. You can't press two times on windows phone, because it is not windows.

No first tap puts the HSS on the 'actual' vpn profiles and the second tap makes it connect. But like you, there is no certificate to choose from

Can I use this to access WhatsApp calling feature?
Not available in Saudi Arabia

Nuk punon. Jepni ndonjë info kur publikoni app me probleme :(

I tried to activate it but it doesn't show the options as they said.. After two taps in VPN settings no list shows to choose a certificate from. Anyone?

I didn't even have to tap it, it just connected automatically, you can use the network icon to check- a lock sign appears next to it.

It says error 809 when tap and hold and then details. Anyway thank you.

I used this in my Dell Venue Pro 8 and it ruined it. I had Wi-Fi issues after. The only way I was able to fix the issue was to restore my tablet which took more than two days as internet was slow and cost a lot of money per gigabyte downloading the updates and apps. I had to do it as it made my computer unusable. I don't trust this app at all! YOU'VE BEEN WARNED!!!!

I know its too late for you but in future one thing to do is disable your WiFi card and then re-enable it - or set the ipv4 settings back to auto (easier just to go to network and sharing center and disable it from there) - reason being the vpn changes those settings and, after exiting, sometimes the default don't come back...

So that means we can access services like Spotify with this app now?

I'm not giving access to my Microsoft account to any App. You must be crazy.

Use a fake MS account if you're paranoid.

Not free, but don't collect your data and can configure your WP 8.1 to use their service https://www.privateinternetaccess.com/ To setup our VPN on a Windows 8.1 Phone,
1. In the App List, Tap Settings, then VPN
2. Set Status to On, then tap Add
3. In the server name, enter the region you want to connect to from this list https://www.privateinternetaccess.com/pages/network/
4. In the "Type" menu, set L2TP with IPSec
5. From the "Connect Using" box, choose "Username+Password+preshared key"
6. Enter the Username starting with X into the Username field
7. Enter the Generated password into the password field
8. Enter "mysafety" without the quotes into the Preshared Key field.
9. Tap Save to save the settings. To connect to the VPN, Tap on the profile name.

They're good - shame we can't use openvpn and the leak kill switch - hopefully w10 mobile will support this...

This is the service. I use. Brilliant and cheap. Also thanks for the settings. Just installed Windows 10 mobile and was just going to go to their website for the settings

How do I get the username and password??

what is certificatie password? help pls

Hopeless app, cannot even delete the VPN profile. Had to uncheck my VPN profile.... Why do you people even try to make these apps.

Secure upto banking what is it means??
Encryption upto 2048b ???

Can not download the app,Nicaragua Lumia 1020

If i share internet with the phone and this up it will give another device the vpn up?

Can someone explain what this is?

Just Bing VPN and you'll get your answer

have been using it for year to access us version of netflix, good to know it is on WP too.

I'm looking forward to CyberGhost releasing a client. My Windows CG client has been superb.

Welcome to Best Platform anchor!

Is this good for people who download?

Great! Freedom of internet

When I turn on VPN some applications simply won't work...can someone tell me why?

Yes, not all online apps won't work with VPN on especially those that needs your location. You only need to turn it on when you are browsing some blocked websites because of location restrictions or age-rated sites.

It begins ....windows 10 mobile is becoming very relevant. So happy I held onto my Lumia icon !!!!!

Fails to install and each time you tap retry the Size increases. Maybe it's a bug with the last store update.

Can't install. An error is coming up. Maybe because of my location. All telecom do not allow hotspot here.

Can this app help me to open blocked apps... Android users use surf easy or droid VPN to unblock apps in college Wi-Fi... Is there any good app available in Windows phone store which does this work?

What is the use of this app . Plz tell me any

Its VPN client used to open blocked sites

Is it works with only mobile data or wifi. When I install it there is a sign of lock on tower symbol. I don't know when it is useful

How to enable elite subscription

Installed this, all seems to work well except that I have a problem with one app, which is Windows Central. I keep getting error messages saying that the app is unable to connect. No comments are displayed. Once I turned off VPN in Settings, I am able to connect. I can take screen prints if this would be helpful.

I have same problem with Discovery news app and Windows Central app :/

Cannot download. Something happened at our end. Try again later.

Exactly what are certificates. App notifying me to install certificate first.... What should i do ???

Does anyone now how to install VPN certificate? After installing and logging with Microsoft account, I'm trying to enable it but get notified that "need to install VPN certificate"

Cannot be installed! I have a Lumia 1320, and the app won't install. It downloads but stops in the middle of the "Finalizing" step. The error code is "store code 80073cf6" Yes, I have soft reset the phone. Yes, it does have the latest updates available for the phone: 8.10.12400.899

Cannot delete the list from vpn even after uninstalling the app. May be its a spyware

So is this free or some kind of trial and how is it with elite subscription do I have to buy it or can I use free variant forever? I can't find any explanation anywhere since official site don't even have anything about WP version? I hope I won't see request for money after some time of using it.

Does this allow you to be anywhere else but the USA?

my Nokia Lumia 1020 windows 10 inistal. Error code 0x800413A0.

very bad app .. stick to my vpn setting n munable to use my wifi .....
Windows Central Newsletter
Get the best of Windows Central in in your inbox, every day!
Thank you for signing up to Windows Central. You will receive a verification email shortly.
There was a problem. Please refresh the page and try again.