And ... Google Maps updated to 3.3.1 - does it fix any of your problems?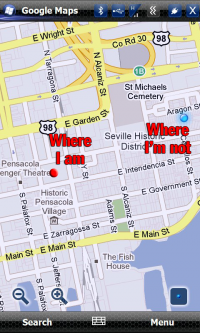 More than a few of you have had some issues with the latest version of Google Maps for mobile, either with the My Location feature or apparently with the layers. Accordingly, Google has updated the app to version 3.3.1. No word yet if it's fixed any of the triangulation issues you guys were having, but crashes should be squashed.
Go get the new version here, and sound off in the comments if you're still seeing problems, and be sure to let 'em know on the official Google forum post. (For what it's worth, it very quickly got me within 1,000 meters in Orlando.)
[All About Symbian via IntoMobile]
Windows Central Newsletter
Get the best of Windows Central in your inbox, every day!
Phil is the father of two beautiful girls and is the Dad behind Modern Dad. Before that he spent seven years at the helm of Android Central. Before that he spent a decade in a newsroom of a two-time Pulitzer Prize-finalist newspaper. Before that — well, we don't talk much about those days. Subscribe to the Modern Dad newsletter!
I do not have -for now- problems with 3.3.0 version. (Tmo Touch Pro 2 with 3G, SlC,UT http://twitter.com/nitaino)

its still way off for me :/
it says I'm in the middle of Manhattan, even tho I'm in south Brooklyn..
"Your location within 43000 meters." seems like cell tower triangulation isn't work and it's using IP address of my phone.
the moment i enable wifi it moves to the right location.

oh ya, forgot to mention i'm on Sprint+TP2

G#d Da&)*t!! No, it did not fix things, though they are getting better. Like Max above, it says I am in Manhattan NYC, even though I am still (unfortunately) on Long Island. That's better than D.C. but still about 75 miles off. Dude, did Google fire their MyLocation team or what? WTF.

I couldn't even get 3.3 to work on my Imagio, but 3.3.1 is working fine, and my location is better than it was in 3.2.1. However, it did crash once already.

Still crashing on my omnia i910 when I try and turn on gps.

Says I am in Colorado Springs Colorado with a radius of 43000 meters. I am actually in Arlington Texas so I would say just a little off

I had no problem with 3.3. Installed 3.3.1 and now it is way off. That is it's off by 5 miles (not 3 states). I have a a blackjack II on att.

My location within 20 meters. I haven't had any problem with any version lately. Tilt 2 Att. Lafayette La.

Still crashing when I use Go to My Location with GPS running.

Google map has the Historic Pensacola Village in the wrong place.

Google also has the Seville Historic District in the wrong spot.

The update acts pretty similar to the rest of the Google Map versions I've run on my Omnia (update 6.1 Verizon). It says it has me to within 4500 meters but seems a bit further off. However I'm in a VERY rural part of upstate NY so satellite coverage is tough at best. Even after reseting the program it fails to find me. Close but no cigar.

Wonder what exactly they broke. Latitude has been down now for several hours here in Ontario (confirmed to be a problem on the iGoogle.com website, checked three Windows phones and 6 Blackberries ... it sure as heck isn't just my phone). (Tuesday Dec 8, 2:42PM EST)

do google map version 3.3.1 hv street view

Stll crshing whn I use Go to My Location wth GPS running.

Hello! daagkfg interesting daagkfg site!

My location within 20 meters. I haven't had any problem with any version lately. Tilt 2 Att. Lafayette La.