Angry Birds Go! racing to Windows Phone on December 11th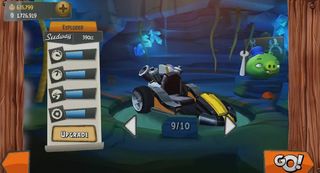 Rovio has today announced a new title in the Angry Birds series. The popular company has been releasing top-rated games for multiple platforms and just like the previous Angry Birds Star Wars instalment, Angry Birds Go! will launch across the board.
Confirmed on Twitter, Windows Phone owners will be able to download and enjoy the new take on the Angry Birds game. So, what's it all about and should you be interested? Well, it's not a classic Angry Birds game, but instead a take on the racing genre. Think Mario Kart meets Angry Birds.
That's right, say hello to the first Angry Birds racing game.
You'll be able to pimp yo ride
The game will sport downhill racing, upgradable karts (see above image), your favourite Angry Birds characters, special powers and all in a fully rendered 3D world. Special powers, you say? How would you feel about some super speed or controlling an inflated bird?
Oh, did we mention this title will in fact be available for free? Our bad, you'll probably be looking at optional upgrades through in-app purchases, but at least you'll be able to enjoy the title without investing anything precious.
Don't try this at home, kids
The official announcement teases "a whole host" of modes and features will be included for everyone, without requiring financial contribution. Starting with just a soapbox, you will be able to apply a variety of upgrades to create your perfect "super-fly car."
Hasbro's TELEPODS will be making a return too. Just like Angry Birds Star Wars II, you'll be able to teleport your favourite karts into the game. If you have karts ready to go before the game is released, Rovio will be launching a special countdown app to enable you to get a headstart.
We'll cover Angry Birds Go! closer to the release date. We'll assume for now that it'll be released as an Xbox for Windows Phone title.
Source: Rovio; thanks, DJCBS, for the tip!
Rich Edmonds is Senior Editor of PC hardware at Windows Central, covering everything related to PC components and NAS. He's been involved in technology for more than a decade and knows a thing or two about the magic inside a PC chassis. You can follow him over on Twitter at @RichEdmonds.
FUN FACT: you didn't mention "Xbox" in the article and that makes me mad bro.

Angry birds were all Xbox, so this might be too, who knows

A free Angry Birds game, nice!

On a related note, why is angry birds (and some popular titles) paid on WP while they go free always for android and iOS?

not exactly , they are free on android but with ad, they are in both version on iOS (i think) and WP only provide paid (but no ad).

iOS and WP8 offer only Premium version (paid, no apps) whereas Android both Premium and Free (irritating advertising which sometimes affects frame rate). I have absolutely no idea why people think that they should get the ad-free version on WP for free. Then again, I saw weird dudes complaining about in-app purchases being available in the Premium version, treating them as "advertisements".

But probably with in-app purchases. If they do it like P v. Z 2 it'll be fine.

Speaking of PVZ2, Where is it?

Watch the share price of Nintendo drop tomorrow after this announcement.

No game will ever get CLOSE to Mario Kart.

Haha I know I pulled a little joke up there, but I gotta agree with you. Mario Kart is the king!

I'd much rather have Mario Kart over this.

Why are these birds always so pissed off???

Because of ObamaCare! hehe, couldn't resist :P

Any news of this coming to Windows 8/RT as well?

Ditto. Also MOGA support for WP8. Does this game have multiplayer? Too many questions and no answers...

Nothing yet, but it's very likely that it will reach W8/RT eventually ;)

I hope its an Xbox enabled title with achievements'. I'll be a sad panda if it goes without :'(

Its gonna be free? Cool. Still waiting for AB Friends thought

95% chances it will be Xbox enabled ;)

for once an interesting looking angry birds title

Is this coming the same day as ios and android, or later?

Same day. Confirmed on Rovio's press release

If this is done right, racing part, thus can be a huge fame.

They stole the idea from Sonic & SEGA All-Stars Racing, I guess

Every character has a kart racing game, even Obama has Obamacare Kart Racing.

I don't know, they had a downhill level in Bounce 3D for Maemo way back ...

This game reminds me of Crash Bandicoot(Crash Nitro Kart) in my good old Nokia N-Gage QD.. Had similar Graphics that too 10 years ago.

Does the world need another kart racer? It's not like the idea wasn't exploited enough in the 90s after the huge success of Mario Kart. Nintendo even competed with themselves back on the N64 with Diddy Kong Racing and Mario Kart 64.

Yes, the world definitely needs another kart racer.

As long as this game isn't ruined by a heavy-handed IAP model, this might be the first Angry Birds game I can get into.

Interesting that the Engadget article on this game failed to mention it was launching on WP on the same day or any day for that matter. Dorks.

So as gsmarena I stopped trusting them

Kotaku didn't mention it launching on WP8 at all. Very disappointed in them because I trust most of what I read on their site. They failed to mention WP8 on a couple other Rovio releases.

I also noticed the omission on Kotaku. Mike Fahey is notoriously anti- Windows Phone. He's never said anything nice about our platform. Media bias is half of the problem more people dont adopt WP8.

Fun to have, but I'd gladly trade this in for a watered down version of Mario Kart doubledash with rainbow road and DK mtn. I loved that game on the cube.

Funny. Other web pages show "Angry Birds Go! coming to iOS and Android!" and leave out WP. I was wondering if we were getting skipped till I came here.

Of course stupid Kotaku.com doesn't report in the WP8 version.

Good, the slingshot thing is dead I think. Time to refresh.

Who cares about this game?! I want bad piggies!!!

Bad piggies indeed. Do want.

that looks like mario kart, but for WP!!!! *-*

I hope they could make this game available to devices with 512 mb of RAM...

Telepods are mentioned again, but they were not supported on angry birds star was 2 on windows phone like they said they would be?

Cool that it will be released on the same day as other platforms. Will download and this game when it is released.

My question is would it support. 512 MB devices?
Windows Central Newsletter
Thank you for signing up to Windows Central. You will receive a verification email shortly.
There was a problem. Please refresh the page and try again.