Angry Birds Go! updated with new Sub Zero episode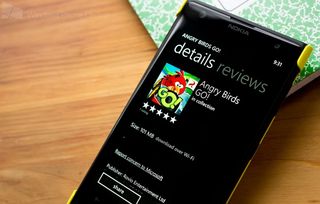 Rovio is on a roll when it comes to updating their Angry Birds games on Windows Phone. Yesterday we had Angry Birds Rio picking up new levels and going free. Today we're looking at Angry Birds Go! picking up an update. What's new? How about new levels and more. Let's check it out.
Angry Birds Go! was released to the Windows Phone Store back in December after an early false start. The game is free, but supported by in-app purchases. And unlike every other Angry Birds game, you're not slinging little birds at pigs through a giant slingshot. Instead, this is a kart racing game with characters from the Angry Birds universe. The game has been well received and is sitting at 4.5 average review in the Windows Phone Store.
Here's what's new in version 1.2 of Angry Birds Go!
New Sub Zero episode
8 new karts
Premium kart for each episode
New rewards
That's right. Head into the Windows Phone Store and you'll see a free update for Angry Birds Go! that introduces new levels and karts. Plus there's snow everywhere. You'll also be able to pick up new rewards daily by playing timed events.
Angry Birds Go! is a free game. Download it today from the Windows Phone Store. (1GB of RAM or more needed to play)
Via: Plaffo
Windows Central Newsletter
Get the best of Windows Central in in your inbox, every day!
Still not available here in Brazil. Come on Rovio!!

Plzzzzzz when is it coming for 512 ram...

Rovio please optimize it !!! Dying to play this on my 520 !!

TBH the graphic is so great that it can be a burden for 512mb ram devices to play this game.

Good article! *Insert Mortal Kombat reference*

Mortal Kombat Kart racing.

I thought there would be laps and stuff like Mario Kart. I got bored with it pretty quick :(

Love this game! Glad Rovio is getting better about update timing. Now all we need is Bad Piggies..

+520*620*729*820*920*1020*1320*1520*2520

729? O_O Where the hell are you from?

Would love this on Windows 8.

What the hell ! Are they forget 512 MB RAM phones ?

I have a 720, with 512 Mb of RAM, and can't play this game. But that's OK, because I knew when I bought the phone that I couldn't play GRAPHIC intensive games. I get why Rovio can't optimize this game, the same way I get that EA can't optimize FIFA 14, so I'm not mad at them. I only get mad when the game in question, like subway surfers, isn't really a graphic intensive game, and that is the developer's, kiloo in that case, fault

Angry birds go is not graphic intensive game lol.

Fifa 14 IS graphics intensive, but not go. My bro plays it on his 1.5 year old pathetic android tablet, with 512mb ram and a single core cortex 1ghz. We've got snapdragons, we should be able to run it too :(

It's more about the ram than the gpu actually.. Adreno 305 is decent enough to run FIFA 14 I guess. Coz the Xperia L has the same porcessor and gpu. And it runs it flawlessly. So I'm pretty sure it's becoz of the ram.

Noooooooo! I'm almost done with this game and they go and pull this! #FeedTheAddiction Oh also they hearned my $7 for the coin doubler but not a penny more. No $200 crystal packs or $50 cars for me. Ever. :)

Takes up way too much space on the phone

Now on level 2 ! Playing this game for two weeks now :D
Windows Central Newsletter
Thank you for signing up to Windows Central. You will receive a verification email shortly.
There was a problem. Please refresh the page and try again.