Angry Birds Rio now available for free, includes new levels and content!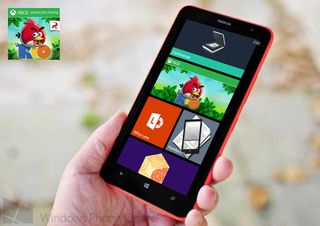 Love it or hate it, the Angry Birds franchise is one of the most successful game series in the history of mobile. Today we're looking at an update for Angry Birds Rio. We're getting a ton of additions to the game that's now at version 2.0. Plus, it's now free!
Head into the Windows Phone Store and you'll see Angry Birds Rio at version 2.0. You can either download or update your existing install of Angry Birds Rio to take advantage of the new additions.
Here's what's new with version 2.0 of the game:
New High Dive episode – Based on the upcoming sequel to Rio
New levels – 20 new levels and 6 bonus levels set in the Brazilian port harbor
New graphics
River dolphins – Save these animals for points
New move – Dive below to break open cages
You'll also notice a new logo for Angry Birds Rio. The game is also free, which is a nice move on developer Rovio's part. Previously, the game went for $0.99 in the Windows Phone Store. Note: We're not seeing an update for the Windows Phone 7 version of the game, this looks like something only available for Windows Phone 8 users.
We just installed the game and it looks great. You'll find all old levels from 'Rio' there, but you can then toggle and see new levels for 'Rio 2'. Not a bad update and we might just get addicted again to Angry Birds.
Download Angry Birds Rio from the Windows Phone Store.
Thanks for the tip everyone!
Windows Central Newsletter
Get the best of Windows Central in in your inbox, every day!
They know how to do Xbox games right lets give them that!

Already download thanks to WMPoweruser

The most colorful angry birds game - colors seem to glow on my NL 925, love this game simply for that!

I love this, since the droid era. Rovio made one happy and entertaining game

-_- i think i paid for this?

Me too. -_- At least I paid for this game from points redeemed from Bing Rewards.

That's awesome! I do that too... jejeje

Not free for WP 7.8 , say is not compatible with device...

Listen to luffy's advice. Please.

But wait, better upgrade to 8.1. Please.

Click on "more by Rovio..." and you'll find the WP7 version. I'm not sure if it's free as I already got it for free a few months ago when most of the Rovio games went free

Rovio is that big, they can effort it to develop for WP and make it free xd (Still hope the backup system is coming soon)

It looks weird almost like a mini tablet lol I got the 1520 and it don't have a bezle that wide

I just want rovio account integration. I don't like repeating levels across w8, wp8 and my old ios accounts.

Might be for limited time

What would I (or we) do without WPCentral! Thanks mate :D

I had missed the all angry birds+cut the rope free offers in October end because i had just bought my phone then and didn't know about wpc :(

Me 2 ..but i had wpc that time too..!! But didn't check it..!! :(

The only phone game I enjoy, beside Dominoes and Chess.

Lesser people want to play this game

Powered by N$A btw i found an app like the "Free market" here http://www.windowsphone.com/en-us/store/app/app-info/ddfae876-a641-40fd-...

I'm waiting for next update of Angry Birds Go!

The 3⭐ mechanic turns me off all the time. You want a ranking sysyem? Play a modern Sonic game.

@#$# "xbox" games Click install -> "Can't get app, you need an xbox account to buy xbox games"
Click "Create Xbox account" -> "Uh oh... that shouldn't have happened. It appears you've found a glitch in the system." I've never been able to install any so-called "xbox" game. Always get some weird error message. Am I wasting my time even trying? I don't own an xbox. Are non-xbox owners allowed to install xbox games? I've never read any explanation of what the restrictions are. It seems to be a well-kept secret.

I dont know, i havnt got an Xbox and yet i can download and play all games. Maybe go to Xbox live site and make an Xbox id with your Microsoft id there, the same id installed on your phone

Thanks, but I get the same error message. In the past I've tried installing "xbox" apps through the WP store, and that failed too due to inability to create an "xbox account" for unknown reasons. Does Microsoft pay developers to force this "xbox" garbage on us?

Did you try making an Xbox live account through the site ? My bro wanted to play wordarmament on his android tab, and he had to first go to the Xbox live site and had to make an Xbox account on his outlook id. Try it :)
And they pay developers (well actually they pay them to entice them to make Xbox games) because making an Xbox certified game is more like lifting a hummer with your hands :-P

Yes, that's what I tried. Also tried from the phone, and that doesn't work either. Maybe it's not supposed to work, because as I said, I don't own an xbox. I don't know what the rules are.

I dont own an Xbox either... Ask ms support, look at their site for support. Its supposed to work on every wphone

Can anyone tell me if there's any other use of the Xbox achievement tokens except being able to buy stuff for my Xbox avatar ?

You can't get anything with achievement points. It's just a meaningless "score".

at last .................

Will it remain free or only today?

This is not a promotional price. It will remain free. Rovio has added some crazily priced in-app purchases in this update, effectively making this a freemium title now, for better or for worse. As others have insinuated, this is not tied to myAppfree at all. It is just Rovio updating the game to freemium, just like it did last month on iOS and Android. They have done something similar with Space and Seasons. Those are worse though hopefully they dont make it to Windows Phone. More info: http://bit.ly/1hWYMg7

Thanks for the news Sam!Picking it up right now without a second thought.Strange myapp free is not showing it.
Windows Central Newsletter
Thank you for signing up to Windows Central. You will receive a verification email shortly.
There was a problem. Please refresh the page and try again.