Angry Birds Go! for Windows Phone gains multiplayer in new update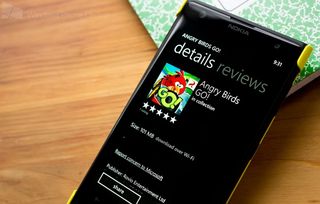 Angry Birds Go! for Windows Phone has just been updated. Today's update brings a new multiplayer mode, new challenges and more to this free game for Windows Phone. Today's update however does NOT introduce 512 MB support.
Head to the Windows Phone Store and you'll see Angry Birds Go! sitting at version 1.4.0.0. Here's what you get with the new update today:
It's here! Multiplayer racing has arrived on Piggy Island! Race against other players from around the world to be the fastest bird or piggy on the track!
NEW MULTIPLAYER! Race other players from around the world, or connect to Facebook to race your own friends!
NEW CHALLENGES! Boast about your super-speedy times and challenge others to be faster than you!
Angry Birds Go! is a free game with in-app purchases for Windows Phone. It's probably one of the most popular kart racing games in the Windows Phone Store and it's only going to get more popular with the new multiplayer support and additional challenges. You still need at least 1 GB of RAM to play the game, but we'll let you know if and when it ever gains 512 MB support.
Favorite kart in this game?
Thanks for the tip Jerry and Rufflaxx BPte!
All I need is the Rovio Account support!

Yes, for the love of all that's holy, yes. And more importantly for the other Angry Birds games!

Angry birds epic...it is a pain in the balls re start the game in every platforms, especially when you are near to level 9 in WP and start playing in a android tablet (don't ask why)

Finally, I deleted this game a while back as it got abit monotonous simply racing against AI. Might grab it again though.

I found the gameplay to be very boring, this won't change that. I mean when I first saw the trailer I was expecting a Mario Kart rip-off (which sounded awesome to me) but we just got a bland roll-down-the-hill-game instead...

has it got achievments ???????

can you play against someone on an android phone, i mean... does it also support multi-platform multiplayer

Meh this game don't even work on Droid 512,ram dual 1.5 core 1gb ram so meh

Lol those are the minimum specs to run the os itself!

Did they finally add Facebook integration?!!! I'll be updating in a moment! When I had (someone stole it from me) an iPod Touch 4, I was able to connect to Facebook and that was a while ago.

This is actually a pretty good racing game. Now even better!

Makes no sense when we can only sign in as guests

And no compatibility with 512 MB of RAM... :'(

We need a 512ram version of the game!!

Not work on Windows Phone 8.1 update 1 /:

Working fine on my 1520 with 8.1 update 1 DP

I have the lumia 920 with cyan and when I try to open the game stays locked on the screen for installing update

It means you can play with people on android or ios? Or just between wphones?

*Doesn't support..not supports..

With a 100MB download and another 23MB of content after launching, you'd have thought they could fix simple things like no music on WP8.1 and no way to login or save your progress. Guess that's just too hard. My biggest gripe about this game is having to start over if I reset my phone or get a different one.

You have to finish the entire first episode to unlock multiplayer? Bullocks.

Can you play with android users, yes or no?

Hoping next time gains Xbox Live Support...

ok,I don't know why I think the title is Angry Girls.... at first glance...

No support fot 512 MB Ram ! What the hell !

When it will be available for 512mb devices????

Wow! If only it came to my 520!!(?)

This does not supports? WPC App for Android- Lenovo IdeaTab A3000
Windows Central Newsletter
Get the best of Windows Central in in your inbox, every day!
Thank you for signing up to Windows Central. You will receive a verification email shortly.
There was a problem. Please refresh the page and try again.