Angry Birds Star Wars 2 updated with bug fixing and minor improvements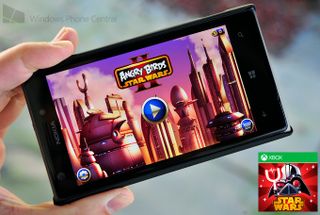 Angry Birds Star Wars 2 has been bumped to version 1.0.1.0, but isn't joined by an official changelog. Because the version increment is rather minor, we can only assume the update addresses reported bugs and implements some improvements. The Xbox for Windows Phone title was released in September and has proven to become a rather popular game.
Should you not be familiar with the name, you take charge of numerous famous characters from the series of Star Wars films. As well as the forces of good, you're able to take command of the pork side of the force and battle as the pigs. It's quite the twist. Let us know in the comments if you notice anything new in this release.
You can download Angry Birds Star Wars 2 from the Windows Phone Store for $0.99 (32 MB – Windows Phone 8, requires 512 MB).
Rich Edmonds is Senior Editor of PC hardware at Windows Central, covering everything related to PC components and NAS. He's been involved in technology for more than a decade and knows a thing or two about the magic inside a PC chassis. You can follow him over on Twitter at @RichEdmonds.
Love the game, but after you get the achievements, there's literally no way to get in-game currency. It's irritating not being able to try out and use all the purchasable characters.

Agreed, they did not plan that out very well.

The game will surely get both Telepods support and credits purchasing at a later date. Possibly with the next content update. Be patient.

Be patient? Sure, I'll wait. Since I don't have an option in the matter. I'd be more happy if Rovio commented on the situation themselves, but in the absence of that, I'll have to wait.
It also makes playing the "bonus" levels impossible, since we can't use the characters needed to unlock them.

Just guessing. Would love to see some official info myself.

Came in here just to complain about that. My only achievement left is playing 24hrs. Which gives me.......i forgot, 150-200 but still not enough to purchase some characters. Hoping the new chapter comes out soon.

Well I just finished 3 starring every level last night, so this update is a day late for me. Hope new levels come soon though.

Rovio, you really need to fix the graphics on star wars, it sucks. First, the game came out with poor degraded colors, the first patch fixed it, then the second one in May just literally fu*k up the whole game graphics, hate to say this, but I am very regretful that I spent $.99 on this crap.

What are you smoking? "then the second one in May"? This is about Angry Birds Star Wars TWO. The game was released last month! This is not about the first Star Wars game. Also, I have the original AB SW on a L920. I have the patches. Nothing of what you describe is true to me. So it may be a problem with your installation. Yes, the game is not optimized in terms of graphics, specially when compared with AB SW2. But that's it.

I'm really sorry .99 means so much to you. Seriously?

Lol. 5 years later when the whole world is playing candy crush. we would get candy in 3 years maybe.

Seriously? You want to play candy crush on your phone? LOL

Nice news, but after UPD game can't sign in to Xbox account. Everything other apps and games working good.

Does anybody know when a windows 8 version arrives?

I'm happy to say that the update did not remove my progress in the game. Having just finished 3 Staring the levels, I was worried after what happened in the first AB Star Wars.

i have a question regarding Angry Birds, for some reason everytime i start a game is freezes and once i get pass that freeze state it runs like nothing every happens. im not talking occassionlly but everytime and i have a L928, am i the only person experincing this?
Windows Central Newsletter
Thank you for signing up to Windows Central. You will receive a verification email shortly.
There was a problem. Please refresh the page and try again.