Announcing the all new Windows Central app-preview for Windows 10!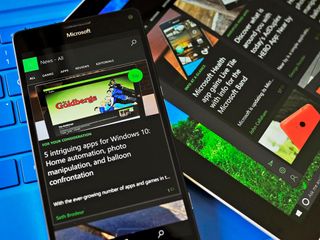 Ever since Windows 10 and Windows 10 Mobile came on to the scene people have been asking when will we redo our app.
Last week I gave you a sneak peek of where we were and today I can announce the public availability of the app to everyone!
This is a preview + UserVoice
First things first: myself and our developer, Daniel Gary, are still discussing some features and layouts that require some served-end changes. As a result, this app that you are downloading today is about 90% of where we want it to be, and there are still some rough edges.
We encourage everyone to take advantage the new Windows Central UserVoice page for app feedback, bug reporting, and feature requests: windowscentral.uservoice.com. Doing so (instead of telling us on Twitter) allows us to track things better and to prioritize, so we appreciate you using it.
Occasional app crashes and other quirks will undoubtedly arise as the team who tested this was very limited during development.
We expect over the next few weeks to release multiple updates to fix bugs, performance issues, and to add a few layout changes, so please take that into consideration if leaving a review! We're putting this app out there now due to the high-demand even though ideally we would take a few more weeks to get it perfect.
Re-Written for Windows 10
Image 1 of 6
The new Windows Central App is re-written from the ground up for Windows 10. Therefore, it runs on Windows 10 for PCs, Windows 10 Mobile and supports Windows Continuum.
We suppose once Microsoft opens the Xbox One Store for submissions we can put it there too.
Since last week's sneak peek, we have done a lot of tidying up including smaller things like matching the title bar color to the theme.
Features
Our goal on the preview release was to get as many features in the app as possible to match the Windows Phone 8.1 version. This what you get:
Live Tile with the latest stories
Push notifications for new stories
Actionable notifications to reply to comments
Dark and Light theme
Choose your accent color
Log in to your Mobile Nations account
Commenting + up/down votes
Pull to refresh (and refresh button for desktop)
Embedded video playback
Share articles using the universal share picker
Search the site
Forums with full ability to log in, comment, quote and reply
Download app and game button for easier navigation
One-handed support with swipe for split-view menu or between articles
Other things include the ability to tip us on the news and browse our YouTube video channel directly. When trying to open a video, the app can hand off to third-party apps like myTube! and Tubecast.
Article formatting now reflects our full format on the web version including accessible hyperlinks, bullet points, quotes and more.
There are some other nifty additions like the Top button that lets you quick navigate to the first article and pull to refresh (on mobile) to keep the app up to date.
Push notifications for new articles, replies to comments and forum posts are also there, but these are still under development so your experience may vary!
Download Windows Central for Windows 10 and Mobile (opens in new tab)
Manage your notifications
As a side note, our site has a robust system for notifications on articles and comments. To configure yours for your account should you have trouble (or too many) please go to: www.windowscentral.com/follow when logged in to set it up. Thanks!
Thanks for your support
As a reminder, the new Windows Central App for Windows 10 is free and ad-free. We appreciate everyone patiently waiting for us to get this far, and we're very excited to continue refining this app this year.
If you are still on Windows Phone 8.1, you do not have to worry as we are keeping that app on the Store for legacy users going forward.
Windows Central Newsletter
Get the best of Windows Central in in your inbox, every day!
Daniel Rubino is the Editor-in-chief of Windows Central, head reviewer, podcast co-host, and analyst. He has been covering Microsoft since 2007 when this site was called WMExperts (and later Windows Phone Central). His interests include Windows, laptops, next-gen computing, and for some reason, watches. Before all this tech stuff, he worked on a Ph.D. in linguistics, watched people sleep (for medical purposes!), and ran the projectors at movie theaters because it was fun.
The app is awesome but, the while reading there is a 3mm gap on both the sides. And if the font sizes are big then we have to keep in scrolling to read it.

And now I cant edit, hahahaha. but I am satisfied with this app

Best app ever since Daniel Rubino was born

90% done hahaha!... Someone's been around Microsoft for too long!!

@rodneyej:
Wow! Changed to a reasonable developer finally! I couldn't stand Jay T(oo lame to care) Bennett.

Yeah! It feels like Windows 10 Mobile is complete....

Ski-Bi dibby dib yo da dub dub

Well done, persistence in a changing context

Woohoo indeed.
Posted using the Windows Central app for Windows 10!!

I've ran into a couple of problems already including a few crashes when loading comments too, but remember this is a BETA. They have made a uservoice page to report any bugs, give suggestions & provide feedback. If you're not going to do this & just complain then stick to the legacy app until a stable version appears in the store.

Funny that as I always thought that the article comments were for just that: Commenting on the article and not to provide feedback for the app.
And of course Daniel replies to the occasional comment, but evidently you didn't bother reading the article or just somehow happened to miss the part of it which I specifically referred to: "We encourage everyone to take advantage the new Windows Central UserVoice page for app feedback, bug reporting, and feature requests: windowscentral.uservoice.com. Doing so (instead of telling us on Twitter) allows us to track things better and to prioritize, so we appreciate you using it." So maybe you should just stick to the comments as you're obviously too stupid to provide feedback and help the team out in the way they created especially to make their lives easier.

What's this UserVoice? Is it available in the app? Or do I have to use the mess that is Edge to give feedback?

He is asking a question relevant to the article, -not- providing feedback on the app. Yet again your attempt at being useful is shocking.

Because he's a sad individual with no life and nothing better to do than to try and put someone down who's made a valid point on his inability to read and be helpful to anyone else apart from himself.

It's within the mess unfortunately

Erm, evidently you might want to re-read your own comment along with my reply and then consider the fact that they are two separate things: Comments on the app such as "finally!" or "when on 8.1?" is NOT the same thing as providing feedback such as "frequent crashes when loading comments" or "it's broken lolz".
Or yet again maybe you're just too stupid to understand the difference, so comment away in ignorance!

You must be American as you don't appear to understand sarcasm or irony...

Oh and you also seem to somehow missed the fact that Daniel didn't develop the app and somehow think that commenting on a news article will make the life of a single dev much easier by scrolling through hundreds of comments of fluff when he could be looking at user reports in an easier & more focused form. But you probably didn't even think of that in your selfish laziness of wanting to make your own life easier.

Wow, just wow. Yet again you've missed the entire point. Let's clarify something first: Daniel Rubino (a journalist) did -NOT- make the app; Daniel Gary (a developer) -DID- make the app.
Now imagine if you were Daniel Gary: Would you really want to shift through over 300 comments just to find the occasional whiny nob (such as yourself) when you could easily look through purely constructive feedback to do an efficient job that you've been paid for.
Think about it first before you make yet another poor, childish attempt at an insult.

There something wrong with you man... if most people who reply to your comment say you are doing it wrongly it mean something right? Posted via the Windows Central App for Android

So what exactly do you think he does? Just sits around all day twiddling his thumbs and trolling people in the comments of a site he's the Editor-in-chief for? Oh no wait, that's you, except you obviously must not have a job, or an education for that matter.

"days when impartiality and common sense" - certainly didn't include you back then, and you must be referring to yourself by "people who don't know any better". It's not often I come across bigots so high on their horse that they don't get the hint when even others get involved essentially tell them to shut up due to their blatant disregard for anyone but themselves and think their opinions and views overrule everything. But hey, it's the internet and you're nothing but a self-entitled "keyboard warrior" who thinks he's Mr. Big Man, yet is nothing but a coward in the real world who knows he's hated and disliked by everyone aside his mum who only loves him unconditionally because social rules dictate she has to and not out of choice.

@raxcie: Hahaha your last comment is brilliant, I cant stop laughing...!! :'D

You seriously must be bored and have nothing better to do than cry out for attention over 8 hours later, or has it just taken this long for you come up with a response? And you've yet again proved your lack of education (or intelligence for that matter) considering your inability to still tell the difference between a comment and feedback.
You may also want to refresh your memory by re-reading my original reply which was in fact relevant to your comment & the article, and then read a few more and realise that it was you who started with personal attacks with arrogance as if your ungrateful whining comments are a contribution to the community!
You then insult me by bringing Daniel back into the equation (it's as if you just can't stop talking about him and I'm supposedly the one who fancies him?) and then you ask us to get back on topic as if you're some shining example of a good samaritan. But hey, at least you're giving me a cheap laugh so I guess I should be thanking you for something at least. It's all you seem to be good for after all.

Oh how silly of me for forgetting you're unemployed so you stay up really late trolling others and then sleep throughout the day while some of us happen to get up early to enjoy the sunrise of the real world. But hey, that's probably an alien concept to you as you probably haven't had to get in the morning since you left school with a poor grade.

Hahaha i was about to"say" the same.. Incomplete like w10/m just a way to shut the ppls mouth about asking for the app.. And most of them won't realize it..

Well it's not here in the Store at all, do anyone have it yet?!

go to website to download and it will redirect you to the app in the store

The hamburger menu slides out with gesture!!!! YAAAAS

I want all my hamburgers to taste like this one.

Is it too hard to make it compatible with wp8.1 too? Since it's us 95% of the population. I'm just asking I have no idea how it could be done.

Windows 10 update coming out soon.

A lot of work to maintain a universal 8 and 10 app. They are better off just focusing on 10 prior to general availability as you can guarantee most people will upgrade when they get the chance

Not really, they just publish it and leave it to rot and die for a while, occasionally leaving out features in loads of articles.

UWP is only for Windows 10

Windows 8 eol coming soon to a theater near you.

The two platforms are too different, thanks to Microsoft not being able to keep focus on a lasting technology.

Yippeeeee, now I just have to get Windows 10 phone :D

Heck yea!!!!!!!! Finally!!!!! Thanks Dan and team for all the hard work!!!!!!!

Downloading (seems faster)...

It makes my entire phone run faster.

Stupid question, but how do we download? Not in the store.

Use provided link. Store listings take some time

Also, store apps can remain unsearchale, particularly for situations like this where the app is in preview form.

Microsoft needs to fix their app searches Posted via the Windows Central Beta App for my Lumia 950 XL

Yes, it is searchable now though.

Whatever WC runs the links through is apparently blocked at work for me. The real store link works, but target.georiot.com is blocked.

This. Our web filter at work blocks the links as well as the pictures in the comments. Whoever WC uses for ad referral has a very low reputation score.

You need to follow the link in the article

Following link in article is impossible when using the old app.

All you need to do is swipe to the right, tap on view in browser, and then find the link there. I did that and and now using the new to reply to you

You have to go through "show in browser" but link there works

Lol ok this had to been have simpler... reading this on my SP3, woooo fire old windows central app on my 950xl, can't open links, wooooo fire up store on my 950XL, can't find, ok lets QR it... oh wait, no native QR scanning... oh wait I have UC browser, I get the web store link, doesn't open the store app on the phone... ok copy url, open edge on 950xl, paste... finally. lol cry cry cry

Yeah it could've been much simpler. Launch windows central app on your 950 XL, swipe right, tap show in browser, tap download link. cry cry cry because you don't know how to use the apps you have.

That works for you? It looks like a mess, but when you click on the one that is for the store, I get a bad webpage result

Try this link www.microsoft.com/en-us/store/apps/windows-central/9nblggh5ljkq

Thanks, I have it, was just crying about my process I went through.

Thanks gerrymad, nothing else worked for me either

Thanks for this...finally success for the mobile app!

¡Sí~! Posted via the Windows Central App for Android

First comment from the app. Woohoo. Do I get a free t shirt? Anything?

Yea! First comment in landscape mode! Do I get another t shirt? Anything?

You get a thumbs up from me...using the mobile app. Could never do that before.

When coming to Android? Posted via the Windows Central App for Android

We already have an app on Android and it's very good ;)

Please add the same app to wp8.1 store please;!!!! And a request, please add a notifications centre in the app to see forums updates and replies to comments!!

If you install Windows 10 than you might actually get actionable notifications from the app. I'm not sure if that is built in to this app yet. I will preview when I get home.

"Please add the same app to wp8.1 store please;!!!!"

Sorry, not happening. You'll have to use our existing app.

Why can't we add pics thru the app... The way we can do on android

:'( sure! Loving wp8.1 is a drag now! Isn't it? W10 mobile is not as neat as wp8.1 and specially 3 things:
•I have Lumia 720 which is 512 MB ram and performance is not so great to reconsider downloading it again (already did installed w10M 3 times now but still unsatisfied) .
• the grey theme is seriously annoying so I will wait till the OS is more polished.
•the text and icons are 'slimmer' feels uneasy because I loved wp8 &8.1 so much.
Anyways I will wait when there are some good reviews from 720 users.

Just downloaded app keeps booting me from it before I can do anything. Using Lumia 950

I thought it was a funny signature from an user.

It is a good app. But on that note, will there eventually be a flavor of this app for Android Central once this one gets closer to being "done"? Or is it more involved than just changing the color and pointing it at your sister site? Posted via my HTC One M7

They said the plan is once they have the app to the point they feel it's complete they will use it as a template for Android Central and iMore.

Sounds good to me. Posted via my HTC One M7

I like this better than the Android app. Especially the up/down votes on comments!

People are gonna get carried away though.

Whoa you can see local times... Why are you awake that early on a Sunday? wait how is it Sunday wherever you are?

Nevermind the times are all screwed up and it says Saturday my bad

Tbh it's not that good. I can't see and upvote comments in this app :/ Posted via the Windows Central App for Android

Lol...and it's a public beta for a reason. Go to the user voice.

Now all I need is universal 6tag app

No download link from the app? ;)

No link in the current app and no search results in the mobile Store! Hopefully someone will provide the link here... /sigh

There's a link and QR code on the website

Only helpful if you actually have access to a computer. I don't right now and will likely have forgotten about it by the time I do. :/

I ummm used edge off my phone and downloaded..

Seriously, open post in browser from the provided link within the App and then click the download link from the browser

He's probably encountering the same issue I had, link in Edge doesn't go anywhere on my Lumia 920 running W10m. I had to scan the QR code off another computer. It was also sad that the old WC app didn't provide a proper link in the article either.

It does...it just takes some persistent tapping lol strange it's not on every website...just some sites.

They don't bother with anything anymore, laziness at its finest

Lol I just opened the article on my phone. Not sure why you need a computer?

The QR link gives the result of "no results found"... That was after many attempts to get the QR reader to launch via lenses on the Camera app on my L950...

Well at least I wasn't the only one who found it took more steps than probably necessary :)

Hit "open in browser" and click the link... it is such a hard life =s

Didn't think to try that on mobile for some reason. Edge eventually loaded the page, all good now, thanks.

I got the link from AppRaisen.

https://www.windowscentral.com/e?link=https2F%2Fclick.linksynergy.co...

Finally 'Download App' in the app, right?

stuck on 0.1mb of 8.6mb.....

Is it april 1st already ;)? Finally its here :)

Yeah, but when is the new Windows Central app going to come out!?! (seemed like every other article had that comment in it, so why not this one) ;-)

Daniel, thank you for all you do for this site including continuing with a new app for W10.

Yippiee...still on 8.1 feeling sad..

Don't be sad, you like 8.1, yes..? =s

Looks great! Posting from it now!

Does it have landscape mode???

You mean for the phone? It's landscape by default on PC lol ;p

I think he means for the phone.
But if he doesn't I would like to ask if I can use landscape mode to my Lumia 640 xl

Such happiness Much Landscape...

Yes, but the transition is a bit funky if you go to landscape when in the comments and then turn it back to portrait while still in the comments.

and there's a scroll bug in landscape (only left side seems to have hit panel) Which leads to the next important question: where is the feedback button? I can't find it. I'm sure it's there; probablly staring me in the face. I know it's the first thing I add to any program/app I write. (I cringe, but I do it).

It has landscape mode, but it looks horrible in the forums. The graphics for unread posts are sized incorrectly and they chop off the first two or three letters of each line. It's been this way since release up through today's 1.1.16.0 update. Hope it gets fixed soon.

Good Job guys. @Daniel Gary and @Daniel Rubino

Did you guys program this on a commodore 64 and that's why it took so long?

I mean, we made you a new app. For free.

Bernie Sanders says we were all entitled to your new app the moment you started working on it

It's a bit of a let down in regards to windows app development if this app crashes so much. Like it's supposed to be easy but the crashing is an eye opener in that maybe it's really not that easy after all and infact a barrier to entry...

This is a rather ambitious effort. I hope all of the complainers realize that and the amount of work that a project this involved takes. Of course, most of them have likely never built anything. I say kudos and know that some of us realize that it takes as long as it takes...no less.

I love the new layout! The only thing I miss is the viewing images option.

I was wondering about that this morning. and now, yeah.

Rubino, I still believe you're a Double Agent, but looks like Mr. Gary has done well so far. At least you have a better app to Mock us windows mobile fans on!

That's what am talking about, now here we go downloading...

Nice touch on reviewing the app Daniel... and on the store too! Lol ;p

Link someone I can't find the application.

I think I'm the only one experiencing this, but I can't download the appither W10 or W10M :/

Even after a soft reset, still getting an error message on my 822 and my surface 3.

Same here. Getting error downloading to Lumia 950.

Stuck on restoring user data. Then failed.

Soft reset fixed it. Posting from new app. Deleting old app.

Congratulations on the new app, writing this comment using the app!

Finally found the download like on the site rather than the old app. Nice update

Awsome! Finally i can post comments! :D

Comment from the new app on Continuum . feels good now, since the website on the phone or continuum is really pain due to the ads on the website.

App seems pretty fast with a great set of features. Good work guys! Only question is: When in India ;)?

.....and.....is it faster?

Ok ok, the whole article is very persuasive but trust me, we don't need persuading or explaining to, [keeps scrolling down] 'post the link already!' [reaches bottom of article, thinking to himself that the link should have been at the top instead ] :)

Glad to see the headline tile is on the todo list. When I saw the photos on the live tile I got a little worried. Will the headline tile support transparency?

So where to download? No new app in store or a update...?

Link is in the article along with QR code. It will show up on Search eventually as it just went live.

Why there is no app for Android Central? And a suggestion for new app: Pls. Add a notification centre in the app like there is in facebook. It will be convenient for forums updates and comment replies!

HATERS beware, I am making a joke: 90%? To match Microsoft strategy of releasing software? ;) Although theirs is probably much less than 90% :) . But, seriously, congrats guys! Thank you for what you are doing

Daniel, how does free app and ad free work? Is it not taking page views away from the website? No page views no ad revenue. No ads in the app, no ad revenue. I am confused!

im sure they will add some ads at some point.. much easier to get the kinks out of new software without wondering if its the ads that are causing slow issue or crashing... just my thought . on the app after using it a day.. it works great for the most part but i experience some lock ups .same as i get on the ms news app.i assume they will be addressed as the app progresses.

Oh Please, bring back the option for transparent tile... Current tile is ruining my start screen :/

Looking great! Thanks guys!

Leaving a review from the new app, great job. Now go have a beer.. its the damn weekend

**** YEAH!!!! That's what I'm talking about, baby!

It's amazing how effortlessly ****** the search function in the windows store is. Thanks for the direct link, as I doubt I would have ever found it otherwise! Installed, and checking it out now. :)

We just made the search public in the Store; takes times before it indexes.

You're joking, right? I typed "Windows Central," and it came up in the suggested apps. There were 4, with the first being the old app and the fourth being the new one. This is for the ones that pop up as you type, and not the actual search results, so it is found VERY easily.

Any insights on developing for the new UWP? Was it a pain? Easy? How about the ease of targeting tablet vs mobile layouts?

Commenting Using new app mow!!

The new app mows your lawn too? Wow!

The app has a 'Download app' button... on it's own article... Major meta, recursive, Inceptionesque potential!!!

Oh, one more thing that I've been missing from this app ever since W10: Can we go straight to the message through the link on the email when we get a reply? It used to on 8.1, but now it takes me directly to website now. That is MUCH needed for me!

cannot download app from link on page because my companies firewall blocks proxy anonymizers and adware which is what that link redirects to. can you please just provide the like right to the microsoft app store instead of routing it through another site?

Here is the address without going through the ad server. You may have to put https:// in front of the info as this site actually puts the trade doubler wrap on original the link I posted so I had to remove part of the url in order to post it, https://www.windowscentral.com/e?link=https2F%2Fclick.linksynergy.co...

Thank you. Opendns blocks trade doubler and so does my proxy at work

This app is amazing!!! Best W10mobile app in the store so far (for me)

I'm typing this comment using the new app!!!

Just downloaded it, looks really good!

It looks great, really, and it looks to be a fantastic piece of work. Thank you for all your efforts. But... In my early usage of the app, I'm finding scrolling a bit... Reluctant and heavy. All little bugs to be ironed out, sure, I'm not moaning - but feedback is what you want, right? But still, it seems to be really nice and a true example of how W10 apps should be built. Glad to be part of the 'Beta'. Sent using the app on my Lumia 950XL

Further detail after playing around - left side of screen scrolls fine, right side doesn't - but only on articles, fine on menu, forums and comments. The app is also crashing every so often - as you explained in the article.

Same here: Lumia 640 XL. By the way, awesome app.

Same here too: Lumia 830.

Finallyyyyyy!!! Thanks dudes!

booyah you guys!!!!
just now my Lumia 950XL battery died on me :) Thank god my Surface Pro 3 is still alive and kicking! Well done guys!!

Looks really good on my SP3. Feels fluid and intuitive. Great work!

Feels... 10'er ☺ Nice job guys!

It's raining app updates!

I don't like to complain bit I love the new app I really love it but I need some time.I really love the old app it's broken,Wp8 build but I use it from August and it's my casual and easy access.
I think I need 2-3 weeks to feel ok with the new app.

Looks good but.. Anyway to zoom/zoom out? Because texts are too big :/

Very nice. Such a huge improvement over an already fantastic WCentral app.

Notification is a great idea

This app runs very smooth on both mobile and pc! Good work!

The app looks really cool. The scrollbar on the right does not seem to work though. Keep it going!!

I swear to God I knew this app will be available today. I wanted to tell Dan but ..

Doesn't scroll properly, if at all.

This new app is just excellent.
Good job , congratulations

Do the comments auto refresh? Also is there a way to edit comments?

Would like to know that as well.

It's raining apps ... Don't be too excited,Snapchat is not yet

It's making me wish that I had Windows 10 Mobile officially (not into the insider route), but already tried or not liking most of my options.

Nice. But why is there space at the top of the app? Bug?

Ok cool. I just noticed another app has the same thing. Thanks for the replies today.

I've been waiting for this announcement since your last preview

Bug report: launch article, go back to main screen and launch the same article again. App freezes and eventually crashes. That's what I get on 1020 latest OS preview.

Also scrolling through article reviews randomly crashes the app. In not complaining just trying to be helpful ☺

I believe the request was for people to go here: windowscentral.uservoice.com to report bugs

Something something congrats!

Thanks a lot for this stupendous app....thanks

Ahhhhhh snap!!!! This is hot!!!! Wowsers!!!

I like what I see, but cannot scroll in articles. 950xl ds latest insider build. Yes I know, beta and all. But again I like what I see, thx

Sucks you can't adjust the font size on the windows 10 version. Other than that it's nice. Posted via the Windows Central App for Android

Wow, using the app now, you'd think it was made by Microsoft, you've emulated the style very well, it feels very 'Windows 10' :)

Just Download, looks pretty decent. When I get to my laptop, I'll post some feedback on uservoice. As I've got a few ideas :).

The day has finally come. Well done guys.

Universal windows app? Doesn't seem like anyone is actually going that route with new win 10 apps....

What's the point of a universal app as long as Windows Phone (or Mobile) is dead? At least this is what I read in almost every article on this site. And I don't think editors just take us as fools with click bait news. Posted via the Windows Central App for Android

We're all killing ourselves tomorrow.

What a stupid comment... There may not be a vast array of W10M users out there right now, but the UWP strategy is long-term, lateral thinking. With so many W10 machines out there, why would you ever build a non-universal app, when you could also target and attract mobile users? People will gradually discover the enormous flexibility and non-disparity of W10(M), which Google and Apple are very far behind at. The era of different-apps-for-different-platforms is over (and a massive waste of time).

How awesomely correct you are GG002 - this is the future for sure.

Very very Good :-) Works fine with Continuum to :-)

Great App. Thanks for the hard work

This might be the first app I've installed that has an actual live tile for the small tile, not just notification numbers.

Last app I really wanted for continuum. Thank you wc!

So first and foremost, the settings is what I would like to see back the most. The shake to refresh, haptic feedback etc... Also there is actually a lot of design work and polish I think is needed. Otherwise looking nice and keep up the great work.

Posting from the app from my phone...what.

You just earned a live tile on my start screen

How to send the error log files to the developer ? App keeps crashing after a fill scrolls.

Crash reports are auto sent

Thanks. Besides the random crash's the app is great. One of the best W10M apps yet

Love it, well worth the wait :)

Time to re-arrange my home screen ☺

Very nice app.... Thanks for all the work on it!!

Congratulations guys, this is really exciting!

Lots of crashes... the app crashed 4 or 5 times in 10 minutes, mostly when opening the app for the first time. By the way the app seems really nice, I'm going to stress it.

Not as responsive as the Old app was

Is there a way I can donate for your hard work?

Downloaded it and wow, I'm amazed. The app is pretty fast, loads without and hiccups, the UI is exactly the way I like, simple, modern and pretty neat. Good job team, you did a great work!

Gee, a New Windows Phone (Sorry..Windows 10 Mobile Device), it came from T-Mobile, and a Preview Windows Central (made for Windows 10) app.
I'm going out and look for Flying Pigs

Hopefully links to Windows 10 apps will now work from within the WC app. With the old version I had to view the article in the browser to get the link. Thanks for all of the great work! I can't wait to use it.

Update: Works fine on Mobile. On PC and Surface, it locks up and takes out 2 cores when you try to logon.

Sane here it's fine on mobile but locks up on pc.

Sorry but app constantly crashes

Like the design of the new app. Should be a fantastic app once all the kinks are ironed out in the coming weeks. Right now it is just what it says it is... a beta! Not much usable. Freezes all the time on my 950 running 107. I will keep checking it out after each update and switch over when it becomes stable.

The dowload link isnt working for me. Anyone else having this same issue?

Really enjoying. I love the new layout it looks so beautiful. Thanks guys it was worth the wait.

Nice job on the app and thanks for releasing it to the masses. I know people such as myself was waiting to see what the W10 version of the app would do. Used it on W10 and mobile and it's great, being a beta release. Can't wait to see what it is capable of once at 100%. I'm now spoiled by the dark theme now. I wonder if it can be implemented to the website as well? Haha. Nonetheless, keep up the great work Daniel Gary!

Hope hamburgers work well. Have seen hamburgers menu lag a lot on my 720.

Fantastic app you guys! Impressed. Waiting for iMore and Android Central and the whole Mobile suite

Looking good, scrolling is hot and miss atm though

After using it for a bit I'd say it's more like an alpha build on my 950. It takes a while to load articles and the scrolling is hit or miss. Sometimes it doesn't register at all.

Dope app...
Thanks for the work y'all
Keep on polishing.

Looks Great! Obvious performance issues though... I hope it gets smoother in the next month or so.

Finally I can WC in style!

New app for phones would be awesome too!

Thanks for reminding me that Shamrock vs Gracie is on tonight, also for the app.

Weird. Scrolling within an article only seems to work on the left side of my screen. L950. Works fine in the article list though...

Don't know if it's happening to anyone else but the app on desktop is straight force closing every time I try to open it. I uninstalled and reinstalled and still the same.

It's a little sluggish on my 640, but I'm loving the interface! I'm sure it will get smoother and faster over time.

This app is so much faster than the old version. The design is awesome. Well done team :)

i haven't received any notifications so far even with the option on

So glad the app is here! Runs a bit slow but since it's an early preview that's not a big deal... It's awesome!

So far so excelent! Nice job Windows Central Team!

First off, brilliant stuff guys! The app is fast and fluid and offers everything for starters. Without further ado, let me jump into feedback (because what better place to provide feedback other than windows central comments section :D) :-
ARTICLE READING AND COMMENTING
1) I was unsure about games category. Maybe it is included under feedback.
2) Articles need to open images full screen in-app with ability to zoom and download for off-line use.
3) Save articles to offline list.
4) Jump to last/top comment option.
5) Standard large text input box for replying to comments.
6) Ability to edit/delete comments. Again in large/standard text input box.
7) Send button when replying to comments.
FORUMS
1) Start up pages for recent forums, recent forum posts/comments by user like that in 8.1 app.
2) Thanks button. Add ability to post images and attachments in comments/posts. In-app ability to view, zoom and download forum images.
3) Jumping to first/last forum comment. Ability to tag forum comment through number and to jump through it and to it.
MOBILE NATIONS ACCOUNT MANAGEMENT
1) Ability to edit user name, password and avatar.
2) Manage all account settings in-app like notifications, email notifications, no of likes, thanks etc.
3) Account inbox and mail reading/sending ability with attachments.

I hope you posted all of this within the user voice feedback. I dont know that the right people are reading 300 comments deep.

Awesome! What's nice about this app is the Hamburger is swipable and yet it still use Pivot navigation nicely. The Hamburger swipe is smooth and very responsive so far, not like Groove Music which feels "hack" in implementation. This basic UX that Windows Central App achieve is what should be for Microsoft apps in Windows 10. Kudos to the dev! I can see now why this is still a preview stage, there are alot of areas still needs work especially layout and some other aspects I found in comment section, there is a 1 pixel line of article still left at the top just below the header and when scrollling, you can scroll beyond the last comment which is all blank. Still overall its really usable at least, I haven't encountered crash so far since its new (I might encounter later). Still this is an awesome work for first release! :D

Why can't we insert pics....

Looks nice, but pretty much crashes when I use it more than 30 seconds. Good thing I kept the old app installed until this stabilizes. On a 950 using 107 insider update

i usually like dark themes more than white themes but with this app i like the white theme more, also im sticking to my opinion sections titles font too small

GREAT GREAT GREAT job guys!!!!!keep up!!!!