Another Indian bank, ING Vysya launches their official Windows Phone app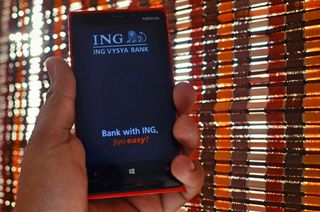 ING Vysya Bank is a premier private sector bank, the seventh largest in India, with over two million customers across its 547 branches. The multinational bank based in Bangalore was formed by the purchase of an equity stake in Vysya Bank by the Dutch ING Group in 2002.
While Windows Phone users in India have been clamoring for apps from ICICI Bank, Axis Bank, and Citibank, ING Vysya trumped the other players launching their official Windows Phone app.
Apart from the obvious ability to view your accounts and deposits, open fixed and recurring deposits, funds transfer, and bill payment, the app offers quite a few additional features which make it stand apart from other mobile banking apps.
The app gives a balance meter that indicates account balance on a quick glance. The fact that it is a little tacky is a different point though. Even if you are not an ING Vysya Bank customer (and therefore not logged in to your account), you can use the app to locate nearest ATMs and bank branches on a map.
The app integrates well with phone. It sends an SMS through the integrated interface to the beneficiary as soon as a fund transfer is done. Also, bill payment alerts appear on your device's calendar helping you not miss the last dates and save on penalties. The app also allows you to store checks within the app by snapping them with your phone's camera, and saving from the hassle of filing check counterfoils or logging the data in some app. That's a neat utility!
The app, though very functional, features a typical hybrid user interface and completely disappoints in design. If you are an ING Vysya customer, there's no reason, you'd skip it though.
You can download the ING Vysya Mobile app for Windows Phone 8 devices from the Windows Phone Store. Even if you are not a net banking user, you can directly register for mobile banking on the app to access your accounts. Let us know how you like it!
Atleast read the first three lines of the article: "The multinational bank based in Bangalore was formed by the purchase of an equity stake in Vysya Bank by the Dutch ING Group in 2002."

The wholesale banking business provides corporate clients in India a range of commercial, transactional and electronic banking products. The bank offers client focused products including working capital finance, trade and transactional services, foreign exchange, term loans and cash management services cell tower lease buyouts

Come on Banreservas! I'm expecting the same thing from you!

Go to hell icici bank. How long you will take to develop the code?

See this https://twitter.com/ICICIBank_Care/status/468742111614234624

This is the reply from ICICI bank for the past 2 years!!

ING isn't Indian, it's a Dutch bank. They just released the app for the Indian branch ;)

But we are not talking about ING, this is ING-VYSYA Bank, ING just bought some equity. So, it is a private Indian bank.

The moment it comes under the ING branding, means that the majority of the branch is held by ING. No matter what bank it is, whenever they open branches outside their fiscal residence, it's common to either be through the acquisition of a smaller local bank or by creating a local bank that uses their brand. (Btw, ING also has their own Apps on WP8 and Windows 8 so it's not a surprise to see this)

And yet there are no American banking apps (well, very few). I need PNC and Citizens!!

Edit: Lol I meant US National Bank
usbank.com

Add Citibank and Schwab to the list.

As I've been bitching about for a couple of weeks now, Citi is desperately needed on Windows Phone now that in Windows Phone 8.1 with IE11, you can't log into their website, at least not for the credit cards. There is currently no way to access them on Windows Phone 8.1.

I love how Indians love windows phone!

Well Indians show more support for Windows phone than the US does. I feel crappy.

Exactly!!!!! There's obviously a lot smarter!!!!

*They're typo . Anyway, I want more potential for this platform. I wish I could learn how to develop. I need to find some time.

So, there's practically no WP news today??... Kinda sucks..
..................
Only news about a awesome tablet that I can't afford because I have to fix my fence..... SMH... Just give me something...

I rearranged some of the tiles on my phone today... that's SOMETHING, right?

Man, India is all over Windows Phone.

I think Microsoft will make more money if it made India exclusive stuff.

AXIS WILL LAUNCH IT BY END OF THIS MONTH....AS THEY CONFIRMED

Are u sure that's end of May right

Where did u get that information..

Still nothing from hsbc UK :(

Still nothing from most banks in the UK. We bailed them out, I don't think it's unreasonable to expect a WP app for my money! :p

NatWest, Lloyds, RBS and Halifax have their apps. Barclays app is for those who got bank account with them but not for those who only got credit cards. HSBC UK is doing nothing.

Yeah appears they have better coders, especially when they have the requirements....go India!!

Yess!!!! Been waiting for this since a long time. But its a shame they could not adapt to the modern UI design. If you look at the same firm's insurance website, it's a rip off Windows 8 tiles and still no app for Windows 8...SMH

Any Idea of ICICI bank launching their application?now the delay is unbearable.....

Here's what a simple twitter search finds for you https://twitter.com/ICICIBank_Care/status/468742111614234624

waiting for IndusInd bank app..

ING, also available in US and Canada but still not in France. God, 2 different banks in 3 years and none of theme made an app for Windows Phone, that's really annoying.

And No Windows Phone Store app from any Philippine banks. Anyone from the Philippines reading this, please support my cause and let's bark at some local banks starting with BPI. http://www.change.org/petitions/bank-of-the-philippine-islands-bpi-creat...

Wow, its interesting!!!!! We have all been waiting for this. But its a shame they could not adapt to the modern UI design. Maybe next time things will improve, fingers crossed. http://www.airwaveadvisors.com/cell-tower-lease-buyout/
Windows Central Newsletter
Get the best of Windows Central in in your inbox, every day!
Thank you for signing up to Windows Central. You will receive a verification email shortly.
There was a problem. Please refresh the page and try again.