Another mobile wallet from India, Oxigen Wallet, hits the Windows Phone Store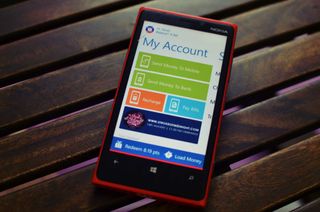 Oxigen Wallet is a popular mobile wallet service in India for money transfers, mobile and DTH subscription recharges, and bill payments. The prepaid wallet is approved by the Reserve Bank of India and is India's first non-bank wallet to have tied up with National Payments Corporation of India (NPCI) for Instant Money Transfer.
The official Oxigen Wallet app for Windows Phone was released earlier this week. The app allows you to recharge subscriptions, pay bills, and buy stuff using the bank-grade secure and operator-agnostic mobile wallet. You also earn Oxigen Points on select transactions, and these reward points are further converted into money in your wallet.
The app allows you to transfer money to any mobile number on any network in India or to any bank account across India using IMPS or NEFT. You can send money to any mobile number even if it doesn't have Oxigen Wallet account. It's a neat way to quickly transfer money like when you intend to share a lunch bill between friends.
You can also recharge prepaid mobile for Vodafone, Airtel, Aircel, BSNL, Idea, Loop, MTNL, MTS, Reliance Mobile, Tata Docomo, Uninor, and Videocon. Along with that, you can also recharge for DTH subscriptions like Airtel, Reliance, Digital TV, Sun TV, Tata Sky, and Videocon d2h or data cards like MTS, Reliance NetConnect, and Tata Photon. You can pay postpaid mobile bills for Airtel, Tata Indicom, Vodafone, BSNL, Idea, Loop, Reliance Mobile, Tata Docomo, and MTS as well as electricity bills for BSES Rajdhani, BSES Yamuna, Tata Power DDL, Nesco, South Bihar Power, and North Bihar Power.
Using the app, you can load the wallet using IMPS, debit cards, and credit cards, and apart from payments within the app, you can use the mobile wallet service for payments at over 2000 online merchants like BookMyShow, eBay, Domino's, GoDaddy, IRCTC, etc.
Download the free Oxigen Wallet app for Windows Phone 7.x and Windows Phone 8 devices from the Windows Phone Store. Oxigen Wallet is a pretty good app to make payments in a smarter way, and competes with other popular virtual wallet services like Paytm and Mobikwik. How do you like the Oxigen Wallet app, and which is your preferred mobile wallet?
Thanks, Sarang Date, for the tip!
I couldn't have said it better myself.

I would not call it good till it supports payment for DishTv because most of the times I use online payment only for my DishTv, Vodafone and Idea prepaid recharges.

I generally use mobikwik for topping up my phone, but I might add this one too for Nokia Mixradio. Otoh, I'm really pissed that Mixradio+ isn't available here. And the fact that my play me mix is a bunch of 100 songs or ao which repeats always even after countless refreshing, coupled with low quality download

No recharge option for Mixradio.

I use paytm, very good app.

but i think Mobikwik is best amongst all may be abhishek baxi review all indian wallet app

Hadn't heard of it before.
Seems pretty cool. Now waiting for rodneyej to shower his love for India :P :D

Stop hitting the store!! Say no to violence.

Can anybody please tell me how I can recharge my mix radio subscription with this app

Redeem a voucher in mix radio app. There it will take u to the browser for payment of mix radio subscription. Another option is going to nokia care and paying there for subscription

Can you provide the link Aashish

That process starts from right from the mix radio app. Go to settings redeem a voucher option and it would direct u to the browser for payment procedure

But its just asking to enter the voucher code...no payment options!

It isn't working. The link from the app sends you to a website which is not working for mixradio. The only option is to go to the Nokia Care near you and pay there to get the code redeemed.

Well this wallet had stopped providing vouchers for nokia mixradio subscription :(

we who have debit card please show us a way to purchase apps from windows phone store this doesn't work for that purpose please provide us a way to buy apps even Microsoft also not thinking of this, please ?

I don't own a credit card, then too I purchased asphalt 7, either through my BOB or PNB debit card!gamertag- damnkameena coming to oxygen-its growing fast here in India! Earlier I used to buy mixradio vouchers through it! Looks more promising than other wallets!!

Just enter your debit card details in place for credit card.. It'll work..

The payment through debit cards doesn't work with Maestro Debit Card. Can't buy apps from MS Store :(

Seems good.. But none so far gave us possibilities of purchasing apps from windowsphone or windows store using most of the debit cards used in India . If they can enable the capacity to upload money and then use it for app purchase it would be a so very good

I think Airtel money gives the facility to purchase apps.

I don't think that's ever possible

I think it is, because you can add Airtel money to your wallet.

Yes you probably could. But have you?Or has anyone tried that? I tried, and it just goes to the Airtel Money app in the Store, which by the way is already installed on my phone. Nothing else happens. If somebody is sure of a solution, please let us know.

Is airtel money available for WP?

Yes.. They have app for wp

Can any one tell how to get mix radio voucher online?

Good but I have State Bank Freedom app which provides all these service direct from my bank account and doesn't charge a penny.

I had been using oxigen website more precisely oxicash, only for one reason: to buy online Mix Radio Vouchers. Of late though this service has been pulled off from the website. No wonder I can't find it being described by you Abhishek. Is there any chance of that service getting updated? I spoke to their customer care yesterday they said they can't say when but the service will be activated soon. Without that its always a pain to locate a Nokia Cases near your locality and go there and purchase a voucher.

No use for me I use mobiwik.

No recharge facility for mixradio recharge

Nice, but I'm happy with Mobikwik.

Using mobikwik.... Will try this one too.

When is operator billing coming to India...i am waiting :)

We can transfer money directly to bank accounts using this app.. Wow awesome. Mobikwik only allow mobile to mobile money transfer

Can I purchase apps by using federal bank debit card??

I wish for MixRadio recharges in this app.

India on a roll for great apps.At this rate we will soon catch up with android!

I've used this service several times. It is directly connected to the phone carriers, and even supports prepaid. Which makes it successful
it's good to see this service launching an app on Windows phone

How can I get free Microsoft gift card for windows phone please any indian help me...
Thanx in advance
Windows Central Newsletter
Thank you for signing up to Windows Central. You will receive a verification email shortly.
There was a problem. Please refresh the page and try again.