Apict updated, can now upload to Instagram through 6tag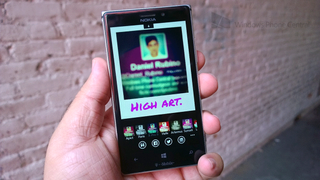 When it comes to photography apps on Windows Phone the selection of quality apps rises every week. There are new apps like OneShot and then there are old apps like Apict. An app that's been around for quite some time. It also recently was updated with some killer features. Killer features like uploading to Instagram. Let's check it out.
The last update we covered for Apict came out in late March of this year. It was notable for bringing some new filters. Version 4.5.08 just hit the Store today, here's what it brings:
Share on Instagram (via 6tag)
Share via email, MMS, or other installed apps
Lens support
Beautiful Live tile (collage of photos made with Apict)
Filters (choose from 11 amazing effects)
Font options (19 gorgeous fonts)
Resize and position your text (multitouch: drag and pinch)
Bug fixes
Dang. That's quite a lot for just one update. The biggest feature is the new ability to upload to Instagram though 6tag. You'll obviously need to have 6tag installed in order for this to work. But once you've finished editing your photo in Apict you can output to a variety of social networks, Instagram/6tag included.
Lens support is also on board the latest update. No longer do you need to scroll around finding photography apps like Neanderthals* on competing operating systems. Just fire up the camera and launch whatever photography app you want through the Lenses feature.
Apict also includes a new Live tile that creates a collage from images you've made in Apict. Pin the tile to your Start screen and make it wide to really take advantage of this feature.
What's really cool about Apict? It's been a day one app for Windows Phone. When Windows Phone 7 Series launched back in 2010 this app was available. Somebody get the developer a medal.
Apict is available for both Windows Phone 7.x and 8 device. It cost $1.99, but does include a free trial for you to check the app out. Grab it in the Windows Phone Store, use the QR codes below, or swipe to the right in our app.
Thanks for the tip Daniel D!
*Windows Phone Central loves all Neanderthals
Apict was quite buggy for me prior to this update. A lot of crashes. Hope the bug fixes in this update improve stability a lot.
Edit: btw, the changelog for this version DOES NOT include bug fixes (at least according to the store description). Previous version's changelog did. I'm guessing that's a copy-paste error in the article.

Yeah the Store description and changelog in app were at odds. I put it in though. We'll reach out and see if there are any.

Neanderthal!!! Now wait just one... Oh I see you still love me.

This is seriously a well done app. One of my favorites that I keep forgetting about when I switch devices. I love the little Polaroid sound effect, the filters and everything...just a blast to use.

Ditto! I too love that old school camera like sound when th pic is ready (before any edits).. I love th app, very well done.. The options of fonts, colours, filters and now share features, all very well done.. One of th best photography must have apps..

JSYK, The first iteration of Instagram is spelled wrong (intagram)... I just wanted to point that out to see what it felt like to be one of the grammer/spelling militants... ;-). No, really, Its true...

Been using this app for quite some time. I love it. Only problem is picture format for instagram.

Seriously. MS. A medal. There are very few apps that can say that they have been updated from Day One until now.
Windows Central Newsletter
Get the best of Windows Central in in your inbox, every day!
Thank you for signing up to Windows Central. You will receive a verification email shortly.
There was a problem. Please refresh the page and try again.