App Reinstaller updated to version 2.0, now works again with new features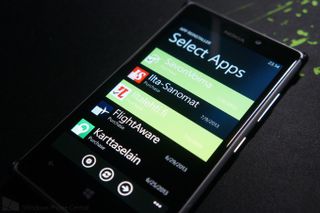 We've covered Reinstaller before, but here's another app with similar functionality. App Reinstaller is by another Windows Phone developer, also offering consumers a way to quickly check, download and install apps. This is highly useful if you're moving to a new phone or had to wipe your current Windows Phone due to issues.
Version 2.0 of App Reinstaller has just been pushed to the store and reportedly contains multiple bug fixes, as well as patches for server connectivity.
Since a number of you have experienced problems with Reinstaller, we figured we'd give you a heads up on an alternative. Just like before, all that's required is a valid Microsoft account that you wish to check your device against. Once logged in, App Reinstaller will load all the apps that aren't installed on that handset, but have been downloaded in the past and are available (including previous purchases). It's magic.
It's quite neat as instead of hunting through the Windows Phone Store, all you need to do is scroll a single list to find what you're looking for. Filters are implemented so you can easily select and install all trials or just full versions of available apps. After you've selected which apps you wish to have reinstalled, hit the big red button and away you go.
A handful of settings are configurable, including hiding trial apps, limiting maximum apps to load and setting the purchase history size limit. There's not much else to it. You'll not be finding yourself spending a lot of time enjoying the simple UI because all the apps will be installed straight through the store and by tackling eah listing through use of the back button - quick and easy.
You can download App Reinstaller from the Windows Phone Store for $0.99, if you wish to support the developer. An ad-free trial is available and the app is listed for both Windows Phone 7 and 8. Thanks, Mark, for the tip!
Windows Central Newsletter
Get the best of Windows Central in in your inbox, every day!
Rich Edmonds was formerly a Senior Editor of PC hardware at Windows Central, covering everything related to PC components and NAS. He's been involved in technology for more than a decade and knows a thing or two about the magic inside a PC chassis. You can follow him on Twitter at @RichEdmonds.
Fantastic idea, I love windows phone developers, very creative bunch

does this work with apps that were removed from the store? lol. worth a shot commenting. I miss my swapchat.

No, but that would be awesome.

Nope not possible, sorry.

How is this better then the built in app backup capability?

Basically this is for WP7

The built in back up only backs up currently installed apps, this app includes everything you've ever downloaded and possibly deleted.
...
BTW - you can also get this by going to Windows Phone Store in the browser and selecting purchase history.

Wait what? Because when I got a replacement phone, I had to reinstall each app one by one, it didn't do it on its own.

You either have app backup off in the settings or declined when rebooting the phone.

Nope, it's on. I can install it from the phone one by one or do it from the website one by one...

A. Did you setup your microsoft account when you setup the phone, or did you do that later, and B. Did the ORIGINAL phone that was replaced have backup on?

Josh, based on my experience, I dont think that's accurate. I replaced my device and I went from 176 to 230 apps doing a Windows Phone restore. This app is not necessary from a backup perspective, but good if you like difficult processes. :)

I have a heap of dev devices and i can verify the built in backup doesn't work every time

your backup may of been outdated or messed up then...

Well if you have been with WP since day on there are times you forget about apps that you have used before the backup only does the last back up and only came with wp8 so this just shows your entire history

Also if you had an app ages ago and can't remember the name of it, this app would help. You aren't always going to be using it with a fresh phone

Yeah i had to wipe my phone and during setup, there was an option to start fresh or go with previous installation set ups, includes apps too! Very nice!

I meant this was built into the os

WP8-only, that's the problem my app solves :)

Is It ok? Lot of negative review in store.

Yes. These reviews are from before the update.

www.windowsphone.com , push 'em all from there. Done.

That's what I do. Everything is under purchase history.

There's alot of stuff that doesn't show for me.

@tbonenga You mean windowsphone.com? It should show everything you've ever downloaded. I already got over 200 apps on my list, lol.

I know my list is ridiculously long, would be nice if they allowed you to sort the list.

Yeah, I even have the app on my desktop for when I synch my phone. Imagewind is one I remember but there were alot that didn't show up. Which I thought was odd sense it's Microsoft.

@ChrisPS3 200 apps...I have like 90 games alone...can't bear to think how many apps I have, lol.

By the reviews in the store this app is not really all that good.

Well it was broken when wp8 came out took this long to get update

How safe is it to log into your Msft Acct via a third party app like this? How do we know they won't capture our passwords?

Well I can't say for other apps, but I guarantee your info is safe with App Reinstaller. I don't even save the password when you tick "remember me" on the login page in the 2.0 version.

Is it safe? I saw this in comments box:
"Warning: Do NOT download this app. it's a hack. This is a fake App that stills your Windows Live username and password. Please report the developer."

That's wrong. I've used that app on WP7 before, and never had that problem.

I'm not hacking anything, some poor person just thought I was stealing personal info when my app was broken and only the login worked.

I don't see the point of this app. I've reset my phone before and there was an option "restore your phone" and it auto installed all my apps I had before the reset.

But not all the apps you ever owned.

What about apps no longer in the marketplace?

That is a WP8-only feature.

Wish I had that feature on my focus after flashing

A paid app for this!!!! I am sorry but android has this for free with the google play app. Its time Microsoft introduce this concept in its store.

It has a free version. I don't care Google Play or Android.

You can turn on app backup so all your apps auto install when you hard reset. You can also go to windowsphone.com and push your apps from there. Very easy to use.

And you still don't already know that Scroogle spies on you and reports you to the NSA?

Good for Google, have fun.

Besides having app backup built into the phone, there is also a complete list of app downloads (currently install and deleted) in the Windows Phone store under 'purchase history'.
So, I'm sorry but maybe its time familiarize yourself with what's already available before claiming what Microsoft needs to do.

So I have log on to windowsphone.com to check the list of apps...very cool feature.. sorry guys I am coming from galaxy S2 to Lumia so learning things as of now.
But why is der no option in the phone store itself,is der one available? saves an extra effort,isnt it
Also is der an option to remove an app from history. Small things... makes big difference.

I'm sorry, but I need to eat too. The trial version has no limitations besides the ads, from which I don't get any money.

Is it possible to filter buy bought apps (excluding free ones) ?

I know free and paid can be filtered. Don't know about free apps filter. Anyone?

There once was a free app filter, but I had to remove it because it was not possible anymore as the method I'm using to get the app list does not differ full paid and full free versions.

Yyaaaaaayyyy...great. I still hoped it will come back one day ;-)

Now all we need is an app to keep track of all reinstaller apps we have. :)

I bet you still can't install all the apps at once right?
Vincenzo Belpiede
Follow me on twitter https://twitter.com/vincebelpiede

I don't know about this app but that's how the backup works and that's how it work in the Windows Phone store purchase history.

I'm the developer of App Reinstaller, you can yell at me if something breaks. This was mainly a bugfix update and I had to remove the "hide free" filter because that was not possible anymore. I've planned filtering and searching for the next update.

Hey Jessenic,
Thanks for your efforts. Much appreciated..

About time. We need more apps like this.

Is it possible to select apps by date range? This way i can install apps since my 920 purchase and not mix it up with 800 apps, thanks, awesome app :D and welcome back!

Go to settings and tick the limit app count and set a limit there. if you set it to 100, it will load 100 most recent apps. You can press the refresh button to load 20 more.

Someone needs to come up with a tool to clean up your purchase history for both WP and W8. I have more apps that I could care less about than apps I would restore. Microsoft should at least allow this from the website or from "Your Apps" on W8.

That would be a totally awesome feature!!!
Windows Central Newsletter
Thank you for signing up to Windows Central. You will receive a verification email shortly.
There was a problem. Please refresh the page and try again.