Windows Phone App Review: Reinstaller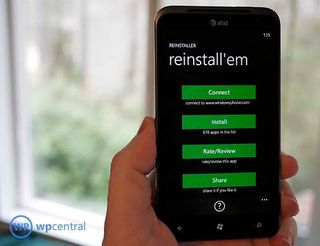 One thing I miss about Windows Mobile is the ability to reinstall apps from a central location. Either from ActiveSync, a backup file or the Windows Mobile Marketplace reinstalling apps after a hard reset or setting up a new phone seemed to be easier back in the day. That is until now.
Reinstaller is a new utility app for your Windows Phone that creates a list of all the apps associated with your Live account and helps you to install all or just some of them. It's not the perfect system to reinstall your apps but it's a step in the right direction.
The main menu for Reinstaller has links to connect to your Windows Live account, choose the apps you want to reinstall, rate/review the app, and share/recommend the app to friend.
Your first step is to connect with the Marketplace and your Windows Live account. Once you log in, Reinstaller will scan your account for all the apps associated with your Live ID. This process can take some time depending on how many apps you've purchased.
Once all your apps have been identified you can go straight to reinstalling things or back out to the main menu. Once the list is created you can tap the Install bar to view the list, refresh it or begin the installation process.
The Install list view is touch scrollable as well as alpha tagged (just like your Launch Screen). At the bottom of your app list screen are three button controls to check all, uncheck all, and install. Just check the apps you want reinstalled and then tap the install button.
Now here is where the process begins to lose a little of its appeal and by no means is this the fault of the developer. It is just the nature of the beast so to speak.
Once you hit install you'll confirm installation and then you will be sent to the Marketplace to perform the actual installation. Once you're done with one app, you hit the back button to return to Reinstaller to confirm and launch the installation of the next app via the Marketplace. Reinstaller essentially places all the app installations in a queue and then it's an issue of going back and forth between Reinstaller and the Marketplace to reload your apps. Reinstaller does make it a little easier than finding the app in the Marketplace one item at a time.
The developer does note that Reinstaller doesn't:
Restore saved app and game stats
Access any information beyond the list of apps
Access/collect/or send any personal information to anyone
Keep you logged into Windowsphone.com after you've exited the app
Transfer apps/games to another Live Account
All in all, I liked the concept of Reinstaller and while it would be nice to have a one step solution to install your apps back to your Windows Phone, Reinstaller is a step in the right direction. While the app still relies on the Marketplace to install things, the app does make it easier to install multiple apps back on to your Windows Phone.
Reinstaller is a free Windows Phone app and you can grab it here (opens in new tab) at the Marketplace.
Windows Central Newsletter
Get the best of Windows Central in your inbox, every day!
George is the Reviews Editor at Windows Central, concentrating on Windows 10 PC and Mobile apps. He's been a supporter of the platform since the days of Windows CE and uses his current Windows 10 Mobile phone daily to keep up with life and enjoy a game during down time.
Think the video is corrupt, it seems to stall at 19 seconds for me.

Not sure what happened there... will reload it to YouTube and get 'er fixed shortly.

I hope the dev adds more features in the future updates. A little off topic, NFS Hot Pursuit got updated to v1.2.

I tried the app, but it's actually pretty useless.
And here's why: the list it compiles has ALL the apps you have ever installed on your phone. Even ones you uninstalled. So for me, I ended up with a list of 300-something apps.
Obviously I don't use 300 apps - my guess I have about 50 installed at this time.
I'm really not interested in seeing the apps I uninstalled - I just want apps I am using.
Not sure if this can be done - perhaps there is some flag like "isCurrentlyInstalled" or something which could be used.
If not, then the only useful app would be 1 you use in 2 stages:
1) First run on your old device, and scan installed apps.
2) Take your new phone, run the app, and use the list compiled in 1)
=7

Similar issue with Marketplace for Windows Mobile. You could not remove apps from your installed list. Not even trials you had loaded for 2 minutes.
Still an issue with the new Marketplace.

I must have a million trial / free apps I've uninstalled in five minutes. This is definitely annoying.

Yes. Got stuck on mine too

There's already a central place to reinstall apps but I don't think most people know about it. Go to the Windows Live website and log-in. Once there, go to manage your device and then click on the link for Go to My Phone. This will give you a list of every app you've downloaded and the option to reinstall it. All you need to do is click reinstall. That's it.. Super easy...

The only problem with that is that you have to do everything one item at a time. It does help but it would be oh so better if you could reinstall multiple apps with one click.

Hopefully this process will be more efficient in Windows 8 as the Microsoft ecosystem becomes more integrated.

I promise I saw a few months ago I had the option to reinstall all when I reset my phone from the marketplace online

Wow where was this when I needed it last month! Haha

You misspelled lose. Sorry to be a grammar stickler.

Thanks... I miss that one about as often as spell check does...

For those with developer unlocked phones there is an a homebrew called WP7 App backup that you run on your phone that makes a backup list of the apps installed on your phone and if you need to wipe your device you can run it again and restore those apps. The restore uses the same install procedure of this app but you only have to do the apps that were currently installed. It will even let you reinstall any homebrew apps you may have.
Both of these apps are steps in the right direction. I like being able to go down the list and check which apps I had installed on the phone since I may have missed one before I ran the app backup. Well done by the developer for those without a dev unlocked phone.

Neat idea, but yeah, it'd be nice to just have it batch out the process once you choose the apps at the list. This is probably a limitation of Marketplace, but I do wonder if there's a parameter in the API to script it better.
Anyway, it's still a nice job on the app in spite of the limitations imposed by Microsoft.

The only timke i think i would use this app is after a hard reset. But then i'd have to reinstall the reinstaller first.
As Mochi said. all available on your windows live phone stuff anyway.

Apps that you have paid for are charged again are they?

Should it not be one of the thingas I miss about Windows Phone not Windows Mobile?
Your very first sentence

Umm, he misses the feature that was in windows mobile...it doesn't exist in windows phone...

It had not occurred to me that I've installed 781 apps so far! I also noticed that some apps appear twice in the list view. It also doesn't know which apps are already installed. Still, as others have said, at least it's something to help with a replacement/wiped phone.

This is marginally useful since you can batch install. But what's really needed is to be able to install only those apps currently on my phone. Don't want uninstalled apps showing up on the list. I uninstalled them for a reason. This must be possible... Just has to be...

I was thinking about this when I got My new Lumia coming from an Omnia 7, though I don't really like to use my credentials around.

Any way to reinstall Xbox live games that have been removed that I paid for? Lol

Hello everyone, I'm a freelance writer. I love to watch horror movies. When not writing, I spend my time with friends, roaming in mall is our favorite pastime.

I just had to do a hard reset last night, and then I find out about this app today. I did make a list of installed apps before the reset, but I figure using Reinstaller would have cut down the time it took to search for and install my apps down from an hour to under 15 minutes.