App Update Roundup: HERE Drive+, Nokia MixRadio, BLINK, SongArc, LinkedIn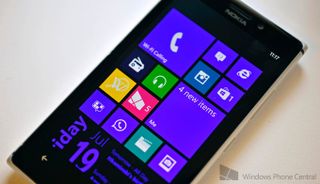 Besides the Instagram Beta update we reported on, it's turning out to be a busy Tuesday morning as a whole horde of big name apps are getting updates on this day. Some fall under the rubric of the boring "general improvements and bug fixes" while others have a few more details. Regardless, as least you'll know that some of your main apps are getting the treatment they deserve.
Let's see who gets what in today's Windows Phone app roundup.
HERE Drive and HERE Drive+ 4.0.5410
Nokia keeps pushing their HERE Drive apps further and further, as today's update keeps the app humming along nicely for the holidays. This morning Drive and Drive+ both jump up to version 4.0.5410. What's new? Just "bug fixes and stability improvements" according to the changelog. So don't look for any new features.
Pick up HERE Drive (non-Lumias) through this link (right QR code) and HERE Drive+ by following this one (left QR code)
Nokia MixRadio 4.1.0.250
It was only a few weeks ago that Nokia rebranded their Nokia Music to Nokia MixRadio. Last Friday, we told you about the User Voice board dedicated to giving the developers feedback on the popular app and service, and today's first update to that app is revealing some of those changes.
Version 4.1.0.250 is now live in the Store and it has a nice changelog to go with it:
Improved navigation of mixes, my music and favourites.
Enhanced downloading of offline mixes.
Simplified search behaviour for countries with no gigs information.
Bug fixes.
Indeed, we've heard from reader of the site 'halcyonboy' that the app now "…remembers where you were when you browse in and out of albums and artists" and he seems quite thrilled with the changes. How about you? Pick up Nokia MixRadio here in the Store.
Microsoft BLINK 2.2
We haven't seen an update to Microsoft's BLINK photography app in quite a few months, but that's about to change. Version 2.2 came out late last night and with numerous new improvements. For those who don't know, BLINK is a rapid-shot photo app that takes lower-resolution photos but at a high clip rate. It then allows you to pick the right photo and it's perfect for action-shots.
Although the app has sort of been replaced by Nokia's own Smart camera, the app is still popular for those on non-Lumia devices. So what's new in 2.2?
Stay focused all the time - the app automatically triggers the focus based on face detection and phone motion.
Better stabilization - improved image alignment keeps your BLINK sequences free from jitter and shake.
Export GIFs to share via Skydrive - export your favorite BLINKs as animated GIFs to Skydrive. Look for the option in the share menu.
Metadata - now your pictures saved to camera roll will have the timestamp and location information in the image EXIF properties.
Sounds good to us although at least on our Lumia 1520, the app crashes right after taking some photos, so we're not sure if we'll be using it much. Still, perhaps you'll have better luck. Pick up BLINK version 2.2 here in the Store.
SongArc 2.0.0.1025
SongArc is the super awesome music game exclusive to Windows Phone. It's one of our top time-wasters and is a real blast to use. By using music in your library, you can play along to the Guitar Hero-like game, with specially designed 'sheets'. Version 2.0 came out about two weeks ago, but there were a few hiccups with Windows Phone 7.x devices. Luckily, this small update fixes that:
Windows Phone 7 is back
Bug fixes and performance improvements
We've always endorsed this game and we still do. It's highly rated and super popular, so don't be left out of the big rage right now on Windows Phone. Pick up SongArc here in the Store for all Windows Phones.
LinkedIn 1.6
The popular professional social-network LinkedIn shouldn't really need an introduction. It's the go-to place for sharing your CV/resume and linking up with fellow colleagues.
It was only a few days ago that we saw an elusive update for the official LinkedIn app on Windows Phone and while Windows Phone 8 users had no issues, those on 7.x evidently did. Reports starting flooding in that the app would close out and basically crash on those devices. Ouch. Not the kind of result we want to see from this first-party app.
Although the version is listed at 1.6 still in the Store, it appears that the company re-submitted the app with a hot-fix for 7.x users. We haven't tried it ourselves on that OS platform, but we're guessing that's all that is new. If so, let us know in comments if it's working out for you.
Pick up LinkedIn v1.6 (redux) here in the Store. All Windows Phones.
We're sure there will be even more updates coming throughout the day, but for now that should get you all started. Thanks, everyone, for the tips!
Windows Central Newsletter
Get the best of Windows Central in in your inbox, every day!
Daniel Rubino is the Editor-in-chief of Windows Central, head reviewer, podcast co-host, and analyst. He has been covering Microsoft since 2007 when this site was called WMExperts (and later Windows Phone Central). His interests include Windows, laptops, next-gen computing, and for some reason, watches. Before all this tech stuff, he worked on a Ph.D. in linguistics, watched people sleep (for medical purposes!), and ran the projectors at movie theaters because it was fun.
and Tiny Deathstar got the holiday update last night too...I got a feeling i still have another app or two thats not listed here...was shocked to see a 5 on my tile last night.

Huh, will check that out. Stopped playing that game after 23 levels and 35 bitizens...too much work :P

I should stop as well. I've got 60 bitizens and 48 levels. Many hours wasted.

the MixRadio update brought back the "store" section of Nokia Music. at least in India, according to their official FB page..

That's great, I was missing tat after rebranding.. Good to see Nokia working on user feedback.

Yeah its back. Was missing this badly.

Instagram BETA is updated as well. I thought it will be in this article... Can anyone list the new features?

Ummm... It's literally in the previous article all to itself. How do you miss that?

Oooh, you are right, I missed that ;)

Hmmm is typical for some people I had work for gas station for over 10 years now and the majority of people don't pay attention where or what pump they parked their cars oh maybe this guy doesn't have WP app with push notifications like I do im in southern California and your notifications wake me up at 2 am
I'm fully informed of everything.

You don't say! Why don't you silent your phone?

Oh im the gas station store manager and I have to be available 24 7. My best regards to you Mr. flyhalabi

Shall I say WTF... Why the Here Services are not working in Pakistan??? This is really annoying

I heard from a Microsoft's MVP, that unlike Google, NavTeq (the Nokia's and Bing's map provider) has only a selected countries support. If Nokia maps are not working in Pakistan, then Bing maps must not be working as well. Before Bing, Microsoft Earth (3d) used to have maps for all regions of World. So yeah its kind of wtf for every missing region of the World. Navteq was the only venture which Microsoft shouldn't have pulled in collaboration with Nokia, as Microsoft was doing good on their own.

Exporting as .Gif is here to Blink!!! :D

GIF needs to be native for Windows Phone. Its ridiculous.

I think WP should have native RAW support, doesn't mean it's going to get it!! Windows Phone needs more important things than GIF support.

Whatsapp? San Andreas? I'm sorry...

Also the Nokia Mix Radio is not working in Pakistan... For Allah's sake... Do something about it

I know I shouldn't laugh, but that was too funny!

I'm not religious but I too find people who bring their saviors into their technology hopes very funny.

Please is there any person to do something about it

You should post one more time here about it. I'm positive that will fix it. No really, just keep commenting. Whatever you do, don't use the User Voice board that was set up last Friday by Nokia to report such issues and that we reported on, twice. Just keep making comments here. That will surely fix things.

This is why...you da man! haha

Appears they took your advice.

That annoys me as well, the User Voice forums are the place to complain or add posts and support for features you would like to see in WP not these articles or forums. It's not as bad on here as it is on the Microsoft Community website though. An even better option is the Windows Phone Suggestion Box app: http://www.windowsphone.com/en-gb/store/app/suggestion-box/30f4a6af-d742-452d-9f90-aeed254f3d42

Still no background downloading for MixRadio, why???!!

Can't seem to get My Commute from Here+ to work correctly. The live tile USED to show me my communte and the drive, with a nice graph, but now it does nothing.

I believe they got rid of that with the last update. Noticed it was missing...instead I just have to pin my favorites to the start screen.

I still have it on mine. I used to have issues with it for a while but it was all live tiles not just Drive+

Excellent to see a stream of updates flowing in. I guess everyones pulling up their sock and working hard as Christmas is round the corner. :)

hey frnds....why play me button is not working after subscription ended....it always reminds me for renew after tapping on any online play option.....i thought subscription is only for downloading.....

Same here :'( Before the update the PlayMe and artist mix worked fine even though there were occasional renew reminders. Now I haven't been able to work it for once.

Daniel this is real subway surfer or fake one???? http://www.windowsphone.com/en-us/store/app/subway-surfers/bedff828-2697... EDIT:- i am not able to check it as it requires 1gb ram and i have Lumia 520 so

Holy fuck!!its the real one!!!!!!

Its given its published by kiloo I think soon it will be compatible. My guess by year end. Any person having 1 gb ram wp can u plss check n let us know!!! Sincere request

Hope they will release it for 512mb ram devices soon...

Supaa dupaa excited. I hope WP central will soon announce for everyone yippieeee. It has been one the best months for wp8 thank you for everything.

But kiloo the company who developed subway surfer.
doesn't have any link related to it. :(
means to windows store.

It actually is Subway Surfers, I've been playing it on my ATIV S. No Xbox Integration but I would guess they wanted to get it out instead of waiting for certification, that and it has IAPs.

Joe Belfiore just tweeted about it, so it sounds like it's official

music store also back in this version in india people demand was store so we got that back

Gives new meaning to Patch Tuesday

Please Make Nokia's services available in Pakistan... Its so annoying when other OS users tease us on such things... Please please work it out

You can't take a hint, can you?

Windows Phone Suggestion Box is your friend: http://www.windowsphone.com/en-gb/store/app/suggestion-box/30f4a6af-d742-452d-9f90-aeed254f3d42 as is the User Voice forums!!

With Drive, I keep having it finding directions to some completely other address than what was pointed to by HereMaps when it is automatically opened by HereMaps. Anyone else?

PLEASE combine here maps and here drive... They both suck without the features of both.

The att update sucks, I like the older look and feel, I'm afraid that devs are starting to shy away from Metro

App update roundup is an awesome idea.
Thanks.

Hey Nokia.. Its so annoying when your own services are not available in Pakistan like here drive here maps etc and Nokia mix radio... And also there is no payment or banking app for Pakistanis also our languages have no support for Nokia Lumia... Plz do something to get us out of such shame... Thanks

Hey Daniel - Here Drive + was working flawlessly for me on my WP8 Lumia 620. Perfect directions and guidance without fail. This changed when I installed the latest update (HERE Drive+ 4.0.5410) a couple of days back. Since then, it has consistently given incorrect routes and directions almost every single time. I depend on it heavily as i drive a lot daily to different unknown routes. How can I get the issue addressed and resolved?
Windows Central Newsletter
Thank you for signing up to Windows Central. You will receive a verification email shortly.
There was a problem. Please refresh the page and try again.