'April Update' may be the final name for Windows 10 Redstone 4
Goodbye Spring Creators Update, hello April Update.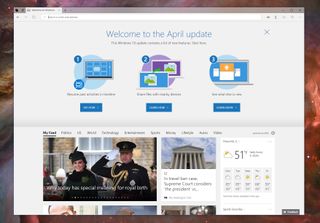 Microsoft hasn't yet confirmed the official name of the next major feature update for Windows 10, but we may now have a better idea of what to expect. Despite earlier indications that Windows 10 version 1803 (codenamed Redstone 4) would be dubbed the "Spring Creators Update", it now appears Microsoft has opted for a much more mundane name: the April Update.
As first spotted by Windows Latest over the weekend, Microsoft has modified the welcome page for seen in Microsoft Edge after major feature updates, which now says "Welcome to the April update." Anyone can currently view this page in any browser to see the welcome message.
It's still not an official announcement, so the final name could always change at release. However, it's a strong indication that, as we get closer to the update's release, "April Update" may end up as the final moniker. The only question is what that may mean for future updates, particularly if another April update is released next year.
In any case, we should know the final name soon. The spring update was widely expected to release on April 10, but Microsoft opted to hold its initial RTM candidate back from public release after discovering a blocking bug. Since then, a new build, 17134, has quickly made its way through the Fast, Slow, and Release Preview rings. Assuming testing goes off without a hitch, 17134 could head out as the public release relatively soon.
Everything you need to know about the Windows 10 April Update
Dan Thorp-Lancaster is the Editor in Chief for Windows Central. He began working with Windows Central as a news writer in 2014 and is obsessed with tech of all sorts. You can follow Dan on Twitter @DthorpL and Instagram @heyitsdtl. Got a hot tip? Send it to daniel.thorp-lancaster@futurenet.com.
Oh great. What happens next April?

Why is it an issue? GJ is making a mountain of a mole hill.

It was far easier when they just had a number and increased it. Whoever came up with the new naming method must have been foaming at the mouth. They must have known MS would lose interest in the concept at pace (standard MS practice). If it continues like this, next April's edition will just be called the 'Some More Windows' edition.

Why can't they just call this Windows 10.5?

Because windows 10 is the LAST VERSION OF WINDOWS.

I wonder how easy it will be to make a search for AU from now on. :)

Why is it an issue? You are making a mountain of a mole hill.

Meh, just go with Tuesday Update. 🙂

it April update for 2018 =) so no yearly confusing

Can't wait to get the April Update in June

Can't wait to see how this update won't install on my beloved laptop because I don't like to install crap.

If I took advantage of the "magic window" on one of my PCs before the bug was discovered, what happens when this goes live?

Makes sense. Spring hasn't arrived in many places yet...

In Wales they only have the one season. The rainy season started around the end of the last ice age and has yet to taper off.

And also every time I hear "spring update" I think September because I'm not in the northern hemisphere.

I think it was SwiftOnSecurity that suggested to name the updates after dogs. I like that much better.

Yeah, it's about time to drop the "Creators Update" name, we didn't need a third one, tbh, this isn't the first time Microsoft gave a Windows 10 RTM a mundane name, the 2nd major release was dubbed "The November Update" in November 2015, but that was around the early Windows 10 days, this time it seems that it was going to be called the Spring Creators Update, but during the recent blocking bug issue, they thought the Creators Update was getting repetitive and had to come up with something quick and last minute for the name... Let's hope RS5 will have a more... Unique name, but glad Microsoft has been finding these update names quite redundant as we are...

April is actually autumn (fall) here in the southern hemisphere

So 1803 is the APRIL update? 🤔

Yeah, 1803 is the April update, to be released in May :p

Yes... version 1803 (as in 2018-03), named "April Update", to be released in May.... not confusing at all

They'll stop naming altogether one of these times and just use the version number. Feature Updates are not like the old "big-bang" releases and more like just super cumulative updates anyway.

2018.4 update will be a better sustainable naming scheme

Long as it doesn't burn me like it did this past weekend. My skip ahead desktop has been rock solid but my work laptop (I know I know) and my personal laptop were on fast release and the update made my machine so bad I thought I had a virus and spent hrs research AV software... example on Neowin https://www.neowin.net/news/another-windows-10-bug-in-build-17134-may-ag...

May Update, then. Though, if it's not official, why report it?

It may or may not update. 🙂

This week or next. The AU(April Update) would probably rollout for public.

This is just name for Edge update. Not OS update.

So they didn't even manage a better name?

I still think it will be Windows 10 next update for April 2018 like what appeared with the first Cumulative update for 17133

Why don't they just use the OS code names? They're always better than the official names. If Satya wants to re-org some more, he should axe the marketing department.

What about 'Spring Fluent Update'?

Today is the last Tuesday of the month of April (-_-)

Well "April Update" Kind of implies it needs to be released in the next 7 days, is that actually going to happen?

Well, 1803 is already past... I guess it's not important, just as with 1703 and 1709 but they keep getting later and later.

I really hope they don't roll this update out as there is a serious issue with it spontaneously installing English (US) whether you want it installed or not and after multiple attempts to remove it I've just given up and left it installed as you CANNOT remove all aspects of a language pack from Windows 10 anyway.

Hard to believe the petty ******** here. Is this really worth frothing over? So typical of social media.

Ahh April Dismay, my second worst ex-girlfriend. I will never miss her. Worst was Bangkok Surprise. An educational experience at least.

With a name like covfefe, I figured the Russian april showers would have been your worst.

I can't wait for the Fall April Update. WTF, just call it 2018.04 (or likely 2018.05 at this rate) and be done with it.

It may change to May Update being as April is nearly over!

How about Windows + version/build number. It already has a name, Windows. Use the version/build numbers which is what they are referred to anyway.

I'm calling this the "Fall Back" update since its Spring and we recently started daylight savings. I can never remember how to set my clock without the "Spring forward, fall back" saying. My naming logic is contrary and doesn't make sense, you say? Maybe I should apply with Microsoft!

Or...maybe the "April Fools" update.

That would be the "update" for windows mobile at this point. You have to be a fool to still be using it.

Since Windows is a service now I think they should lose the whole Windows 10 thing and just call it Windows. Then I think they should have some alphabetical naming convention. My preference would be space terms since it's not specific to any culture, country, etc. and is future proof. Bottom line it would become just Windows "Axis" edition, etc. My favs... Axis
Beyond
Carbon
Drift
Exploration
Flight
Gamma
Halo
Ion
Journey
Kelvin
Lunar
Marvel
Nova
Pioneer
Quest
Rings
Satellite
Thrust
Universe
Velocity
Waves
X-Band
Yaw
Zenith
Windows Central Newsletter
Get the best of Windows Central in in your inbox, every day!
Thank you for signing up to Windows Central. You will receive a verification email shortly.
There was a problem. Please refresh the page and try again.