Everything you need to know about the Windows 10 Spring Creators Update
The next feature update for Windows 10 is coming soon, here's everything you need to know about the Windows 10 Spring Creators Update.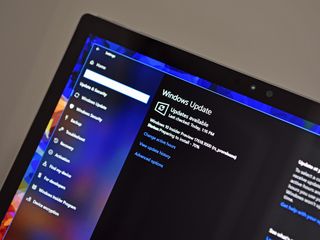 (Image credit: Windows Central)
Microsoft is now finalizing and preparing to release the next big update to Windows 10. Known as the "Spring Creators Update" or "Version 1803," this next update for Windows 10 comes packing new improvements, UI changes, security enhancements, and features for you to enjoy. So when is the update coming? How big will the update be? What features can I expect? Here's everything you need to know about the Windows 10 Spring Creators Update.
When is it coming?
Microsoft is yet to announce when the update will be released, however, if history is to repeat itself, we can expect to see the update begin rolling out in April. If history is to repeat itself, sources say the update could begin rolling out on Patch Tuesday, April 10, just like Microsoft did with the original Creators Update release.
While the update will begin its rollout in April, not everyone will get it straight away. Microsoft likes to roll out updates in waves to ensure there aren't any major issues with the update itself. Once it determines that the initial update wave went smoothly, it will slowly broaden availability of the update out to more people over time. This can take a few months to fully complete, so be patient.
If you're a Windows Insider, you can expect to receive the final release build of the Spring Creators Update before April. I'm told an RTM build will be chosen this week, meaning Insiders should receive the RTM in a flight before the end of March, which should subsequently be promoted to the Slow ring, and eventually the Release Preview ring before rolling out to the public.
How big is the update?
Most feature updates for Windows 10 come in at around 3GB, but depending on your system this will vary. The update will show up in Windows Update under the name "Feature update to Windows 10, version 1803" that will bring with it all the newest features and updates. You can postpone the update for 7 days if you wish, but the update will eventually need to install.
The larger Windows 10 feature updates take a little longer than a normal update does to install. Once downloaded, it can take anywhere between 10 to 30 minutes to fully install depending on your device, so make sure you set some time aside to apply the update so that you aren't interrupted when working on an important essay or watching a movie. There's nothing worse than being interrupted by Windows Update.
What's coming in the update?
The Windows 10 Spring Creators Update is packing lots of new changes and features, including updates to Microsoft Edge, the Action Center, Task View and more. The biggest new feature available in the Spring Creators Update is a new addition to Task View called Timeline, which allows you to go back up to 30 days and resume open documents and programs.
Other changes include a slightly redesigned Settings app, improvements to the design of Windows 10, a new Cortana Notebook and Lists app, a new feature called Nearby Share that lets you send links, documents, photos and more across Bluetooth to devices that are near you, and a brand new reading mode experience in Microsoft Edge.
Top features coming in the Windows 10 Spring Creators Update
Several old Control Panel elements such as Sounds, Fonts, Languages and more have been moved into the Settings app with this update, meaning some old settings and configurable options are no longer available in the Control Panel. You can find all the updated settings in the Windows 10 Settings app. Also worth noting is Quiet Hours has been renamed to Focus Assist and given lots of new options and features.
Will I be able to clean install the update?
If you're a more advanced user, you will be able to do a clean install of the Spring Creators Update once Microsoft updates the Media Creation Tool. While most users will want to upgrade via Windows Update, some advanced users might want to wipe their PC and do a clean install of the latest Windows 10 update. This will be possible closer to the time of release.
I'm not an insider, can I get the update early?
If you're not an Insider but want to install the update before its released, Microsoft may release a Windows 10 update tool a week or so before expected launch for anyone who wants in early. Microsoft did this last year with the Fall Creators Update, so it's possible that they will do the same again. If they don't, your only real option will be to join the Windows Insider Release Preview ring, which will give you the stable update early.
Stay tuned
So there you have it, that should be everything you need to know about the Windows 10 Spring Creators Update. We'll have a review of the update on Windows Central very soon, so stay tuned for that and let us know in the comments what you're most excited about in the Spring Creators Update!
Zac Bowden is a Senior Editor at Windows Central. Bringing you exclusive coverage into the world of Windows 10 on PCs, tablets, phones, and more. Also an avid collector of rare Microsoft prototype devices! Keep in touch on Twitter: @zacbowden.
I just can't wait until Windows 10 finally feels more finalized. Like when control panel finally goes away. And when Fluent design is everywhere. And when File Explorer and certain built in apps are updated to look more modern. And when context menus are cleaned up. Unfortunately I don't think this day will ever come. Microsoft is always starting different projects so when these issues are addressed then we will have even more issues!

Absolutely agree with you!

Looks are fine, I just hope they add modern FEATURES to windows, especially file explorer.

To be fair, it's not just Microsoft. Google is basically the same - it took them ages to redesign their services to their Material Design, not to mention zillions of apps with roughly the same content that they spawn.
That's why they switched to WaaS model anyway - Windows 10 as a finished product for sale would mean a couple years delay (2020 maybe?), and their previous OS proved to be too polarizing for their liking for them to wish to hold on until they're done.

Microsoft's current UI design strategy is the polar opposite of the decisions made which led to the public rejection of the Windows 8 UI. Small, incremental, easy to digest. More of a journey than a destination. It seems the Media & IT Professionals are more concerned about insisting "everything must always be final when shipped" is the only & *right* way to handle OS UI design. Instead, the reality seems to be 'the less the average consumer notices the change, the more successful we will be' - and that strategy is working *exceedingly well*. I think the Media & IT professionals have it wrong, and that this progressive change is what is working - and it's working for Google, Facebook, and countless thousands of other software companies - so why is Microsoft held to a different standard? The average consumer doesn't care about this at all.

Totally agree, but I am sooo impatient ;-)

Now they just hide the Control Panel to make it hard to find.

On a separate note, the estimate for installation needs to be adjusted to match reality, try from 1 to 40 hours IF things go well.

hit win key -> type "contr" -> hit enter. But I find no reason to go there anymore tbh.

There will always be some reason to keep control panel but the majority of the modern stuff that people need will be in, setting

I just can't wait until Microsoft has enough effort left to actually name its feature updates. When it is called Spring Creator's Update, you know exactly how much effort is put into it. Although I totally understand that it is hard to find a title for something that can be best described as The Spring Backlog Update. But I still consider, Timeline being the biggest feature of the update, The Falling Behind Timeline Update a better choice.

An underwhelming name for an underwhelming update

To be fair, it's not that underwhelming. It's much more interesting than FCU (but that is mostly because FCU set the benchmark really low). But yes, they need to get rid of their naming scheme, as it's garbage.

Who cares about the naming scheme? No ones gets to see Windows 10 Fall Creators Update, well within Windows. You just see Windows 10. I think we are just making a big fuss about nothing. I personally am more interested in the features and fixes.

But can't they spend just a day to think of a good name? I personally think constellations would be a great theme.

What's the point, it's just an update ...and that's, what 95% of the public will know it as ...Id rather them focus on giving better names to their features, since those would be used much more often.

You realize there's a different build like every day right? Why don't you naming baking all your comments?

Oh I hate this taskbar it must be live tiles all over the screen just like in surface pro. Desktop mode suckss live tiles needs to be implemented forever.

Too bad they didn't implement proper font management!

Windows is not OS X, which requires users to load and unload fonts to retain performance. Have 5000 fonts, install them - no management needed.

I'm impatient to use 'Sets' feature which is on the top of my priority after installing SCU. 🙂

Yes, the name is unoriginal, but SCU is actually packed with lots of interesting and promising new features. Those calling it underwhelming may not understand the complexity behind some of these new features and how important it is to get the foundation right before pushing ahead too far. And/or its sour grapes because some pet feature(s) didn't make it in this time. I hope Cortana list integration with Microsoft To-Do is in a more complete state before release.

For example wich foundation?

I would agree with you, except that the last 2 have also been underwhelming

RTM before the Easter long weekend I reckon. Insiders will get it shortly after

I wish they would fix the touch keyboard...

At least they gave us a voice typing option on the keyboard.

I'm ready. I really like Windows 10 and the new updates look great.
Really hope EDGE got TONS of love. I try to use it as default but it's still half baked.
moar fluent!
Windows Central Newsletter
Thank you for signing up to Windows Central. You will receive a verification email shortly.
There was a problem. Please refresh the page and try again.