Use the Microsoft media creation tool to force the Windows 10 Anniversary Update today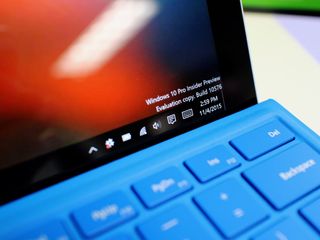 Update: We're refreshing this article for the Windows 10 Anniversary Update. We have verified that it now pulls down build 14393.10 (1607) to upgrade your computer. Using this tool is a great way to grab the upgrade files and put them on a USB drive, or just upgrade directly!
Looking for a quick and easy way to upgrade your computer to the latest version of Windows 10 including today's Anniversary Update? You can use the Microsoft media creation tool to do the job or even create installation media with either a USB flash drive or a DVD. There seems to be some confusion around this app so today we'll explain how it works.
The media creation tool is also a good option for those who are checking for a Windows Update but are not having any luck in getting the latest build (14393.10).
Myth – But I don't want to wipe my drive and re-install my apps!
We hear the response a lot from users who would prefer just to use Windows Update. After all, why would you want to wipe your computer for an OS update?
However, this is just a misunderstanding. Although you could create an ISO from the media creation tool and you could wipe your PC and install Windows 10 ("clean install"), that is not the default behavior. If you are running Windows 10 and you run the media installation tool, it assumes you want to upgrade your OS, which is exactly what we want. That means this is not a clean install and you keep your files.
If, however, you do want to do a clean install and wipe everything read our guide on how to use the Refresh Windows tool to do just that:
How to use 'Refresh Windows' to do a clean install of Windows 10 Anniversary Update
For those who want to keep their files, apps, and games follow the steps below to get the Anniversary Update today.
1. Download
Grab the media creation tool from Microsoft: http://microsoft.com/en-us/software-download/windows10 (opens in new tab)
2. Setup
Navigate to where you downloaded MediaCreationTool.exe and double-click it
3. Choose (or don't)
Once the installer has set up, you will be asked to either Upgrade this PC now or Create installation media for another PC. The default option is already upgrade so just hit Next. The app will download some files, process, check for updates and then check your PC. This process could take some time depending on your connection. Nothing has actually installed yet.
4. Accept
Choose Accept for the license terms. Or don't, it's your life.
5. More updates
The app really wants to make sure it is up to date so it will check again for the latest OS on Microsoft's servers. You can grab a coffee while it does its work.
6. Install
This screen is the one you all have been waiting for. As you can see, the installer is going to Keep personal files and apps and install Windows 10 Home (or Professional, it uses whatever is already installed).
To be clear, this is just updating your computer. Nothing is erased. We use this tool all the time and can vouch for what it does.
From this point on, the app will just install the files, and you will have to reboot your PC. The computer will go through the setup (black screen) and the 'out of the box' experience with those nice fade in screens with various colors.
Afterward, you will boot back into your updated PC, and that is it. You kept your PC as is and got the upgraded OS. Hopefully, you had no issues during this process, but overall, it is very similar to the Windows Update/OTA version.
Need more?
Check out our other articles for more info.
How to make a full backup of a Windows 10 or Windows 8.1 PC
Windows 10 help, tips and tricks
Daniel Rubino is the Executive Editor of Windows Central, head reviewer, podcast co-host, and analyst. He has been covering Microsoft here since 2007, back when this site was called WMExperts (and later Windows Phone Central). His interests include Windows, Microsoft Surface, laptops, next-gen computing, and arguing with people on the internet.
Got mine, and it upgraded just fine. Like the improvements so far.

doesnt always though. if you have wrong localized language from the install it will not work with the current ISO to keep the Apps settings. For example I have Windows 8.1 update done with En-US creator. Had to safe start into advanced recovery and get this set to the current locale: "dism.exe /image:d:\ /set-uilang:en-GB" with d being the windows drive. more info here https://241931348f64b1d1.wordpress.com/2013/11/06/howto-change-base-os-language-on-windows-8/

For folk who are having issues like this, using the iso from Techbench (google "microsoft techbench" for it) will allow you to sidestep any such steps. If you need to create bootable usb media, you can use Rufus... if you want to just upgrade, mounting the iso (double click on windows 8+) or extracting and running setup (7zip etc) will get you the exact same experience. Techbench lets you pick the exact iso you need for your system to prevent any issues with locale. For reference, EN-GB iso is listed on Techbench as English International. Edited to remove link to Techbench which WindowsCentral changed into a monetised passthrough "affiliate" link. That's abhorrent behaviour WindowsCentral, and you should be ashamed.

techbench is currently down. So, open the media creation tool page by emulating the site as mobile site from browser developer tool. And happy downloading direct ISO. https://www.microsoft.com/en-us/software-download/windows10

Thanks for the emulation idea. what is singla language and windows 10 N version? I m on english (US) langugae on my PC, should i choose english or english(international) while downloading??

Welcome.
You have to choose only Windows 10 then English as the language

Upgrade directly just by using, "Check for Updates". Found it first time it checked, no problem.

It wasn't showing up for me, so I used the tool and it went smoothly. 20 mins to download and about 15 mins to install. This is the best windows I have ever used, and the UI looks great.

what was the size of the download..?

I need a serious answer. Should I do a fresh install of Windows 10 on my computer? It's behaving badly. Apps not wanting to open and some apps showing a blank icon. Not to mention that my computer is alot slower than before.

Try updating first and see if your problems are solved. If you keep having problems you can always do a clean installation.

I ran into this problem when I upgraded also (using the media creation tool). I spent over two hours with Microsoft Support and they weren't able to fix the problem, in the end I had to refresh the installation. I had a problem with Cortana after upgrading, which MS Support was able to fix, but it uninstalled all other Microsoft apps - including the Store - in the process.

Yes do a reset i did a factory reset a week ago and it returned smooth and fast as it was

What is the size of this update I mean how much mb's it takes for the download ???

I think about just over 2 GB Posted via the Windows Central App

2048 mb Posted via the Windows Central App for Android

its only 2.88 gb for x64bit version

Yeah, I did this and it worked fine, except for the fact that I had to re-install my graphics driver and Messaging, Phone, and Skype Video APPS dont work on my user. There is also no way to un-install/re-install them.

Download interupted at 95% and six hours of downloading 3 gig of my precious 20 gig lost. Resuming the download seems not possible. How is a basic function of resuming the download not incorporated in the tool? It is time someone tells the people at Redmond that not everybody has an unlimited fiber connection.

That's why I won't rush this. I'll just download the full ISO from my office PC and then install offline It seems Windows Phone doesn't have the resume feature for updates too. I don't know why such a basic feature should be left out.

I did this and when i woke in the morning it had deleted my car, garage and wife, what is going on microsoft

Not the car man :( Posted via the Windows Central App for Android (LG V10 or Nexus 5x)

I did this finally on my SP3 just a few hours ago and it went fine. Only thing that changed was Office 2016 unactivated and my pdf default viewer was changed from Acrobat Pro to Edge. It also wanted to reinstall the October 26th firmware, but no big deal, all easy fixes. Oh and more stupid default apps installed that I have removed before. I wish MS would quit forcing that stupid shit and just reinstall what I had only. Oh and don't forget to run disk cleanup to remove all of the upgrade/install files. more than 3GB worth.

Yeah, I've seen the firmware thing happen a few times. No biggy, as you mention, but can be odd for new users.

Daniel, I appreciate your effort in walking everyone through this process -- it'sa very good guide. But, the thing is, we shouldn't *have to* upgrade this way if we've got a legitimate version of Threshold 1 running on supported hardware. Microsoft's whole idea with Windows 10 is "Windows as a service"-- a service that's never finished, always updating and improving. If these biannual major updates become a headache of guessing which installation procedure will work on which machine, then the whole service model of Windows 10 is kind of a farce. To quote another company, the update should "just work." Microsoft needs to find a way to get this to work reliably over Windows Update, or the cracks in their "never finished" Windows 10 will be showing big time, and they are not, from this experience, very pretty to look at.

It's rolling out slowly. It will take days, or potentially weeks before everyone sees it through Windows Update. The reason they roll out monthly security updates simultaneously is that they're relatively small files. This update is massive, so to save bandwidth both from Microsoft and ISPs, they're rolling it out slowly using some algorithm. It also helps keep support center calls in check. If it is rolled out too quickly, they could have their support centers flooded with calls and hold-times would be outrageous. There is no immediate need to have this update - your system will still run just fine for the next week or two until you're machine is at the front of the line and downloading.

If you upgraded to Windows 10 in the past 31 days, you will not see the upgrade. This is because if you upgrade, you will loose your backup. Posted via the Windows Central App for Android

"We shouldn't *have to* upgrade this way"
So pipe down and wait your turn. Its a phased rollout. You're acting like they're having huge technical issues here trying to make a point where one doesn't exist.

I wonder why not can be downloaded like was done with the service packs in the past why have to reinstall the os again when only want an several patches done this process is a lot more complex and to new users will move back instead of fall in love with windows 10 Posted via the Windows Central App for Android

Thanks for NOT reading Daniel's post... If the OP has the same issue Daniel describes and I experienced on 2 computers it's not about someone who just can't wait for their turn. I have 3 computers in our household, one got TH2 just fine, the other 2 - one of them is my Surface Pro 3, as Microsoft as you can get - saw the update, downloaded it to 100%, but in a split scond said update failed. Since then neither PC can see the update even though i have wiped the update download folders and logs as recommended by MS in a KB article.

Had a similar experience with a Surface Pro 3. Just waited a while and found a script that said it 'reset' the update cache or something like that. After a while it just found it again and worked fine. I think there were just some issues cropping up which either resolved themselves or they fixed. My Surface 3 was updated to 10 less than a month ago, so that may be why it hasn't been offered TH2. I may do the tool, though I am not all that impatient. I have another machine on Insider, so I had seen the majority of changes trickle in over time. Makes the actual update a bit anticlimactic unfortunately. I read the list of new stuff, and sometimes say, huh? already had that, forgetting I have an insider device.

Telling the guy to pipe down? Really? Get this bucky, it's December 29th and I've still not gotten it on one of my systems. Yep, not gotten the 1115 update at all. I manually check. I actually decided to do as you mention to the one poster just waited. I wanted to see how long it took. My Surface Pro got it, my wife's Surface Book got it, my kids laptops all got it, my wife's desktop got it. But still my desktop hasn't gotten it. He's correct, we shouldn't have to wait or not this long. ;p Obviously there is a "not" ready for prime time element going on here. I''ll use the media tool, which I knew about sometime within the next few days when I'm in the mood to go through the process but I shouldn't have to do this. Obviously there "is" a technical issue here and obviously it isn't resolved because you can still find people talking about not getting the update. So no, you pipe down.

Except, that "other company" has problems with upgrades and updates, too. And they make all of the hardware that goes with their OS. So, it doesn't just work.

So is this the only way or will Microsoft fix it eventually?

There's nothing really broken - the update will come to everyone in the next few days/weeks. It's the same as Windows 10 RTM - it rolled out slowly. Now - those who are seeing the update but having errors installing it, that's a different story - they may benefit from either the ISO or Media Creation update method. However, I'd imagine that number is relatively low. There's over 100 million people with Windows 10 installed. If only 1/10th of 1 percent of people have a problem, that's still 100,000 people with problems.

In fact, it is broken. Or at least was for me on my SP3. It found the update, downloaded it and stopped at 16% of preparing to install. Tried everything, including troubleshooter, deleting content in the SoftwareDistribution folder. No way of getting this update to work. The media creation tool was the only option. Windows 10 update is still very much a hit and miss.

Tried popping out the SD card? That has been shown to be an issue in some cases.

Yeah when the update is there on 2 tablets 2 laptops and a desktop and you get all errors its broken... So when is Microsoft gonna fix it??

I wish I could help you, I really do. I don't know your circumstances, or how your systems were configured. I just got the update through Windows Update this evening on my HTPC, desktop PC, and Surface 3 tablet. All three updated fine. They're pretty bare bones installs - nothing fancy.

Yeah everything is default. I don't have anything really customized. Don't get it... Every other update worked flawless. I do have avg antivirus installed so that may have been the issue. But the update still hasn't popped back up... UPDATE.... Windows update is back and working as it should... Patience is a virtue. Everything with Microsoft is "Coming Soon"tm

Have you tried Hibernate mode on the SP4 with the update? My screen stopped powering on, even though everything else still works. Odd.

Thanks for the walkthrough, I was a little stumpt on that. Down to the media tool, I was seeing it as complete wipe and install, until I read what you put. Thanks

What is the different between build 10586 and 10586.3? I get the latter.

My tablet Acer one 10, stuck at 40% for 2 hours :((

Same, PDF viewer changed from FOXIT to Edge. Also opening word documents changed to opening with Wordpad. Strange things happen but it's easy to change it back

3 Gigs? Lol, i think it is almost 20 GB that you need to remove after the update...

Including the Windows.old folder yeah

That's not specific to using the method explained here though. I have a clean-install W10 Surface Pro 2 which updated via Windows Update and experienced everything you mentioned -- Office 2016 deactivating, default PDF viewer reset to Edge and also my default photo viewer reset. Firmware dated 7/23 reinstalled. While the photo viewer reset to the new Photos app, the registry changes to make the previous Windows Photo Viewer available were intact, so I was able to reselect it without having to again edit the registry.

I checked three of my Windows 10 computers and none show the update automatically. They must be slowly pushing it out or something.

Yeah how many times do I have to uninstall the Money and Sports app for fucks sake

I'd you don't care for money and sports, you have very little to do on earth.

Cry more? I am sure you will die removing the default apps that you can just ignore and don't ever open.

I can vouch for that... downloaded media creation tool. Created ISO disk (which I shall use on the other 4 pcs here) and installed the update. No problems. No reinstalls. Just straightforward and trouble free.

Means one can upgrade through ISO also!

It should be possible. I did update my 8.1 to 10 earlier by mounting iso and starting the setup directly.

Still nothing. If I won't be able to upgrade tomorrow morning I'll try this method. Thanks for the info.

What I noticed was that this Fall Update would only show up after the Windows Update KBxxxxxx installed (sorry don't remember exact KB # but it was the one that came out last week)

Does choosing Upgrade remove the recovery partition from my OEM?

Hmm. Good question, I rarely touch that. I want to say 'no' as this should touch nothing on you computer except the OS. However, always best to back it up if it is that important to you.

This is something you should talk to your MS contacts and do an article. I believe the restore partions are sometimes rewritten with the new bits. That allows you to do a clean re-install of your current OS, but not neccesarily of the OS the device came with. That has been my experience on a few cases, where you use function keys to boot into a bios sort of recovery and kick off what you thought would get you back to OOB, but actually just got you back to a clean current OS. Somewhere along the line the restore partion got rewritten.

On some of my older PC's that ran 7 or 8.1, the OEM recovery partition has stayed on my drive, but the function key shortcut to it either doesn't work or goes to a different recovery partition created by windows 10 to "repair" windows 10.

Can download and install for another pc by using media creation tool... By doing that will I get anniversary update..

Can I DL using the "another PC" option, then use that thumb drive to install to the same computer?

It did remove it on my ASUS G751JY but I was careful enough to back it up before updating.

Can't see that it does. Recovery partition intact and never offered the option to re-partiton/reformat the drive during the update install.