How to make a full backup of your Windows 10 PC
You should always create a full backup to safeguard your files and Windows 10 setup. This guide will show you the instructions to complete this task with the System Image Backup tool.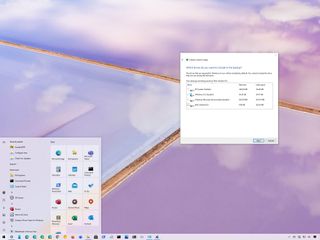 (Image credit: Windows Central)
As part of your recovery plan, a full backup should be at the top of your list since it is the best strategy against hardware failure, and apps and upgrade problems, as well as malware attacks that can corrupt your files and damage your Windows 10 installation. If you are not proactively creating full backups, you will be putting at risk documents, priceless pictures, and configurations you have spent long hours setting up.
If you use Windows 10, you have many different methods to create a backup. For example, you can use third-party solutions to backup the entire system or copy files to an external drive manually or upload them to a cloud storage service like OneDrive. However, if you do not want to use manual methods or third-party tools, you can always create a full backup using the legacy built-in System Image Backup tool.
A system image is another way to say "full backup," as it contains a copy of everything on the computer, including the installation, settings, apps, and files. Usually, you will find this tool better suited to restore the entire system from critical hardware or software problems, such as hard drive failure or when trying to roll back to a previous version of Windows 10.
In this Windows 10 guide, we will walk you through the steps to create a full backup with all your custom settings, apps, files, and installation using the system image tool.
Quick note: The System Image Backup tool for Windows 10 is no longer a maintained feature, but you can still use it for the foreseeable future. The instructions outlined in this guide are meant to create a temporary full backup while the feature is still available. You can also read this guide with alternative ways to back up your computer.
How to create a backup with system image tool on Windows 10
The system image tool allows you to create a full backup to an external drive or network shared folder. However, it is best to use removable storage, which you can then disconnect and store in a different physical location.
To create a full backup of Windows 10 with the system image tool, use these steps:
Open Settings.
Click on Update & Security.
Click on Backup.
Under the "Looking for an older backup?" section, click the Go to Backup and Restore (Windows 7) option.
Click the Create a system image option from the left pane.
Select the On a hard disk option.
Use the "On a hard disk" drop-down menu and select the location to export the Windows 10 full backup.
Click the Next button.
(Optional) Select any additional hard drives to include them in the backup.
Click the Next button.
Click the Start backup button.
Click the No button.Quick note: You'll also receive a prompt to create a system repair disc, but because most devices no longer include an optical drive, you can skip it. If you have to restore the machine, you can use a USB installation media to access the recovery enviroment.
Click the Close button.
Once you complete the steps, the tool will create an image of the entire system that includes everything on the primary hard drive and other drives you may have selected.
While the backup is in progress, you can continue working on the device since it uses the "Shadow Copy" feature to backup files even if files are open and apps are running.
After the process is complete, you can disconnect and store the external drive in a safe place. If you have valuable data, you may want to consider keeping the backup in a different physical location.
How to restore a backup with system image tool on Windows 10
If you need to replace the hard drive or hardware failure occurs, you can use one of the backups to recover the device and files.
To restore a backup on Windows 10, use these steps:
Connect the drive with the full backup to the device.
Connect the Windows 10 USB bootable drive to the computer.
Start the computer.
On the USB bootable drive startup prompt, press any key to continue.Quick tip: If the device does not start in the Windows Setup wizard, you will need to access the Basic Input/Output System (BIOS) or Unified Extensible Firmware Interface (UEFI) to change the boot order settings. You can use this guide to access the BIOS/UEFI, but the steps are usually different per manufacturer and device model. It is recommended to check your manufacturer support website for more specific details.
On the "Windows Setup" page, click the Next button.
Click the Repair your computer option from the bottom-left corner of the screen.
Click the Troubleshoot option.
Click the System Image Recovery option.
Select the Windows 10 option as the target OS.
On the "Re-image your computer" page, select the Use the latest available system image option.Quick tip: You can use the "Select a system image" option if you have multiple backups and you are trying to restore an older version of the system and files.
Click the Next button.
(Optional) Carefully select the Format and repartition disks option before restoring the backup (if you are restoring the backup on a new drive).Quick tip: If you choose this option, use the Exclude disks option to prevent formatting secondary drives that may contain data.
(Optional) Check the** Only restore system drivers** option (if the backup contains a copy of multiple drives and you only want to restore the OS).
Click the Next button.
Click the Finish button.
Click the Yes button.
After you complete the steps, the recovery process will start on the computer. The time to finish the restoration will depend on the amount of data and hardware configuration.
If you are about to restore a device, do not interrupt the process as it can cause the backup to fail, making the device unbootable. It is always recommended to have the laptop connected to a power source and a desktop computer to an uninterruptible power supply (UPS) to avoid problems.
Once the backup has been restored, open Settings > Update & Security > Windows Update, and click the Check for Updates button to quickly install any missing security updates.
Wrapping things up
Although there many other solutions to create a full backup of the entire system and files, there are still many reasons to choose the System Image Backup tool. For instance, when you do not have another solution, and you are about to upgrade to a new version of Windows 10. You can use the built-in tool to create a temporary full backup in case you need to rollback.
Or when you are about to replace the main hard drive, or you need a quick way to transfer the installation and files without the need for reinstallation. It is also always recommended to periodically backup your computer if the unexpected happens, and you need to recover from system or hardware failure, malware, ransomware, or hacker attacks.
One thing to keep in mind with this tool is that it is meant to recover the entire system, not files and settings individually. If you want to keep updated copies of your files, you should be using other solutions, such as OneDrive or File History. Also, you need to be proactive about creating backups because you can only recover a system since the last backup. Anything after the full backup, such as apps, settings, and files, won't be available during recovery.
Mauro Huculak is technical writer for WindowsCentral.com. His primary focus is to write comprehensive how-tos to help users get the most out of Windows 10 and its many related technologies. He has an IT background with professional certifications from Microsoft, Cisco, and CompTIA, and he's a recognized member of the Microsoft MVP community.
Why can we still not save our start menu setup???

This should be saved in the ms account settings backup! Like everything else which is able to change in the settings app

Anytime I have refreshed a PC, the start menu has been lost

Because they can't do it.
I always have a screen grab of the start menu. This is the way to backup the start menu on PC and Mobile.
Its quick to rearrange tiles if you have screen grabs after you restore.
Best of all, you can do a screen grab before you restore so you have the latest.

You can backup it manually: https://www.windowscentral.com/how-backup-start-menu-layout-windows-10 You do have to have installed all your old apps/programs before it works properly I believe (not sure what the consequences otherwise are, probably just blank tiles or such). Personally I like to just redo it on new pc's and change/optimize the layout a bit (there is usually something that I want to do different this time).

Can I use this method to migrate my entire data to a new PC?

If it has the exact same hardware, then Yes. The best way to move your data to a new device is by simply making a copy of that data and restoring it on the new device. You can even use OneDrive to do this.

I would prefer to put the data on an external drive than one drive.
It is possible to move windows from one machine to another even if they are slightly different hardware, but not recommended. when I updated from my old AMD FX machine to the Ryzen, I did not format the drive and the machine booted up and found the drivers it needed for the new board, that was with Windows 8.1, not 10,. but the system kept falling over with memory management errors.
But it was nothing to do with not doing a clean install, as a clean install did the same thing, just for some reason windows 8.1 would not work reliably on my new Ryzen sadly, which meant I had to change to awful Windows 10.

The gotcha when trying to transfer a copy of Windows to another device [PC] is that the core device drivers Windows needs to boot may need to be changed. Win10 is Much better at accomplishing this on its own than earlier versions. There are migration utilities, often built into 3rd party backup image apps, that will remove the registry entries for those core drivers so Windows will look for & install new drivers on 1st boot. Alternatively a Windows repair install may cause the same thing to happen. Do note that after successfully migrating a copy of Windows to different hardware, old drivers are still there, and can continue to haunt you, e.g. I've seen components revert to the old, now incompatible drivers after a driver update etc. Also note that lots of software uses hardware IDs for activation, & will deactivate [or worse] after migrating to different hardware with different IDs. The *Or Worse*?... I've had software add files & registry entries when it detected new hardware IDs that made reactivation impossible, even after removing & reinstalling that software.

My partner moved WIndows 10 from an old Intel X38 board to an AMD based board (so a complete architecture switch). Booted Windows 10, a few minutes of 'getting devices ready' and it was up and running, worked first time and has had no issues since. Activation was a different story but we got that sorted too. I wasn't expecting it to work without any problems but it did.

On top of that, transfering a copy of Windows to another computer violates the license, which explicitly states it can only be used on the machine it was purchased on, or originally installed on if it is an OEM copy (that is why W10 "fingerprints" your machine and stores that info with the license in MS's cloud, and why they no longer provide OS media with new PCs.)
You CAN replace the motherboard, etc. and re-license the machine, but only 3 times (I believe.)
You CANNOT run the same copy of Windows on two machines at once (legally) and it will not activate if the other machine is still running. You CAN re-activate a key (I've done it) without calling MS by changing the hardware up to 3 times.
The one exception to this is a Windows 7 Family Pack, which entitles users to simultaneously have the OS running on three different PCs, but that does not extend to W10 upgrades.
Only Windows Enterprise supports using the same product key to activate multiple times, and Enterprise licenses are only sold to companies under the MS Premier or other support agreements.

I would advise cloning the SSD for that (eg Samsung but also other parties have software for that).
You may need to reinstall some stuff but it mostly just works unless the old HDD/SSD had errors or a corrupted Windows installation.

Clonezilla is my favourite, especially if you have multiple partitions, or if the windows backup utility gives you grief.

FWIW... creating/restoring a disk or partition image backup isn't advanced or complicated tech -- there are several apps available free & low cost that can do an excellent job -- but there are a couple of gotchas you really have to watch out for. First is bootable media... You do need to be able to boot to a USB stick or another internal or external drive if disaster hits. That *should* be easy, with backup apps & Windows itself able to create bootable USB sticks, but you need to test, because a great many of them [including those created by Windows] may not work on your hardware. Before you go to the trouble of creating a backup, Make Sure That USB Stick Or Drive Will Actually Boot The Device. Note 1: creating a Windows To Go drive is a viable option. Note 2: backups created after booting to a 2nd OS, whether on removable media or if you dual boot etc., tends to mean smaller backup archives. The 2nd gotcha is the drive you use to store your backup archives -- it has to be capable of the sustained data transfer, & very many are not, so again, test. One potential problem with external hard drives is heat -- without active cooling they can exceed the drive's max temp, possibly compromising data or the drive itself. Quick tip: image backup archives are portable -- once created they can be moved &/or copied. Storing those archives in more than one place is insurance against media failure. It can also be faster &/or more convenient to create a backup to another internal drive, then copy those archives to an external drive(s).

The free version of Macrium Reflect is far superior to the Windows backup tool. When I moved my Windows drive to a new ssd, Windows backup failed to restore but the image I created with Macrium worked first time

I'd 2nd that FWIW. Also [purely] FWIW, I've found the bootable USB sticks you create with Macrium work on devices where none of the other brands of backup software will. The only downside I've found is that Macrium is more expensive than alternatives if you want more advanced features.

If you get a Samsung SSD, their free migration tool is surprisingly quick and easy too. Upgraded my 2013 HP Envy 15 Touch Smart from a 2 TB HDD I installed at Christmas to a 1 TB Samsung Evo 860 SSD. Whole process was easy and took less than an hour. It's like a totally different machine now.

Yeah Macrium Reflect is a good one. I usually use it as a plan B if the Samsung one does not work / detect a SSD.

I believe this feature is deprecated and will be removed in a future version of Windows 10. Maybe the fall update?

I have been able to do file backups fine to one of my network servers\shares, but the backup fails when trying to create a system image. Anyone have an idea why this might happen? I have seen it on multiple different laptops I have tried to backup to my home server. I have used Macrium to clone a new hard drive and replace and it has always worked very well, even on Surface Pro's that seem to be a bit quirky.

Doesn't work on SSD's. Getting a non NTFS error. Oh well.

Windows backup hasn't worked for a couple of years on my machine. I use Aomei backupper instead.