6 easy and effective ways to back up your PC
Do it before it's too late!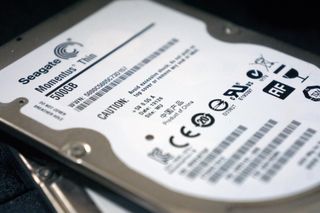 Living in a digital world is a convenience we take for granted, but what happens when you lose the catalog of files you've so carefully built? Your photos are no longer kept in albums, and your music no longer sits on a shelf. Nevermind the sentimental stuff; recovering a PC from a virus or a complete drive failure can be a real pain if you haven't taken precautionary steps.
Dragging and dropping files onto a hard drive is enough for some people, but others need a more thorough backup, one that keeps everything organized and updated or that includes your OS. It's good practice to back up to two separate places; for example, cloud storage and an external drive. This protects you from many threats, including fires or floods that will do a number on your local storage. If you're wondering where to start, here are six great ways to back up the data on your PC.
Back up files to OneDrive
Anyone with a Microsoft account automatically gets 5GB of OneDrive cloud storage for free, and thanks to integration with File Explorer on your PC, it's easy to move and sync files between online and PC storage.
This method is suitable for users who like to pick and choose which files are backed up and when they're backed up. Keep in mind that internet access must remain constant for sync to happen. In the event that you make changes to synced files while you're offline, sync will occur when you're back in range of internet.
If 5GB of storage isn't enough space, you can grab an Office 365 bundle that comes with 1TB of OneDrive storage plus all the Office apps you love. Only want the storage? You can grab 100GB for about $2 a month.
Office Apps and OneDrive Storage
(opens in new tab)
Choose a subscription that suits you best.

A subscription to Office 365 provides you with access to your favorite Office apps, like Word, Excel, PowerPoint, and Outlook. Personal and Home plans can be purchased based on how many users need to be accommodated, but all users get 1TB of OneDrive storage included in the deal.
Use a dedicated backup service
Using an online backup service, such as IDrive (opens in new tab) or Backblaze, will usually cost you more in the long run than, say, an external hard drive, but these services also give you peace of mind when it comes to fires, floods or other circumstances where your backups could be completely destroyed.
These services usually have an app that is installed on your PC; it scans for files that should be protected (such as system files and important documents), encrypts them, and then sends them off to the cloud for safekeeping. You can usually also create images of your system for safekeeping in the event of a complete failure.
Many online backup companies will actually mail you a hard drive with your encrypted data on it in the event of a hard drive failure, but you can also access and sync files when online — some even feature File Explorer integration. If you're worried about outside circumstances ruining your PC's backups, it might be a good idea to have a look at an online backup service.
Create a clone of your hard drive
Creating a clone of your hard drive is similar to imaging your drive, but there are some significant differences. A cloned drive is an exact replica — no compression — of the original drive that can be used to boot a PC. For example, if you clone your internal hard drive to a USB external drive, you can plug it in, choose to boot from USB through BIOS, and run Windows from the external drive.
How to clone your hard drive with Macrium Reflect
Cloned drives, especially when cloning directly to another internal drive, are great when performing a hard drive upgrade, but they also make suitable backups.
The only downsides are that cloning takes longer than imaging, and you can only hold one clone on a drive, so any changes you make on your primary drive after cloning will not be reflected in the event of a failure.
If you're looking for a great new internal 2.5-inch SATA solid-state drive (SSD), we recommend grabbing Samsung's 860 EVO.
Strong Performance for Price
(opens in new tab)
For those who want to keep a cloned internal drive nearby in case the original drive fails, Samsung's 860 EVO is an outstanding option. It offers read speeds up to 550MB/s and it's available in sizes ranging from 250GB to 4TB.
Have a laptop that fits an M.2 PCIe SSD instead? We recommend checking out Samsung's 970 EVO Plus.
Small but Mighty
(opens in new tab)
Like the 2.5-inch SATA Samsung 860 EVO, this M.2 SSD is an ideal replacement choice if you'd like to keep a cloned copy of your regular internal drive. Enjoy read speeds up to 3,500MB/s for ridiculous performance, and get it in sizes ranging from 250GB to 2TB.
Create an image of your hard drive
Imaging a hard drive involves creating a compressed version of everything saved on the drive — OS, settings, and files — that can be used to restore your PC in the event of a failure. Unlike cloning, which takes up an entire drive and can't be easily updated with changes you make to your primary drive, imaging lets you save multiple full images on a drive (as long as space is available) and also allows for incremental and differential backups.
Incremental images keep track of all changes made since the last incremental image, but to restore your PC you need the full image plus all incremental images. Differential images keep track of all changes made since the last full image was created, so you only need the full image and the latest differential image to restore a PC.
How to create an image backup using Windows 10
In the event of a failure, an image can be restored using a recovery environment, whether it's one built into Windows or one you create on a separate USB drive. To create images, third-party software such as Macrium Reflect or Acronis True Image (opens in new tab) can be used, or you can take advantage of the imaging system built right into Windows 10.
If you don't already have an extra external hard drive lying around, waiting to be used for system images, we're partial to Seagate's Backup Plus Slim.
Light and Small Storage
(opens in new tab)
The Backup Plus Slim is one of the smallest and lightest HDDs out there, available in four different sizes up to 5TB and four different colors. USB-A 3.0 connectivity means transfer speeds up to 120MB/s.
Want an external SSD with USB-C connectivity? CalDigit's Tuff nano is a great pick that's durable and fast.
Portable USB-C SSD
(opens in new tab)
The Tuff nano is a great USB-C SSD available in 512GB and 1TB sizes. It's durable, it's portable, and it's fast with speeds up to 1,055MB/s.
Create a backup with Windows File History
In almost the same location as Windows 10's image backup system, you'll also find something called File History. It is one of the easiest ways to create backups of your files and documents — you can back up to a secondary internal drive or you can back up to an external drive.
There are plenty of configuration options to tweak, so you can have backups occur as frequently or as infrequently as you'd like. As long as a secondary hard drive is connected, backups will occur automatically. File Backup doesn't include your OS — for that, you should create an image or a clone — but you can pick and choose which folders and files you want to back up. If it's a simple process you're looking for, Windows 10's File History should be one of your first choices when it comes to backups.
Build a NAS system
Network Attached Storage (NAS) is a group of drives (you can also find single-drive NAS) that is connected via a network. Any users on the network can technically access the NAS, and for this reason, they are perfect for backing up multiple computers at once or for anyone who also wants to create a media server in their home.
Depending on the NAS you go with, say a RAID 5 setup, you can create a system that will retain your backed-up files even in the event of a drive failure in your PC and in the NAS. Going with this method is sort of like creating your own cloud storage in your home, yet it will usually be much cheaper in the long run.
If you're interested in building your own NAS, we've compiled an in-depth guide on everything from the hardware you'll need to how to set everything up.
Don't want to build your own? You can buy a pre-built NAS instead of assembling everything yourself. Something like the Synology DS218+ will get the job done for most people.
Best Pre-Built NAS
(opens in new tab)
Synology's DS218+ is a NAS best suited to small homes and offices. You can even set up your own media server with Plex.
Windows Central Newsletter
Get the best of Windows Central in in your inbox, every day!
Senior Editor, Laptop Reviews
Cale Hunt is formerly a Senior Editor at Windows Central. He focuses mainly on laptop reviews, news, and accessory coverage. He's been reviewing laptops and accessories full-time since 2016, with hundreds of reviews published for Windows Central. He is an avid PC gamer and multi-platform user, and spends most of his time either tinkering with or writing about tech.
I've just mounted all my library folders into OneDrive and then if my computer dies reinstall everything. Plus mounting Libraries into OneDrive means everything syncs nicely between devices. Including game saves. Used to image my HDD but it seems to take just as long as reinstalling, if not longer. Plus there's the fact if you do have some corruption or a virus, that can get backed up too.

I've been doing that for years. First thing I do with a new install is set up OneDrive on D:, and then move my libraries over there. The advantage of having it on D: is that I can format my OS drive and not have to re-download everything. Makes clean installs less painful.

Only thing i'm will be getting issues with in 3 to 4 years is that i reach the 1TB-limit.

If you want the benefit of OneDrive but need more space and are handy, you could set up your own ownCloud or Nextcloud and synchronize your files there. Since it is running on your own server you can give it as much or as little space, share with other family members, and can even set up the server to save to another drive (internal or external). You set up the server, and install the client onto your system. There are clients available for all types of systems, including Linux. I have the first step (setitng up ownCloud) but havne't completed the 2nd step (a backup of the files, database and site).

OneDrive and 1.25 TB of storage. I've never needed an external drive since :)

Is it possible to validate or test a system image without actually doing a restore? I only found out I couldn't do a restore after I had something go wrong.

You probably can do a restore, it may have been just that odd bug with older implementations of the built in Windows imaging system that won't restore from a GPT drive to a GPT drive. Try moving the source image to an MBR drive, it'll probably restore fine from there. If you have Win10, that 'design feature' has been squashed now anyway.

Most disk/partition image backup apps have a verification tool, so you can qualify the backup archives you've made, or after copying them etc. That said, booting to a USB drive or stick can be problematic nowadays -- Macrium probably is the best in this regards -- so if you ever think you might need to restore a backup using a bootable USB drive/stick, DO TEST it to make sure it boots & the software functions.

I just use a combination of Microsoft SyncToy for almost everything and manual file copies to OneDrive and other drives for project files. In the past I've used Windows XP's NTBackup GUI, HP SimpleSave, Windows 7 Backup and its disk imager, and WD Backup. I have an image of my current Windows 7 install from before it stopped wanting to image my drive.

In addition to keeping my Library files in OneDrive, I also have FBackup (free) automatically backup any relevant app folders from my user folder. It's a pretty handy program for doing selective backups. Only thing missing when doing a clean install is the registry stuff, which is much trickier for selective backups, and I wouldn't want to backup the whole thing (too much garbage accumulates).

I used the manual drag and drop for years. Had all my important files in one folder (stupid, yes I know). I didn't even know that Windows had imaging built in till one of these articles recently. Now I will use a combination of Onedrive and other clouds, an external, and a NAS. Thanks for the information. I can certainly say it helps people.

I have all my data on OneDrive. Parts off that data is synced with my laptop because my internal hard drive is not big enough. I use the app or browser to access the other data I use less often. Next to that, I have a Synology installed in full sync with OneDrive and each day the Synology is backed up to an external hard drive. So that makes three copies off my data, online and offline.

6 easy and effective ways to back up your PC ... The best way I found to back up a computer is to buy an external hard drive, I usually buy the 1TB, this way I have more than enough space if needed. If I am doing a clean install, I back up the "User" file on my current system. The folder that folds your current data should be listed under the name of your PC or the User, its usually the last on the list. It contains all the files you use, your Photos, Music, Videos, Documents, and Downloads folders, check it to make sure it has what you want to save, if not then just save the individual folders, once this is done, and you are sure you have what you want to save, do a reformat, and start with a fresh install, once that's complete, just copy your information back to the "USER" folder on your new install, the new folders should already be listed inside the user folder, than you can store that external drive away, so if you run into another problem and you need to restore, you already have a leg up. DON'T COPY UOUR INFORMATION to anybody's CLOUD, they claim only you have access to your information, that's not entirely true since they do backups daily of their systems, and any disgruntled weenie with a axe to grind with the company has access to the backup archives. Buy an external drive and be your own cloud.

You also need a second back up to put away from the building, if the building goes on fire then you will lose all backups. while I do not agree with you that other people access the files on the cloud, it can still be hacked.

Encrypt whatever before it goes up on the cloud, and it doesn't matter who gets access. Yes, in theory *maybe* the encryption can be broken, but why would someone bother when there's all that data in the cloud that isn't encrypted? IOW you're the least attractive target. Or burn however many DVDs you can store wherever [PO Box?] -- Blu-ray would be easier but longevity is questionable unless you spend lots of $.

Bvckup 2 is a pretty good software for cloning hard drives.

When Cale writes "if you clone your internal hard drive to a USB external drive, you can plug it in, choose to boot from USB through BIOS, and run Windows from the external drive." I am in doubt whether this comes after a real test: As far as I know (and I tried this for decades on every conceivable device) Microsoft does not allow booting a real Windows (not a WINPE) from an USB hard disk. They only support a few Windows To Go sticks. Apples OS X always was completely agnostic regarding the boot drive, Windows unfortunately not.

A Windows To Go drive is nothing more than a regular copy of win10, using Only the boot & Windows partitions, on a MBR [rather than GPT] drive. You can create one using win10's wizard in Control Panel, though that requires an Enterprise .wim [mounted ISO], or using 3rd party tools, rufus works with any win10 version. And it does work -- you can boot a full version of win10 from a USB drive -- SSDs Highly recommended. What doesn't always work is the 1st boot using a Win2Go drive, when win10 adds the drivers needed to run on whatever hardware you're using. That of course depends on the hardware -- I had no problems with my old Intel board [or a couple Intel-based tablets & PCs], but had to go through a bit of work to get it working on an X470 board with Ryzen 2. That's because creating a Win2Go drive transfers the win10 image to the drive without any drivers, assuming they'll all be added on 1st boot, when setup completes. What I had to do using the Ryzen 2 was transfer a working copy of win10 to the USB drive, which wound up working fine, supporting what the author wrote. The Gotcha however is that you **may** have to replace or work with win10's boot files when you do that in my experience.

I do not use online storage for my files, apart from a couple of files I have on dropbox and they are not really important, it just made it easier when I used to use the laptop more. I do not have an MS account, so I would not use one drive. My computer files are backed up to a nas and anything really important is backed up to two usb sticks, one is over at a mates place and the other is outside the house. The computer itself is imaged to an external hard drive.

Quick Notes:
Besides Macrium & Acronis, Paragon, AOMEI, & EaseUS all make popular drive/partition image backup software. Cloning, & optionally running win10 from a USB drive was mentioned... Running win10 from a USB drive is definitely doable if you use a SSD -- a conventional hard drive is too slow to make it in any way practical. Running win10 on a removable drive [or a bootable VHD] adds a registry key that will prevent that copy of win10 from ever upgrading to a newer version of 10. Microsoft tracks hardware changes made with an activated copy of win10, & at some point will say enough's enough & deactivate it, requiring you to buy a new new license. Running win10 off a USB drive *might* reduce the future hardware changes you're allowed.

I don't know if they've changed it since, but Carbonite started throttling their "unlimited" backup after a certain amount of data, a practice they hadn't advertised. I switched to BackBlaze, and they've been great. Fast, no limits, and when my multi-terabyte drive failed, they sent the restore files quickly on an external drive, the cost of which they refunded after I sent it back.
Windows Central Newsletter
Thank you for signing up to Windows Central. You will receive a verification email shortly.
There was a problem. Please refresh the page and try again.