How to clone your PC hard drive using Macrium Reflect
How do I make a copy of my hard drive on an external drive?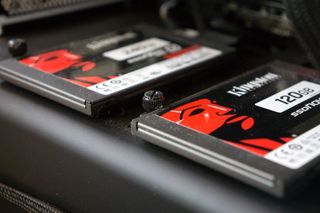 (Image credit: Windows Central)
Creating a complete backup of your hard drive by cloning it is never a bad idea. Hardware can fail, and it's a pain losing your data. There are also times where you'd like to swap out a hard drive — whether in a laptop or a desktop — for something faster, but you want your PC to be the same as it was before the swap. In either of these cases, Macrium Reflect is a solid program that easily clones a drive. Why Macrium? It's the first one we used, it works, and we didn't find any reason to switch to another.
There are two ways to go about a hard drive swap. You can purchase a hard drive enclosure (opens in new tab) and hook your PC up to the new internal drive for a direct clone before replacing it — this method will take the least time. If you don't want to go in for a hard drive enclosure, you can clone the original drive to an external drive, do the physical swap, boot Windows from the external drive, and clone back onto the new internal drive.
If you need a new external hard drive for this process, have a look at our roundup of the best external drives money can buy. If you're in the market for a new internal drive but unsure of where to start, check out our SSD buyer's guide.
Download Macrium Reflect
Although there are plenty of options when it comes to cloning-and-backup software, Macrium Reflect has a free version that works great for any casual users who need to make a copy of their hard drives. The first step is to get Macrium Reflect installed on your PC.
Launch your web browser from the Start menu, desktop or taskbar.
Navigate to the Macrium Reflect website.
Click Download.
Click Home use.
Click Save.
Click Run.
Click Download when you are satisfied with the options listed in the window. I went with the default settings.
Click Yes, your download will begin.
Click Next when the download is finished.
Click Next.
Click I accept the terms…
Click Next.
Click Next.
Click No or type your information if you want to register Macrium Reflect.
Click Next.
Click Next.
Click Install.
Click Finish.
Other cloning software
Although Macrium Reflect is our choice for a cloning tool, there are other options. Some are paid, some are free, but they all do pretty much the same thing.
AOMEI Backupper: Like Macrium Reflect, there is a fully-functional, free version of AOMEI that lets you create system images, back up hard drives, and clone drives. Its UI is super simple to use, and you can even set an automatic file sync that will keep your backup up to date.
See at AOMEI (opens in new tab)
Clonezilla: This free, open-source cloning tool has been around for a long time, and with good reason. It supports a ton of file systems and it plain works. Just don't expect a fancy user interface.
Acronis True Image: There are a few buying options to choose from when it comes to Acronis — there is also a 30-day free trial (opens in new tab) — including subscription options that come with 50GB or 1TB of cloud storage. For just the cloning and backup software, you'll spend about $40.
See at Acronis (opens in new tab)
How to clone your hard drive
Before you begin with Macrium Reflect, ensure the drive you're going to clone to is connected to your PC. It's also good practice to clean up any files on your system, especially if you're moving to a smaller drive — you can't have more data than the new drive can hold.
Launch Macrium Reflect from your Start menu, desktop or taskbar.
Click the disk you want to clone. In this case, I'm choosing my C: drive because it is the drive I'm swapping out. A blue rectangle will appear when the disk is selected.
Click Clone this disk…
Click Select a disk to clone to…
Click the destination disk to which you want to write a clone — this can be an external hard drive or an internal drive connected by an enclosure. Remember, this process will erase any data stored on the destination drive.
Click and drag the partitions from the disk you want to clone. Ensure they are in the same order on the external destination drive as they are on the original drive.You may now need to change partition sizes so that they fit a smaller or larger hard drive. In my case, I'm cloning to a drive the same size as the old one, so I don't need to change anything. If you're moving to a smaller or larger drive, follow these instructions to resize partitions before proceeding with steps seven to ten.
Click Next when all partitions have been dragged over to the destination drive.
Click Next to see a summary of what you're about to clone. This is a good time to ensure the drive letters are all correct.
Click Finish.
Click OK.
Cloning to a smaller or a larger hard drive
Dealing with partitions when moving to a hard drive of a different size requires a couple of extra steps. If you're moving to a smaller hard drive, you want to ensure your data fits. The first thing you want to do is clean up your original drive so that it has less data than the new drive can hold. If you're moving to a larger hard drive, you want to expand the primary partition so that it takes up the entirety of the new disk.
Here are the changes you need to make in Macrium Reflect when dealing with hard drives of different size. Insert the following steps in between step 6 and step 7 in the preceding instructions.
Click the C: partition.
Click Cloned Partition Properties.
Type a new number that isn't smaller than the amount of data you currently have on the partition. Change this value so that the partition grows or shrinks depending on whether you're moving to a smaller or larger drive.
Click OK.
You can now continue with steps seven to ten in the preceding section.
How to restore your clone on a new hard drive
If you cloned your original drive to an internal drive using an enclosure, you can simply install the new drive in your PC and turn it on.
If you instead cloned to an external hard drive, you'll have to go through a couple of extra steps to get Windows working again on the new drive once you have it installed. Make sure your PC is turned off before going through these steps.
Plug the external drive into the PC that has a new hard drive installed.
Turn on the PC.
Enter the BIOS. Note that if your PC employs Secure Boot, you will have to turn it off in the BIOS before you can boot from an external hard drive.
Access your PC's boot menu.
Choose to boot from the external USB drive.
Windows 10 will load as if you hadn't replaced the drive, so Macrium Reflect is still installed. Launch it and follow the same steps to clone your external drive to the new internal drive.
After completing the clone for a second time, you can restart the PC, remove the USB drive, and let Windows load normally.
Have you used Macrium Reflect or another cloning tool when you swapped out a desktop or laptop hard drive? Tell us about your experience in the comments.
Windows Central Newsletter
Get the best of Windows Central in in your inbox, every day!
Senior Editor, Laptop Reviews
Cale Hunt is formerly a Senior Editor at Windows Central. He focuses mainly on laptop reviews, news, and accessory coverage. He's been reviewing laptops and accessories full-time since 2016, with hundreds of reviews published for Windows Central. He is an avid PC gamer and multi-platform user, and spends most of his time either tinkering with or writing about tech.
Will this work with installed applications? And will this work in terms of Windows 10 activation?

I would assume that since the rest of the PC's hardware didn't change and the drive is essentially the same, then it wouldn't affect activation. Even if it did, you are allowed to make hardware changes. It may just require contacting support if it isn't automatic.

Thanks, I expect as much. I'm more concerned with having to reinstall all applications, really.

You *might* have to reinstall some applications. ESPECIALLY Antivirus softwares. But who really uses those? It's just wasting money. Windows Defender is the best. Using it since 4 years and no issues. Just remember to use your common sense and don't open weird links.

I do use AVG free. Seems helpful (I'm not an expert) though the pop ups are annoying.

I used to use AVG, but it's a pretty bad resource hog, and it also can hyjack your browser if you don't pay attention during updates. I'd reccommend defender as well, and just don't click seedy links.

"...the rest of the PC's hardware didn't change and the drive is essentially the same, then it wouldn't affect activation. "

Maybe... Drives have 2 serial numbers, one you can set [e.g. using Sysinternals Volumeid.exe], & one you can't, that's set at the factory. Windows & several apps use that factory number, so the change would be detected. Whether that would trigger deactivation, &/or whether it could easily be reactivated is another matter. Mileage varies.

I believe if you tie your activation to your MS account, reactivation would not be an issue.

I've cloned successfully using Acronis True Image from a boot USB and it has worked perfectly many times including apps, drivers and windows 10 activation. I'm confident this method will achieve the same and I plan to try it myself because its clearly more modern than what I've used and doesn't involve making boot disks.

You don't have to use boot media to clone disks in Acronis True Image. You can use the Clone Disk tool - and clone one disk to another from the Windows environment.

True, but who wants to have the Acronis files and processes left over on the new image? Booting Acronis from USB/CD and then cloning keeps Acronis off your new drive. Even uninstalling Acronis off new image will leave residual files on the new system.

I bought a Western Digital drive that came with cloning software. Worked great. Acronis is also good.

WD probably came with Acronis True Image HD? http://support.wdc.com/downloads.aspx?p=119

No, this was many years ago (came on a floppy) and would only work if the target disk was WD.

Thanks for this. Good to see these programs have gotten easier to use over time. I tried to use Ghost back in the day, but I epically failed apparently. Are there any programs out there that allow selective cloning of say just the OS and program files? I would like to move my HDD to SSD, but it is 2TB and I don't want to move 500+GB of music and photos first .

Hdclone's higher versions can clone by partition.

From my experience with Macrium Reflect, it allows you to select the partition(s) that you want to clone, modify the the size of the partition as needed with just draging. and that will not affect the activation or any running applications. the only concerns are the support of your partition table for 2TB storage or more as it requires GPT partition table. the other concern is that, in device manager, your system will still reflect the Hard disk with the old one; after replacing it with the cloned one; all you need to do is to delete that driver from device manager and restart your machine, Windows 8, 8.1 or 10 will detect the correct driver in Device manager.

What about selecting within the same partition? I realize at this point it is just copying, but cloning would probably be better for saving installs?

Excuse me, I didnt get the part "selecting within the same partition". and it is a cloning process with the ability to modify the size of the cloned parition or volume and the ability to select which parition or volume you want to clone. hope you excuse me for the late replies or not replying at all as either i dont see the question or the whole post. and thanks for reading my replies here. please try the cloning process your self, it will not harm you as you keep the original disk data intact.

I dual boot at the moment as I have one very raw partition that I use for DJing. I want to move away from physical partitions and instead use VHD's which are easier to clone and back up. Can I use this technique to clone the physical partition and then restore to a VHD I've added to my boot menu?

"...clone the physical partition and then restore to a VHD I've added to my boot menu?"

Works... What I do is get rid of the free space on the partition, either beforehand or after restoring a partition image backup to a mounted dynamic VHD. Then once the VHD is cool, use EasyBCD to add it to the boot menu. The dynamic vs. fixed VHD is of course up to you. Do note that upgrading builds may not work for 10 on a VHD [or removable media] via Windows Update.

Thanks for that will give it a try. The point here is that I will break nothing by using a VHD! Insider builds don't like being updated, but never had a problem with retail builds. Gonna have a play next week...

Hdclone from mirray is another good one and has live cloning features which is awesome so you can continue to use your computer as its cloning the drive. Progs and OS activation are fine after swap its a great product.

Saving these pages on OneDrive. Thanks Cale

A few years back I tried cloning a disk with acronis and restoring to a new SSD only to find that there were problems going from regular disk to SSD. I'm thinking about going from SSD to M.2. Is it really as simple as cloning the drive to the new M.2 and booting up?

Maybe it was a very old version of Acronis, as all modern versions, including free versions shipped with drives like HD (http://support.wdc.com/downloads.aspx?p=119) support migration between HDD <-> SSD.

Does it work if the drive has bitlocker enabled too?

Casper has a version for encrypted hard drives

If you opt to use an external drive, consider cooling. HWMonitor & similar can monitor the temps of an eSATA drive, while Hard Disk Sentinel can give you temp readings using S.M.A.R.T. data, refreshed at whatever interval you set. When you're transferring this much data continuously an external drive without active cooling can exceed the drive's highest safe temp, causing problems. Myself, it's not elegant but I use a 6" desk fan pointed at the drive in a USB 3 dock -- works. Same as using the disk clone option in whatever app, you can also backup & restore disk/partition image backups. Why bother? I'll often take the opportunity to resize partitions -- cloning or restoring a backup of the entire disk will usually keep existing proportions, while restoring partition image backups individually you can size them at the same time. Myself, I like to set up the new disk sttached to a USB 3 dock, then swap drives in the case, setting the bios to look to the new disk for boot files. That's because booting to whatever media can be a big hassle nowadays -- in that respect recommending Macrium is a Great choice. If you choose a method that requires you to boot to removable media, & if your preferred software doesn't boot a device, or like Paragon B&R 16 is terribly slow when you boot to the USB sticks it creates, a WinPE bootable USB stick might work, or [as in the case of Paragon B&R 16] grab a 10 Enterprise ISO [e.g. the Insider download] & use 10's Windows To Go applet in Control Panel, then install the full version of the software there. If you don't have another device handy, that WTG option might also be very useful if something during the cloning goes wrong. The main advantage I've seen using bootable media is that it often creates smaller image backup archives if you go the backup & restore route. You see the same benefit if you have more than one copy of Windows installed, and use the active copy to back up the inactive copy. Less data means less to store, but maybe more importantly, it takes less time to transfer. On that note, delete those restore points beforehand too.

I used Macrium Reflect for the first time recently. I needed something to clone or image & restore my internal hard drive to SSD. Ran across the free version of Macrium and it worked great performing a clone and restore from image. Recommend Macrium Reflect!!

Same thing I did. I cloned from a HDD to a SDD, then plugged in the SSD as the boot drive and it is all running fine.

I did this recently when moving from an HD to an SSD, and the system was completely unstable after. Tons of random crashes. Be careful, and back up any files, or at least save your old drive for a while after upgrading just in case.

My 2 cents. With many drives a version of Acronis True Image for disk cloning, or software based on Acronis True Image available as a free add-on. WD: http://support.wdc.com/downloads.aspx?p=119 Intel: https://downloadcenter.intel.com/download/19324 Crucial/Micron: http://www.crucial.com/usa/en/storage-ssd-getting-started PNY: https://www.pny.com/qr/acronis-install Seagate: http://www.seagate.com/support/downloads/discwizard/ Toshiba/OCZ: https://ocz.com/us/download/acronis Kingston: http://www.kingston.com/us/support/technical/acronis-download So for many people buying new drives, the best cloning tool is available for free.

I personally prefer a hardware drive duplicator. They cost between US$30 to US$40, there's no software to install, and it's very simple. Take the source drive out of the PC and put it in the source slot, put a new drive in the destination slot, and press a button. When the duplication is done, put the new drive back in the PC. Also, when migrating from HDD to SSD, you may need to check that the TRIM command is enabled on the new drive. Windows 10 might be smart enough to detect it's on an SSD and enable it itself, but it's always worth manually checking. This command will extend the life of the SSD, so it's worth checking.

I just used the option that came with the Samsung SSD. A very painless proces. Of course it is best to reinstall from scratch, but when you just want to plug that SSD in, the cloning option is a great feature :)
Windows Central Newsletter
Thank you for signing up to Windows Central. You will receive a verification email shortly.
There was a problem. Please refresh the page and try again.