How to use 'Refresh Windows' to do a clean install of Windows 10 Anniversary Update
The Windows 10 Anniversary Update includes an easier way to refresh your computer and remove bloatware, and here we tell you how to use the new tool.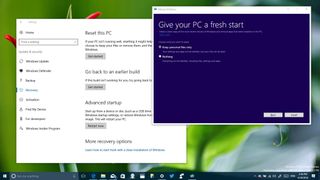 When your computer is not working properly, or you simply want a setup free of bloatware, the best solution is to start from scratch doing a clean install of Windows 10 Anniversary Update. However, it can be a tedious process, and even though Microsoft offers a reset feature to reinstall the operating system, it only restores the copy of Windows 10 that originally came with your computer, which may also contain a lot of software and configurations you don't need.
On an effort to make it easier to start with a clean install of Windows 10, Microsoft is introducing "Refresh Windows". It's a tool that lets you easily reinstall the operating system on your desktop, laptop, or tablet while wiping out any bloatware and configurations installed by your PC manufacturer.
"Refresh Windows" is now available for everyone and installs the Windows 10 Anniversary Update!
In this Windows 10 guide, we'll walk you through all the steps to use the new refresh tool to reinstall the most recent version of the operating system on your computer.
How to use the 'Refresh Windows' tool
Use the Windows key + I keyboard shortcut to open the Settings app.
Click Update & security.
Click Recovery.
Under More recovery options, click the "Learn how to start fresh with a clean installation of Windows". (The link will direct you to a Microsoft Answers post

(opens in new tab)

where you can download the tool.)
Right-click the Download tool now link and select Save target as to download the file. Here's the direct download link

(opens in new tab)

.
Double-click the RefreshWindowsTool.exe to start the process.
Click the Accept button to agree to the license terms.
You'll get two choices to reinstall Windows 10: You can choose Keep personal files only, which will delete all your apps and settings, but retain your files during reinstall. Or you can select Nothing, option that will wipe your computer without retaining anything. Select the option that suits your needs and click Install.
Now the tool will proceed to download and automatically reinstall the most recent version of windows 10 on your computer. After the installation completes, you'll go through the out-of-box experience (OOBE) to finish configuring the operating system.
Follow the on-screen directions to set your language and region settings, choose your personalization settings, setup your Microsoft Account, and activate Cortana.
Once you're back into the desktop, remember to go to Settings > Update & security > Windows update to download the latest patches and missing drivers.
It's also a good idea to check Device Manager to make sure peripherals and other hardware are correctly installed on your computer. (You can open device manager by using the Windows key + X keyboard shortcut and selecting Device Manager.)
If some of the device drivers are missing, make note of the devices, and visit your computer manufacturer's support website to download and install the latest drivers.
Important details before using the tool
Before proceeding to use the "Refresh Windows" tool to clean install Windows 10 Anniversary Update (build 14393) on your system, there are a few details you need to know.
Only three languages are currently supported, including English, Chinese, and Japanese.
Your computer must also be running the 32-bit or 64-bit of the Home or Pro version of Windows 10.
Unlike the reset feature, the refresh tool requires an internet connection to download the most recent version of the operating system, which could be around 3GB in size. In addition, for the download and installation process, make sure to have at least 16GB of free space available on your hard drive.
Furthermore, if the tool cannot install the latest version, you'll be unable to keep your personal files, in which case you'll get an option to cancel the setup if you don't wish to continue.
Using the Refresh Windows tool will wipe out your system's hard drive, removing all applications that you have installed and configured, including Office and applications provided by your PC manufacturer (even device drivers). However, apps that come bundled with Windows 10 will reinstall again automatically during the installation process.
Until the functionality is fully integrated, Microsoft doesn't guarantee digital licenses, digital content associated with applications, or digital entitlements for certain apps will carry over using the new preview tool.
Wrapping things up
Although you can use the reset tool to reinstall the operating system, the new refresh tool will come in handy especially when you buy a new computer, and you want to start with a clean version of Windows 10 without any bloatware installed by your PC manufacturer. It's also a good solution for those times you come across an issue, and for some reason the reset tool doesn't work.
The only caveat is drivers. Even though many device drivers are available through Windows Update, there will be times when a specific driver for a particular piece of hardware will have to be installed manually, which can end up being an issue for non-technical users.
Of course, tech-savvy users can always download the Windows 10 ISO file (opens in new tab) directly from Microsoft and perform a clean install, but Refresh Windows aims to simplify many of the steps.
Have you tried the tool to refresh Windows 10? Tell us in the comments below.
Mauro Huculak is technical writer for WindowsCentral.com. His primary focus is to write comprehensive how-tos to help users get the most out of Windows 10 and its many related technologies. He has an IT background with professional certifications from Microsoft, Cisco, and CompTIA, and he's a recognized member of the Microsoft MVP community.
Interesting. I'm probably not going to go out of my way to upgrade to the Preview to do this now, with a couple of machines that are due for a refresh (the very important desktop that I wouldn't trust it with, and a seldom-used laptop). But in the future, it's good to know this will be a bit easier.

Did something like this for my Chinese tablet and now even though all drivers are installed, touch screen wouldn't work well. Yeah even after calibration, pointer is an inch away from my finger, don't know what to do anymore.

Does anyone know what the latest version of Redstone is that is available as an ISO? Where to get it?

Try the link I published with the article.

I would also note that this does not do any disk partition cleanup. If the machine came with an earlier version I would recommend that you created a bootable USB drive and delete every partition off the disk first.

The quickest way I found was to select to "Advanced Startup" and once rebooting in the menu, select "reset this PC" and select your level of reset. The one in Windows (while windows is running ) is hit or miss but, the startup one has worked for me every time.

This tool doesn't make much sense if you really know how to use it. Most prosumers know how to download builds burn them to a usb drive and clean install. How is it any different from that. If you really want a clean version of windows, getting that wasn't much difficult before.

Pretty sure the vast majority of WC users already knew how to get the ISOs, but the point here is to make things easier for those who don't, such as newcomers who are using their PC for the first time and/or never had to reinstall Windows.

I agree. But those newcomers/non techies aren't exactly going to go into the settings app, then to recovery, and from there going to follow a link to specifically download this tool. The best MS can do, is to include this as an action within the settings. Moreover, i think there should be option to remain on the current build you have, rather than mandate a download of the latest one.

That's exactly what the Reset this PC option does :) Although I find it pretty unreliable after an OS upgrade. Every time I tried it on a non-Insider build it said there's no image available. It would be better to have a macOS-like recovery, where the system goes into recovery mode and downloads the image right away.

Anyway to download the ISO as an option would like to have the latest ISO to use on my other computers. I know there's the media creation tool but it doesn't download the latest build of windows 10.

This does work on dell venue 8 pro w/o external keyboard and mouse?

Interesting, but I'm still hanging out on W8.1 + Stardock. Don't have any need for Cortana or Groove, so it'd be superflous, plus 8.1 is way more stable and reliable than W10 has proved to be for me.

And your Laptop is still running Windows 7. Your desktop PC is running Windows XP smoothly with no issues.
And you going to revert to Windows 3.1 soon, since Windows 8 is not as stable Windows 95.

Can I have my apps and settings back after did a clean installation? If I put my Microsoft account in the installation, I'll have my apps and settings back?

Off course you will get it wil aromatically sync so there is no problem you can clean install...

If we install what about the activation??? It will show watermark on desktop that it's insider preview..

Does this wipe other partitions too, apart from the one where OS is installed?

hey guys,
My computer support 64-bit but my current version runs 32-bit.So can if I make a clean install change to 64 bit or I have to reinstall the windows again?

If you are sure that your PC supports 64-bit, then sure, you could do a 64-bit clean installation. Just be careful, because you will need to be able to find 64-bit compatible drivers too! I suggest making a system image backup before, just in case.
Good luck!

I may try this method on my new week old ASUS gaming laptop. Not too much on there as it is so a good candidate for a clean system.

A quick question:
What happens to the Activation when refreshing windows? Remember that many of us have upgraded from Windows 7 or 8, for free. Now we can't do that anymore if the activation system say we need to buy a serial number.

After upgrading to windows 10 you will be provided with the new serial number and there are number of ways to find your new serial number for your windows 10... you can google it or search on this windowscentral for the article on how to find the serial number.

Not true, the serial number (activation key) for an upgraded Windows 10 OS machine stays generic. Meaning common for everyone. Although the end user can still use the Windows 7/8/8.1 license to activate.

You mean after refreshing, if it asks for activation key, we need to use our Windows 7 or 8's? Are you sure? Have you tested this already?

I used a Windows 7 key to activate a clean Windows 10 installation on a friend's laptop.
Just as an option though: you could try installing W10 alongside your current installation in a Dual-boot setup, and then try activating it there. Good luck!

Once the computer is upgraded to Windows 10 and activated, you shouldn't have issues in doing a clean install. It should automatically recognize you already upgraded to Windows 10.

Your hardware should be recognized as having digital entitlement when connecting with the activation servers.

your license will just stay there, dont worry about that if you use the refresh method via settings. you would only worry about it if you will try to clean install, using cd or bootable drive of any other versions of Windows besides Windows 10

once you activate (if you're running the same piece of h/w, no major changes) you don't need to activate any more - I've done this many times, activation takes place only during upgrade, any subsequent install, refresh, even clean one, gets the info it needs from the MS servers (providing internet connection at some point) and is 'silently' activated.

Can I get the anniversary update in iso tool so that I can clean install...

I'm still trying to figure out how this tool is different than the Media Creation Tool. You can download that, choose upgrade and choose the option to keep nothing and get a clean install. Or you can mount it to a USB drive and get a clean install of the Anniversary Update from there. Or use this tool, just wondering why there is both now.

ISO link goes to page that says, "We are sorry, the page you requested cannot be found." Perhaps it's overloaded with everyone trying to get it today, but the message doesn't sound like that's the problm.

Wil I Keep my Win32 Apps when doing this?! Posted via the Windows Central App for Android

Can I download an ISO for Windows 10 Home Single Language 64bit for my notebook that came with W8 SL preloaded? Can somebody clarify what version of ISO should I go for.

Hrm. So, I have multiple solid state drives, with only one of them having the Windows partition on it. If I were to select keep nothing, would this wipe those other drives, too, or would it just be the principal drive?

Just the drive where the OS resides.

How come everything with Windows, windows mobile, etc starts with "do a clean install". How about code the damn thing correctly so your costumers don't have to set a whole weekend aside yo update their computer? This has become idiotic.

Amen to that! I spend more time fixing things that Windows 10 "upgrades" breaks than I do useful computing! A pox on Microsoft OS!

Ummm....... Wasn't this already an option since Windows 8? It's not like it worked then very well, but come on.

What about Windows.old? Do I have to delete em manually or can't do it?

The language was limited to Eng uk or usa earlier. Has it been diversified to eng india yet? Otherwise this tool does not install

I have used the tool. Not very impressed. It doesn't give you the latest build. It reverts you to the slow ring (still waiting for the current fast build 2 days later after switching back to fast ring). And last it didn't keep my start screen, apps installed and other preferences' when I logged back into my Microsoft account. It did not give me an option to load my preferences as you would have gotten when refreshing a Windows phone. Very disappointed that I tried this tool out to fix a wifi issue and well you, free up space.